Hyper Front has been released globally and that has coincided with the start of Season 2: Outbreak. Here is everything you need to know including the end date and rewards.

Hyper Front, aka that "Valorant clone", is now out and it is a surprisingly enjoyable game, offering up that tactical FPS gameplay with some, admittedly uncreative, agents... sorry, "heroes".
But until the release of Valorant Mobile or Project RushB, this is currently the best we've tactical shooter we've got. And while the developers were not willing to take a risk on some of the game's mechanics, they have provided players plenty of content to make up for it.
We have twelve heroes, a ranked mode, several casual playlists, plenty of weapon skins and cosmetics, and a battle pass.
The Hyper Front battle pass system is pretty standard fare for a mobile title but it doesn't offer the most intuitive menus and information for players - and don't get us started on the sheer number of in-game currencies... All this makes working out what's going on tricky to say the least.
That's why we have decided to breakdown the Hyper Front Season 2: Outbreak battle pass, detailing its start and end times, cost, and rewards.
Hyper Front Season 2 - Start And End Time
Hyper Front Season 2: Outbreak started with the global release of the title on July 20.
This update included three new heroes, a new map, and a battle pass full of cosmetic rewards to unlock.

The game doesn't have a season end date (at least not what we could find either in-game or out) but there is a clue about when that could be.

The game's battle pass has weekly challenges, now on week 3, there are seven weeks detailed meaning the season is likely eight weeks long.
That means Season 2 should end on, or around, September 7.
We'll keep you updated if we hear any different.
How Much Does the Hyper Front Season 2 Battle Pass Cost?
The Hyper Front battle pass has two tiers with a free and premium track with 90 tiers of rewards found in both.
To get on the premium track you need to purchase the Season Basic or Deluxe Season Mega Pack. The Season Basic will give you access to what the devs call the Classified Access (premium) track, while the Deluxe Season Mega Pack automatically unlocks the first ten tiers while offering up a few exclusive rewards.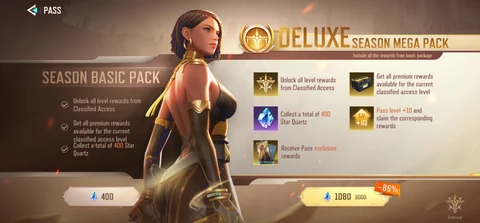 The Season Basic Pack costs 400 Star Quartz (approx. $7 USD), while the Deluxe Season Mega Pack costs 1080 Star Quartz (approx. $14 USD).
Completing the premium track will reward you back with 400 Star Quartz covering the cost of the initial pass but you will have to complete all 90 tiers.
The Rewards

Hyper Front's Season 2 battle pass has a number of cosmetic rewards, as well as in-game currency.
Hyper Front offers up plenty of free rewards with the free track boasting five weapon skins. Like Valorant, there are three weapon bundles spread over the free and paid tracks, alongside player cards, weapon ornaments (gun buddies), and avatars and other cosmetic rewards though notably, like Valorant, no player skins.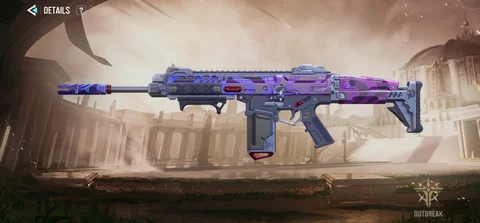 Selection of free rewards:
Flash - Vector (tier 10)
Tsunami - Player card (tier 20)
Lava - Avatar (tier 30)
Rendezvous - CZ75 (tier 40)
Flash - AA12 (tier 50)
Rendezvous - SVD (tier 60)
Rendezvous - SCAR (tier 75)
Selection of premium rewards:
Lion King - M870 (tier 1)
Food and Cats - Hero spray paint (tier 10)
Lion King - M4A1 (tier 20)
Rendezvous - Ultimax (tier 30)
Fearless Front - Player card (tier 50)
Chill Time - Weapon ornament (tier 55)
Lion King - UMP (tier 60)
How To Rank Up Hyper Front Battle Pass Fast
Now, when it comes to progressing the battle pass there are a couple of things you can do to help.
The first of which is completing the weekly challenges, these offer up plenty of XP and will help you work your way through the battle pass. This is free of charge and should be your first port of call.
These missions change every week, and as mentioned before, there are seven in total. Once the challenges are gone, they are gone, so you will need to jump in each week and complete the challenges to make the most of them.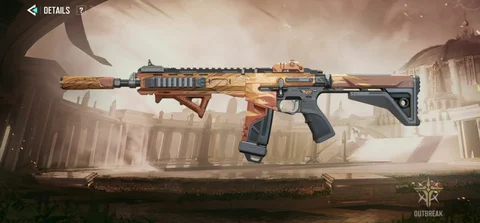 If you still have plenty of tiers to unlock you can buy tiers. This will cost you 80 Star Quartz (approx. $1) and, with ninety tiers, this can obviously get expensive even with the Star Quartz you get in return.
You can also earn XP Bonus cards which offer you a bonus to battle pass XP. Use these whenever you can.
For more Hyper Front news and guides, check out: