Promising the "PC shooting experience," Project RushB has got mobile gamers excited. Learn everything there is to know about this tactical shooter, including its release date, how to gain access to the beta and more.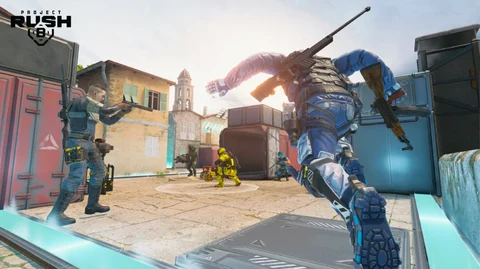 Update 26/07: the closed beta launch day has been pushed back one day, until July 28, because of an issue with the review process on Google Play as per a message shared on the official Project RushB Discord channel.
Original:
Project RushB aims to bring a CS:GO-like tactical shooter to mobile, and before it even enters beta, it has already won fans for its adherence to, what the developers claim, are true tactical shooter principles, namely tight gun-play, strategies, and teamwork.
To that end, there will be no aim assist, unlike in rival mobile tac. shooter Hyper Front, there will be a low time-to-kill (TTK) and learnable recoil patterns meaning guns can be truly mastered by those that put the hours in. There is also a roster of heroes, all with different abilities, that will offer up a level of tactical complexity.
How well positioned the Project RushB development team are able to make their ideas a reality will be made clearer with the launch of another closed beta period which is introducing two new heroes, a new map, and a bunch of quality of life additions putting the game even closer to a global release.
Closed Beta will start on July 27! Ready to outplay enemies using your true skill? pic.twitter.com/rqaz6j7VSN

— Project RushB (@projectrushb) July 25, 2022
For more information, including how you can get access to the beta, and a broad overview of the gameplay, keep on reading.
Project RushB - Release Date
There is no official release date for Project RushB, but the developers have stated their aim to get the game out at some point in 2022.
The next closed beta is launching on Thursday, July 27, and will be open to those that have registered via the online form found on the Project RushB social channels.
How and when this will be opened up to more isn't yet clear, but if you haven't got yourself access to the closed beta, you may still be able to take part, which we explore below.

How Do You Get Into The Project RushB Beta?
On July 27, Project RushB will head into another closed beta with a new map, two new heroes, a new and improved ranking system, as well as gameplay features like a "suggested buy" system.
Interested players were asked to apply via completing a short survey on July 18, which you can still do now.
Closed Beta is coming soon! If you would like to participate in our test, please take the survey and help us know more about our players! This time we will also select 20 players to give gifts! (10*$5, 5*$10, 3*$15, 2*$20). https://t.co/qwSAVeQbhu pic.twitter.com/CTL5qKjdHI

— Project RushB (@projectrushb) July 18, 2022
The closed beta is open to players in Canada, Brazil, and the Philippines.
The beta is expected to close on Monday, August 8, so if you haven't already received an email, you are unlikely to be able to take part this time around.
There is a possibility that players outside the chosen regions will be able to gain access by downloading the game via TapTap. Installers for both Android and iOS games can be found on this Chinese game portal, and you can currently pre-register there, but it's not known yet if you will be able to access this closed beta.
If more is revealed about gaining access to the Project RushB closed beta by the developers, we will be sure to let you know.
Project RushB - Gameplay / Trailer
Project RushB set out its stall out early in its development, promising to bring a "PC shooting experience" to mobile devices. And when they say PC shooting experience and a multiplayer one at that, the guiding light for these developers is clear: Counter-Strike: Global Offensive.
There will be no aim assist, maps take obvious inspiration from CS:GO, but they are clearly labors of love with a level of complexity and intention not seen in many mobile games. The graphics are also jaw-dropping.
Somebody says it's just a screenshot made by engine. Well, that's what it really looks like on a mobile device. Big difference? pic.twitter.com/Ekoqae0Auf

— Project RushB (@projectrushb) July 24, 2022
Thankfully, the nod to Valorant, with the heroes, isn't as on the nose as Hyper Front's weird mashups, with the developers clearly taking a more holistic process with creating its characters. Just because Riot changed the rules doesn't mean you have to follow them by the letter.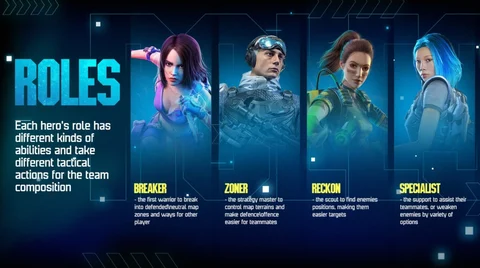 While this is trying to bring that PC tac shooter experience to mobile, there is an understanding that this is fundamentally a mobile game. So, unshackled by any previously taken design decisions, the developers have devised heroes solely with mobile devices and their controls in mind.
So, abilities like a drone that flies as the crow and allows you to teleport to its, possibly higher, destination are just some of the ways the developers are using hero abilities to give players tactical flexibility when on a mobile device.
And that is why so many are excited for a game that has managed to avoid the trap of being branded a "clone" like the way Hyper Front was. It's clear this is a development team with their own ideas about how a mobile tactical shooter should be.
Now, here is that trailer.
Hero in position. Gun loaded. Ready to Fight? // Pre-Beta Gameplay Trailer - Project RushB pic.twitter.com/j6VETHHTF3

— Project RushB (@projectrushb) July 18, 2022
For more mobile gaming news and guides, check out: