Patch 3.10 is here in Legends of Runeterra! We've got card changes, gameplay system updates and changes to The Path of Champions. Let's go over all of them.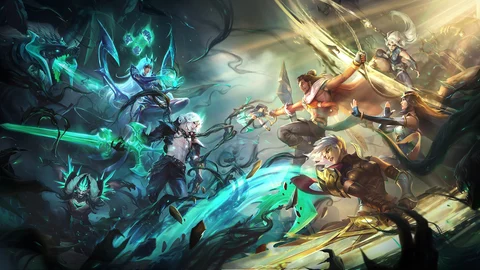 Patches are a regular occurrence in any game. Today, that game is Legends of Runeterra. Patch 3.10 is coming just a few weeks after the release of the Worldwalker expansion. Naturally, some of the new cards from this expansion upset the game balance in certain regards so Riot is here to fix them.
As the release date was June 28, Riot has already released the full Patch notes. So, let's unpack everything that's in the new patch!

Gameplay System Updates
Before we dive into the specific card buffs and nerfs, there are a couple of gameplay changes that will complement the card changes and improve overall player experience. These are:
Scout has been removed as a generatable keyword. This keyword has been noted to be the crux of awful player experience as it overpowered. Hence, it was necessary to remove Scout.
Copied spells now count as being played. Just following the previous Play/Cast changes implemented by the Riot team, copied spells will now activate targeting quests, count towards making Lux Beams, and will also activate Augment.
Legends Of Runeterra Patch 3.10 Overview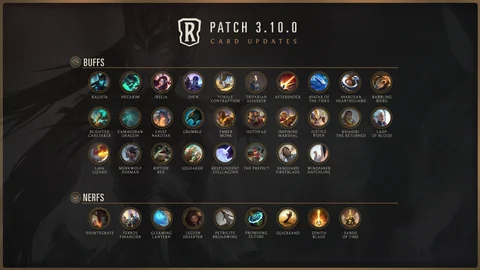 Coming in the latest update is an adjustment of over 40 individual cards that will either buff or nerf several decks currently dominating the meta. We've divided them into two sections. Let's go!
Buff
There are a total of 32 cards that are receiving buffs. These are meant to improve the overall playability of certain underplayed cards. Here are the details:
Ashe

Level-up condition change: Now counts Power reduction on units that already have zero Power.

Bard

Level-up condition change: Now counts units that buff their own stats.

Ezreal

Level-up condition change: Increased to 8+ targets.

Kalista
Hecarim

Ability change: Ephemeral allies have +3|+0 → When Hecarim levels up, grant Ephemeral allies everywhere +3|+0

Irelia

Keyword change: Quick Attack → Quick Attack and Attune (for Level 1 and 2)

Shen

New Keyword: Barrier
Level-up requirement change: Allies gain Barrier 4+ times → Allies gain Barrier 5+ times.

Aftershock

Cost: 4 Mana → 3 Mana
Ability change: Deal 3 to anything or destroy a Landmark. → Deal 3 to a follower or destroy a landmark.

Avator of the Tide
Avarosan Hearthguard
Barbling Bjerg
Blighted Caretaker
Camavoran Dragon
Chief Nakotak

Base stats: 3|3 → 2|4
Ability change: When an ally transforms, fully heal it and grant it +1|+1. → When an ally transforms, fully heal it, grant it +1|+1, and Impact.

Crumble
Ember Monk

Cost: 4 → 3
Base stats: 3|3 → 2|3

Hothead
Inspiring Marshal
Justice Rider
Khahiri the Returned

Cost: 6 Mana → 5 Mana
Base stats: 4|4 → 3|3

The Lady of Blood
Lava Lizard
Murkwold Shaman
Riptide Rex

Base stats: 6|4 → 7|5
Ability change: Plunder: Play Cannon Barrage 6 times on randomly-targeted enemies. → Plunder: Play Cannon Barrage 7 times on randomly-targeted enemies.

Squeaker
Resplendent Stellacorn
The Arsenal
The Prefect
Trifarian Assessor
Vanguard Firstblade
Windfarer Hatchling
Nerfs
A total of ten cards are unfortunately receiving nerfs. These are meant to curb certain cards that have grown too powerful in the current meta. Here are the details:
Disintegrate

Ability change: Damage mitigation now prevents units dying from Disintegrate's effect.


Ferros Financier
Gleaming Lantern
Legion Deserter

Keyword change: Overwhelm → Fearsome

Murkwold Rager
Petricite Broadwing

Keyword change: Challenger → None
New effect: When you summon an ally, grant me Challenger.

Promising Future
Quicksand

Ability change: When targeting two units, give them -2|-0 and disable positive keywords this round. → When targeting two units, give them -1|-0 and disable their positive keywords this round.

Sands of Time

Ability change: Instant Century is now Fleeting.

Zenith Blade

Ability change: Grant Overwhelm. → Give Overwhelm This Round.
The Path Of Champions Update
Obtaining Shards has been a tiresome process and the devs have noticed. In this patch, they have introduced Wild Fragments so as to smooth out Shard acquisition. Here are the details on how they work:
Wild Fragments can be used in place of Champion Fragments to unlock or Star Up any champion in The Path of Champions.
When you earn Champion Fragments for a Champion that exceeds the amount to get that champion to 3 Stars, you'll instead earn an amount of Wild Fragments.
Players who have already earned excess Champion Fragments will retroactively receive Wild Fragments.
When you earn duplicate Relics that are clearly not useful (e.g. a fourth copy of any Relic, or a second copy of any keyword-granting Relic) you'll get Wild Fragments instead. This also applies retroactively!
Players can receive Wild Fragments from some Weekly and Daily Quests.
Riot is opening the option to spend Coins to unlock Champions instead of Champion Fragments or Wild Fragments.
That's all the notes for Patch 3.10 in Legends of Runeterra. Until next time, be sure to collect rewards you can get in the game before July comes: