Marvel Snap has received severe backlash over its introduction of Nexus Events which requires players to spend massive amounts of money before they can earn rewards! Here are all the details.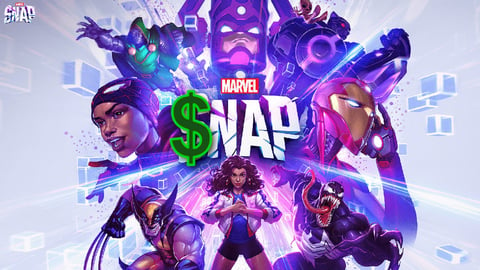 Marvel Snap is a mobile collectible card game that is currently in its closed beta stage in countries such as the Philippines, Australia, and New Zealand. Players can unleash the full force of the Marvel universe in fast-paced and intense card battles using some of their favorite heroes and villains in their curated decks.

However, even with the backing of the Marvel name and former Hearthstone Game Director Ben Brode directing this massive project, Marvel Snap is now on the receiving end of fierce backlash over its newly introduced Nexus Events. It has been criticized for introducing a greedy microtransaction system that could potentially end the game even before it is fully released.
Update: Marvel Nexus Events Have Been Removed From Marvel Snap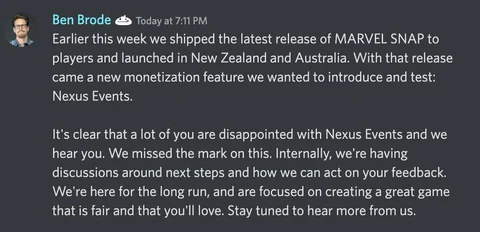 It appears that the backlash for Nexus Events was too much. Ben Brode recently announced in the Marvel Snap Discord that Nexus Events will be removed from the game. The Nexus Event currently in the game will run its course and end on August 1, 2022. He admitted that these loot box events were not well thought out and promised to do better.
Additionally,Ben Brode stated thatall Gold spent during the Nexus Events, regardless of whether it was "360 or 36,000 Gold", will be returned to players in the next patch. Jane Foster will also be given to all players if they haven't already got her.
However, that will not stop Marvel Snap from having any future monetization or card plans for the game, as per Ben Brode in a recent Twitter post. What these plans will look like is still a mystery. The devs have stated that they will continue to regularly update players on future plans and progress regarding Marvel Snap.
A Flawed Progression System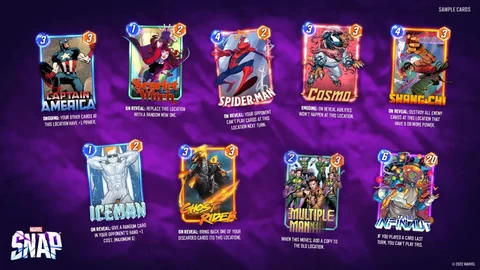 Marvel Snap entered its first public testing earlier in 2022 with a card progression system that left many players dissatisfied. Ben Brode and the Marvel SNAP team used a 'Collection Level' system. This means that players will have to upgrade their existing cards using various in-game currencies that will then advance them through reward tiers - some of which include new cards. Keep in mind that these rewards are randomly generated and that there is no other way to unlock cards.
This runs counter to other well-established collectible card games like Hearthstone and Eternal where players have a relative amount of control over the kind of cards they can unlock through the purchasable packs or in-game challenges. In comparison, Marvel Snap's card progression system completely leaves it to RNG to decide which cards players will get.

Nexus Events: A Failed Money Grabbing Solution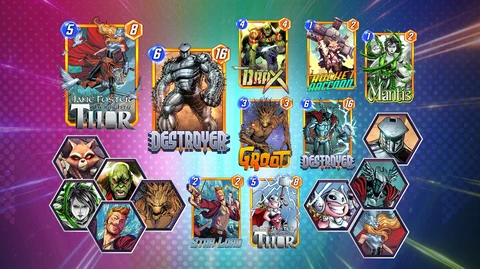 To fix this flawed system, the devs introduced limited-time Nexus Events in the July 19 update. The problem is: Nexus Events aren't technically events. They're simply loot boxes that players can purchase for a chance at obtaining specific cards.
In the most recent Nexus Event, there are four items classified as 'Super Rare' rewards. These are the highest-tier in-game items available. A single loot box can cost 180 Gold - the premium in-game currency - and only give players a 1.5% chance of obtaining a Super Rare reward. You're only guaranteed a Super Rare reward at least once after fifty attempts. This will see you spending at least 9,000 Gold or $115 USD before you earn at least one.
If you're aiming to get all four Super Rare rewards, you could see yourself spending 36,000 Gold or $450 USD to see that dream become a reality. Keep in mind that Nexus Events are scheduled to run two times a month, so that number could double to $900 USD each month.
Alright, crunched some numbers. If you are a new #MarvelSNAP player their Nexus events they released today are only $900~ a month to complete.

Full breakdown with details in this video, be sure to let @MarvelSnap know if you think this is absurd.https://t.co/e2O4fIIMoQ

— Jeff Hoogland (@JeffHoogland) July 20, 2022
We're seeing more and more games take on this route of heavy microtransactions that force players to spend exorbitant amounts of money to make any progress in the game. Diablo Immortal took the most flak recently over these practices but still made over $49 million USD in its first month. It's a worrying trend for the future of gaming.
Stay up to date with the latest mobile gaming news: