Payday Crime War has soft-launched in the Phillippines, but when will it be available worldwide, and what can we expect?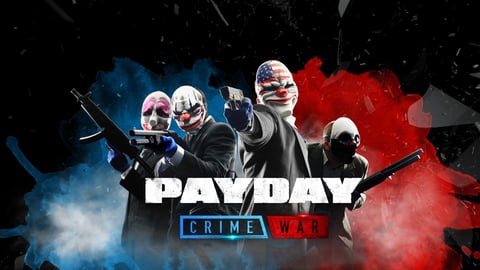 Starbreeze's Payday franchise went from a cult hit to mainstream success, placing players in the shoes of professional thieves and offering up an endlessly replayable cooperative first-person shooter that took obvious inspiration from Michael Mann's Heat.
2013's Payday 2 and its numerous DLCs has been the high point of the series, taking everything that the original had and adding more. A sequel is on the way and expected to launch in 2023, but before that, a mobile reimaging of the series is set to launch with Payday Crime War bringing the madness to Android and iOS.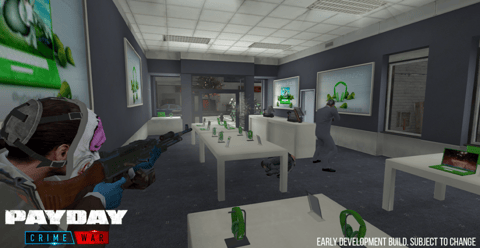 Payday Crime War has a long history. First announced back in 2016, it was originally envisioned as a PvP-only game, a first for the franchise. However, that changed when lead development switched from Starbreeze to PopReach, with the game expanding in scope to introduce the PvE heists that made the series so successful and eventually holding a closed beta in December 2021.
As of October 2022, the game has soft-launched in the Phillippines, with more territories and regions expected to be added in time. If you want to learn more, our primer below will fill you in on everything you need to know.
Payday Crime War - Release Date
Payday Crime War soft-launched in the Philippines on October 17, a familiar tactic for a mobile game as it charts the path to a global launch.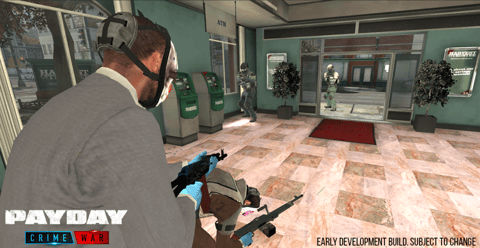 Currently, anyone in the Philippines can head to the Google Play Store (an iOS release is expected later) and can download the game, but when will those outside the country get a chance to play it?
In a recent dev blog, it was confirmed that the soft-launched would be expanded to additional countries in "the following weeks."
With that being the case, Payday Crime War will likely launch globally in the first half of 2023.
How To Pre-Register For Payday Crime War
The ability to pre-register for Payday Crime War is currently not available, with the developers stating that the best way to stay up to date with development is by following the Payday Crime War social channels, which will announce when new countries and territories are given access to the game.
Payday Crime War can be found on Facebook, Twitter, and Discord.
We will continue to update this page with more information as it becomes available.
Payday Crime War - Gameplay And Features
Payday Crime War in 2022 is much more like the mainline games than the title first announced in 2016.
The PvP game mode remains as Cash Grab, which sees two teams of 4 heisters go head-to-head to steal more cash from their opponent's safe; the developers promise that more maps and game modes will be added in time.
But it looks like it will be Payday Crime War's PvE coop heists that are taking center stage. Players will need to plan and execute increasingly difficult heists, with players able to choose from a roster of familiar faces, with Dallas, Hoxton, Chains, and Wolf all returning.

These heisters will be categorized into four classes, they are:
Mastermind – Focused on healing and weapon handling
Technician – Focused on gadgets and ammo
Enforcer – Focused on armor and shotguns
Ghost – Focused on stealth and hacking
Players will be able to customize their heister, plan robberies, and unlock more heists as they progress through the game.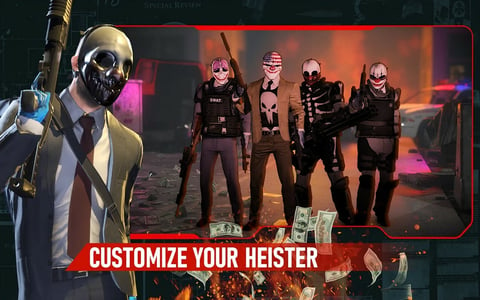 The developers promise to implement many of the heists that fans of the series have come to know and love, including Dockyard, Golden Grin Casino, and Art Gallery.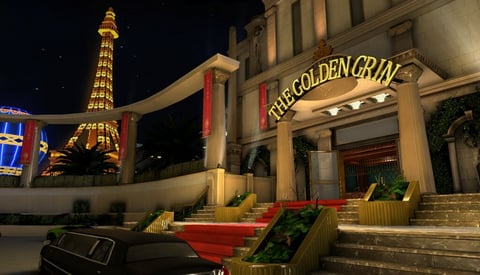 They also shared how the PvE game mode would function:
Changing up the PAYDAY formula while keeping the classic heists veterans love. Featuring new objectives tied to varying difficulty levels.
Heists will be unlocked as you level with new ones on the horizon.
Bank Heist is coming back with new opportunities and challenges, including remixed security measures and looting opportunities.
Prepare to coordinate with your teammates in stealthier situations! Teamwork will be your key to success.
Missions will be fast-paced and shortened. No more hauling a billion bags or waiting minutes upon minutes for a drill to finish!
Careful planning and casing must be weighed against a challenging mission timer before things get out of control.
Enemies such as guards and SWAT members have been reworked to provide a dynamic, challenging, and fun experience.
Don't kill civs or pay the price! Your heat level rises as the match progresses, and killing civilians causes it to spike. The higher the heat, the more intense the SWAT response. Violence begets violence, after all.
We will continue to update this page with more information about Payday Crime Wars as it works up to its global launch.