This guide shares the Peridot friends codes list that players can use for adding friends while giving players a chance to share their own friend codes.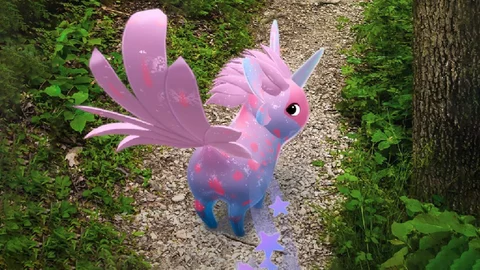 Pokemon Go has one of the biggest communities where players actually get together and engage in different game-related activities. Thankfully, Niantic's latest AR game, Peridot, seems to be no exception.
The game has a similar kind of friend system where you can add friends, send or receive gifts, meet close ones and go on a walk with your Dot, and much more.
To make sure you are not left behind and have a ton of friends in your Peridot friends list, we have prepared this handy guide sharing Peridot friend codes and details on how you can use them.
Peridot Friend Codes List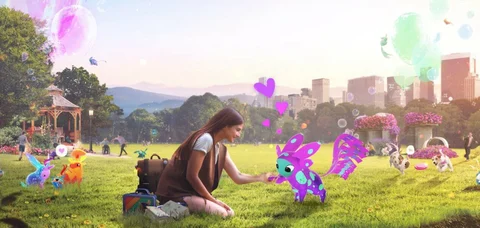 Here are the Peridot friend codes that we managed to find so far. We will add new friend codes to this list as players share them with us or when we find them across social platforms.
773572912408
093744136456
923382227379
232848086172
503362879047
377872258018
239536009487
680659251880
521969013497
434232919196
873644178490
406403566141
775399428302
446338232737
478096804315
Here is the list of friend codes that people shared via the below Google Doc:
Update: The list was updated on May 31, 2023.

jencal0815 - 438-501-331-251
Charlotteemz - 351493495013 (Referral Code: QH3ZRMXPB)
Renever - 235857344326 (Referral Code: 8U3HQBCY7)
Angiepangie22 - 996415218739
GreyRiver - 101863628637 (Referral Code: 4JVKBIFOP)
Scarletwitch - 713494563590
Epsylon808 - 421014142699
Jessica087 - 151132561925
SailorJenny - 182705228422
KinggUni - 669-622-994-224
MariaRose90 - 438928413103
ivince1980 - 142-952-980-269
CeissaDesiste - 897-195-300-880
Itto - 811771682439
Ngweyama - 583897774150
Crazyyetii - 783912502625
Stark930 - 362526774342
Blurred - 974530545942
TreeLynx - 091993391483
Joodaki - 295493769197
Delphoi - 889313451165
Relliam - 785-817-715-462
Maffie007 - 872435493984
Kazjb04 - 938811750885
Bekito - 958-246-707-810
Hydreigon927 - 207919116851
Fuzzyfang - 917798974972
Bunny - 773572912408
AlyssaRose - 790706393569
Here is a link to a Google Doc for Peridot friend codes. You can add your friend code, name, and a message for players there. We will check the list and update this article with those codes. This way, we can maintain this article as a community page for Peridot friend codes. So, we request you contribute your friend code.
How To Use Friend Codes in Peridot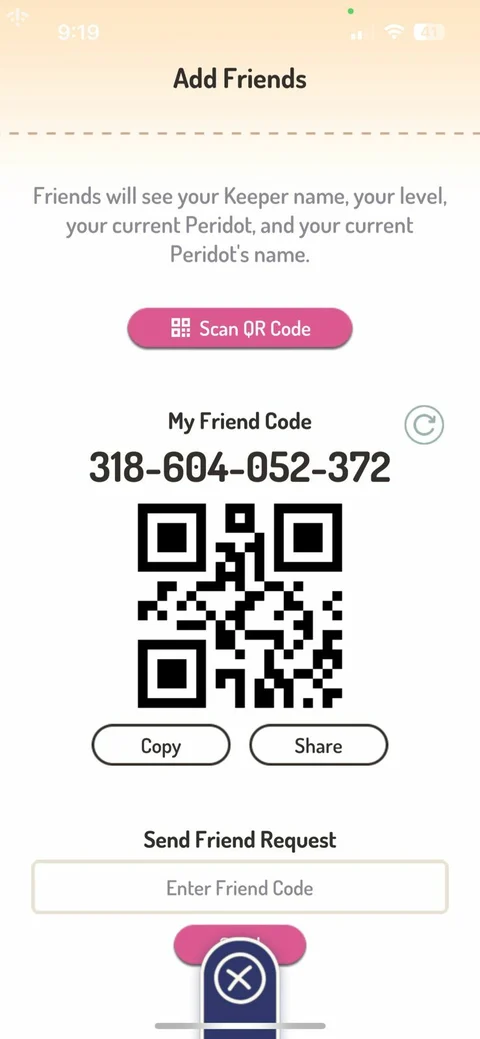 You can use friend codes in the 'Add Friends' section of your Friend list. We have a detailed guide on how to add or remove friends in Peridot, we recommend you check it out.
That said, if you are in a hurry, you can follow the below steps to use a friend code in Peridot:
Open Peridot
On the main screen, tap on your Backpack [Make sure you have completed the tutorial.]
Tap on Dots & Friends
Tap on Add Friends
At the bottom field, you will find the Friend Code field where you can enter the codes.
For more Peridot news and guides, check out: