Team China is at it again! We have new leaks from them that suggest Yae Miko, Yoimiya, Al Haitham, and Kazuha re-runs banners coming with Genshin Impact 3.7 update.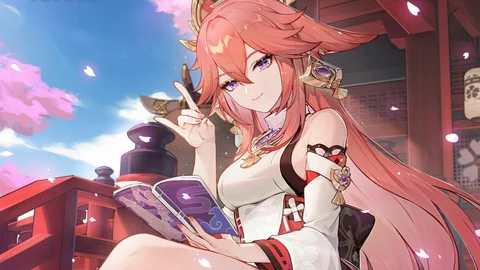 While players are busy with the multitude of new content that got added to Genshin Impact with version 3.6, 'A Parade of Providence' update, we already have a myriad of new leaks for the next major update, version 3.7.
According to Team China, a group popularly known for sharing Genshin Impact leaks and speculations, the Genshin Impact 3.7 update will feature not one or two, but four re-run character event wish banners, including Yae Miko's 'Everbloom Violet,' Yoimiya's 'Tapestry of Golden Flame,' Al Haitham's 'Caution in Confidence,' and Kazuha's 'Leaves in the Wind' banners.
Gen Ju Jiu Jiu Ti Gong De 3.7Qia Chi Qing Bao Zuo Chu Lai De 3.7Qia Chi Yu Ce Tu

Lai Yuan :https://t.co/HyoF9SoCm8 pic.twitter.com/3FznNKpNRl

— uhq (@sxnpxisus) April 19, 2023
Even the weapon banners 'Epitome Invocation' are going to feature re-run weapons like Thundering Pulse, Kagura's Verity, Light Of Foliar Incision, and The Freedom Sword.
Now as suspicious as this leak may look if you pay attention, the leaks have a bit of credibility or can at least be treated as good speculation, as HoYoverse has only revealed Kirara as an upcoming character arriving with the version 3.7 update.
"She's an adorable little nekomata. Just whisper 'your gonna be late' in her ear while she's asleep, and she'll spring right up and start dashing faster than General Gorou does on the battlefield."#GenshinImpact pic.twitter.com/ZVmYUzxKjR

— Genshin Impact (@GenshinImpact) April 10, 2023
Though, since she is a four-star character, she will not get her own banner and, instead, will be featured on a five-star character banner.
If the leaks are true, Kiara will be one of the featured four-star characters on Yae Miko and Yoimiya's banner, along with the other two, including Yunjin and Heizou, which is rumored to release in the first half of Genehsin Impact 3.7 update.
On the other hand, as per leaks, Al Haitham and Kazuha's banner will feature four-star units like Thoma, Chongyun, and Yao Yao, and will come out in the second half of the version 3.7 update.
We will update the article if there are any new developments on Genshin Impact 3.7 banner's side.
For more on Genshin Impact, check out: