You can get free Primogems, Hero's Wit, Mora, and other rewards with the latest Genshin Impact codes for June 2023.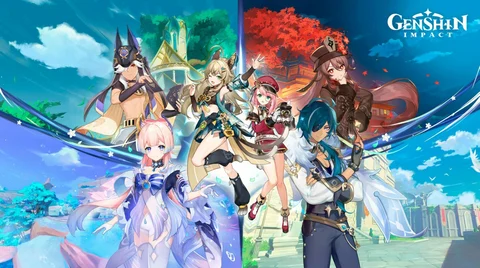 Codes are big helpers in advancing your progress in Genshin Impact. These codes offer massive rewards such as Primogems, Mora, Hero's Wit, Mystic Enchantments, and Adventurer Experience. The devs usually release codes during version update live streams or special events.
Let's go over all the available Genshin Impact codes for June 2023. We've included those that were released during the v3.6 update.
How To Use Genshin Impact Codes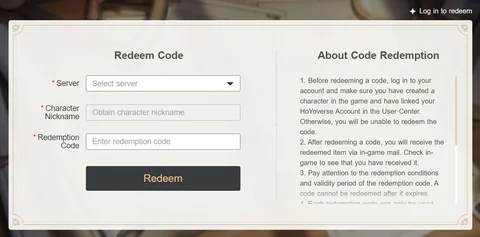 Genshin Impact codes are simple to use but cannot be claimed in the game itself. They must be claimed using the Gift Redemption page for Genshin Impact. Follow these instructions and you'll get your rewards in no time:

Visit the Genshin Impact Gift Redemption website.
Log in to your Hoyoverse account.
Select your server.
Enter your character nickname and paste the code of your choice into the box.
Select 'Redeem' to claim the rewards.
Bear in mind that to use codes, you must be at least Adventure Rank Ten.
Genshin Impact Codes - Active Codes (June 2023)
There are two active Genshin Impact codes that you can use in June 2023:

WTQ2E83WS869 – 5 Adventurer's Experience and 60 Primogems
GENSHINGIFT – 50 Primogems and three Hero's Wit (works periodically)
Remember that these codes are available for a limited time, so redeem them as soon as possible.
Expired Genshin Impact Codes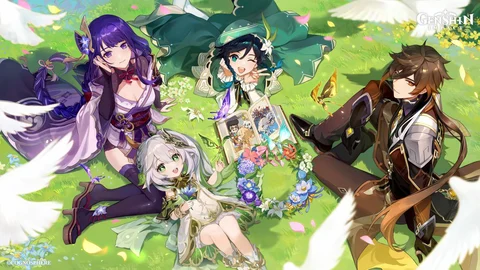 There are specific Genshin Impact codes offered in the past that have expired or reached their redemption limit.
Here are all the expired Genshin Impact codes:

GA9FPD42SJ4V – 5 Adventurer's Experience and 60 Primogems
LAQZMTPKNTYH – 5 Stir-Fried Fish Noodles, 5 Jueyun Chili Chicken, 10,000 Mora, 10 Adventurer's Experience, and 5 Enchantment Ore
LA9C3RHPPHQH – 60 Primogems and 5 Adventurer's Experience
GA9FPD42SJ4V – 60 Primogems and 5 Adventurer's Experience
9ARE6VLJT34H – 100 Primogems and 10 Mystic Enhancement Ore
KBRE7D4KA2MM – 100 Primogems and 5 Hero's Wit
7S9X6V4JB2M9 – 100 Primogems and 50,000 Mora
4BQYGWQ9HTR5 – 30,000 Mora, 1 Shimi Chasuke, 1 Survival Grilled Fish, 1 'Once Upon A Time In Mondstadt', and 1 Omurice Waltz
LA9C3RHPPHQH – 60 Primogems and 5 Adventurer's Experience

SSRCJ8HSV7UM – 10 Adventurer's Experience, 10,000 Mora, 5 Fine Enhancement Ore, 5 Fisherman's Toast, and 5 Goulash
DAQS9FPX2U35 – 60 Primogems and 5 Adventurer's Experience
FTRUFT7AT5SV – 10,000 Mora, 10 Adventurer's Experience, 5 Fine Enhancement Ore, 5 Fried Radish Balls, and 5 Satisfying Salad
KARU3RG6NY65 – 100 Primogems and 10 Mystic Enhancement Ores
5SRC28YNNYP9 – 100 Primogems and 5 Hero's Wit
SB8UJ9H7NH8V – 100 Primogems and 50,000 Mora
FTRUFT7AT5SV – 10 Adventurer's Experience, 10,000 Mora, 5 Fine Enhancement Ores, 5 Fried Radish Balls, and 5 Satisfying Salads

DAQS9FPX2U35 – 60 Primogems and 5 Adventurer's Experience
XBRSDNF6BP4R – 60 Primogems and 5 Adventurer's Experience
NS8TUVJYR4UH – 100 Primogems and 10 Mystic Enhancement Ore
NSQTVCKYRMDM – 100 Primogems and 5 Adventurer's Experience
LB8SDUJYQ4V9 – 100 Primogems and 50,000 Mora
2T9AUV3YPV49 – 10,000 Mora, 10 Adventurer's Experience, 5 Fine Enhancement Ore, 5 Northern Smoked Chicken, and 5 Tea Break Pancakes
8ARAU6FNBNPV – 100 Primogems and 10 Mystic Enhancement Ore ×10
NS8BD6EPS77Z – 100 Primogems and 5 Hero's Wit
ET9SUPENB765 – 100 Primogems and 50,000 Mora
6SP942Z3XVWH – 100 Primogems and ten Mystic Enhancement Ore
KS6QL3YJFCWM – 100 Primogems and five Adventurer's Experience
GS6RLKGKWUER – 100 Primogems and 50,000 Mora
MA6RPW8GGJAM – 60 Primogems and 5 Adventurer's Experience
NT8SU92DKFRZ – 60 Primogems and 5 Adventurer's Experience
WARBDRR9MCQ9 – 10 Adventure Experience, 10,000 Mora, 5 Fine Enhancement ore, 5 Northern Smoked Chicken, and 5 Flaming Red Bolognese
6A6VJTWGCPYV – 60 Primogems and 5 Adventurer's Experience
3B6RYY7AHX9D – 100 Primogems and 10 Mystic Enhancement Ore
JT78YH7SGWRZ – 100 Primogems and 5 Adventurer's Experience
2BP9HY6BYFR5 – 100 Primogems and 50,000 Mora
8ANCKTWYVRD5 - 100 Primogems and ten Mystic Enhancement Ore
EA7VKTFHU9VR - 100 Primogems and five Hero's Wit
KT7DKSFGCRWD - 100 Primogems and 50,000 Mora
XTNDKTEBWA59 – 60 Primogems and five Adventurer's Experience
XTNDKTEBWA59 - 60 Primogems and 5 of Adventurer's Experience
SBNBUK67M37Z - 30 Primogems and 5 Adventurer Experience
MTNUJBXDD72R - 60 Primogems, 5 Adventurer'Experience
DTNVKAWBWSF5 – 100 Primogems and 10 Mystic Enhancement Ores
WANVJAFAXTER – 100 Primogems and 10 Mystic Enhancement Ores
HA6C2AFBXSZV – 100 Primogems and 10 Mystic Enhancement Ores
MTNUJBXDD72R - 60 Primogems and 5 Adventurers Experience
MS7C3SV8DMZH - 60 Primogems and 5 Adventurers Experience
LANVJSFUD6CM - 100 Primogems and 10 Mystic Enhancement Ore
DTNUKTWCC6D9 - 100 Primogems and 5 Hero's Wit
HSNUKTXCCPWV - 100 Primogems and 50,000 Mora
ZSPDKSC3V8V5 - 60 Primogems and 5 Adventurer's Experience
AB7CKBVQULE5 - 100 Primogems and 10 Mystic Enhancement Ore
3TPUKSV8C5X9 - 100 Primogems and 5 Hero's Wit
UT7C2TD8C5ZD - 100 Primogems and 50,000 Mora
9BPCJCQGHAWZ - 60 Primogems and 5 Adventurer's Experience
VTPU3CQWYCSD - 100 Primogems and 5 Adventurer's Experience
AB7VJC9EGDAZ - 100 Primogems, 5 Hero's Wit
WT7D3CQEHVBM - 100 Primogems, 50,000 Mora
FANRONGCHANGSHENG - 18,000 Mora, 8 Adventurer's Experience,10 Fine Enhancement Ore
ETNU2DN5NZRR - 60 Primogems, 4 Adventurer's Experience
5SPDKV8ZHBFV - 100 Primogems, 50,000 Mora
PSNVJURZZSD9 - 100 Primogems, 5 Hero's Wit
SA7V2DRZGAU5 - 100 Primogems, 10 Mystic Enhancement Ore
BSPD3ZRXU985 - 60 Primogems, 10,000 Mora
KB6DKDNM7H49 - 100 Primogems, 50,000 Mora
BSNDJC747Z7D - 100 Primogems, 5 Hero's Wit
AS7CJDP4NG7H - 100 Primogems, 10 Mystic Enhancement Ore
BSNUJGQFUTPM - 100 Primogems, 50,000 Mora
NB6VKHQWVANZ - 100 Primogems, 5 Hero's Wit
LBNDKG8XDTND - 100 Primogems, 10 Mystic Enhancement Ore
NTPVU7JTJYPD - 100 Primogems, 50,000 Mora
CB7UU6KT2H59 - 100 Primogems, 5 Hero's Wit
DSPVUN2BKH5M - 100 Primogems, 10 Mystic Enhancement Ore
GENSHINGALAXY - 10,000 Mora, 10 Adventurer's Experience, 5 Fine Enhancement Ore, 3 Northern Smoked Chicken, 3 Mondstadt Hash Brown
GENSHINEPIC - 10,000 Mora, 10 Adventurer's Experience, 5 Fine Enhancement Ore, 3 Squirrel Fish, 3 Northern Apple Stew
LS6T4L9ZZ7TH - 100 Primogems, 50,000 Mora
GBNA9J5H9Y4H - 100 Primogems, 5 Hero's Wit
AS6BQKLY9GLD - 100 Primogems, 10 Mystic Enhancement Ore
SBNBUK67M37Z - 30 Primogems, 5 Adventurer's Experience
GS6ACJ775KNV - 60 Primogems, 10,000 Mora
UTNBBGSZ3NQM - 100 Primogems, 50,000 Mora
8A6ABHTH2N9Z - 100 Primogems, 5 Hero's Wit
WTNTBYSZJNRD - 100 Primogems, 10 Mystic Enhancement Ore
FS6SU367M279 - 100 Primogems, 10 Mystic Enhancement Ore
4BNSD3675J8D - 100 Primogems, 5 Hero's Wit
ATPTUJPP53QH - 100 Primogems, 50,000 Mora
TT7BVJNPL249 - 60 Primogems
PSNTC8FEQK4D - 100 Primogems, 50,000 Mora
ET7ADQFF8KJR - 100 Primogems, 5 Hero's Wit
KTNSCQWW922M - 100 Primogems, 10 Mystic Enhancement Ore
CUUPMBJSVD - 50 Primogems
GSIMPTQ125 - 60 Primogems, 10,000 Mora
GOLNXLAKC58 - 50 Primogems
GENSHIN1111 - 60 Primogems, 10,000 Mora
GenshinZHB30 - 160 Primogems
For more Genshin Impact guides, check out: