Diwali is coming to Rainbow Six Mobile, with Indian-based players in line for some free rewards.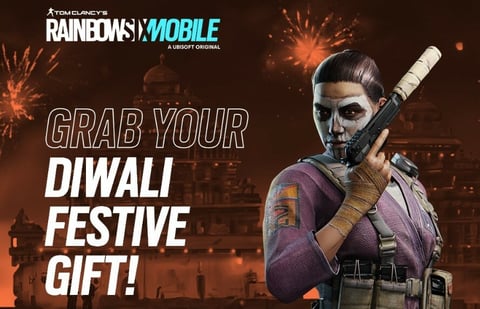 Rainbow Six Mobile is adding a Diwali playlist for its Indian players as the country prepares to celebrate the biggest holiday of the Hindu, Jains, and Sikh calendars.
The event starts today (September 21) and will likely run until the end of next week. Sometimes referred to as the festival of lights, this year, Diwali will start on Monday, October 24, with festivities traditionally taking place over five or six days.
The Diwali playlist will be exclusive to players in India and will also include a free Diwali gift that can be redeemed from the in-game inbox.
We're dropping a festive surprise for all our Closed Beta players in India!

Starting Oct 21st, you'll be able to select a very exclusive Diwali playlist in the battle panel.

Happy Diwali! #R6M #R6MDiwali pic.twitter.com/M4BbYtBpm1

— Rainbow Six Mobile (@Rainbow6Mobile) October 21, 2022
The announcement of the Diwali playlist was followed by what the developers claim will be the tenth and final invite wave.
Here it is Operators... The FINAL WAVE of our #R6M Closed Beta has been sent to all participating countries!

Be sure to keep a look out at your Google Play notifications! pic.twitter.com/KGreU8I4nc

— Rainbow Six Mobile (@Rainbow6Mobile) October 21, 2022
The developers have been regularly sending out invites to players from the 12 countries eligible for the closed beta, and with this being the final wave, it may signal the game is nearing its global release.

The closed beta had a rocky start. Server instability resulted in many invited players being unable to take part, but a client update and an increase in server capacity resolved many of the issues. With those hurdles out the way, new limited-time game modes have been added, with the Diwali playlist just the latest.
One set of gamers who have yet to try out the game is iOS users, with the developers stating that an iOS playtest will be conducted in the near future.