Use these Roblox Arsenal codes to earn some free skins and announcer voices for the best FPS on the platform. (Updated: March 2023)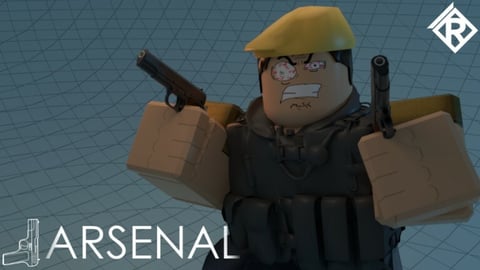 Arsenal is one of the most popular first-person shooters on the Roblox platform, thanks to its many game modes, maps, and weapons.
There are also plenty of ways to customize your experience, with various character skins, voice announcers, and taunts to slay the lobby in your unique style.
Getting these in-game cosmetics can be done in one of two ways, by purchasing them from the in-game store using Robux or by using Arsenal codes.
Arsenal codes are periodically released by the developers, ROLVe Community, and can get character skins, calling cards, emotes, and even bucks.
Below you will find all the currently active Arsenal codes, as well as information on how to redeem them and find new ones directly from the developers!
How To Redeem Arsenal Codes
Like other Roblox redeem codes, Arsenal codes are redeemed within the game.
To do so, follow these instructions:
Launch Arsenal from the Roblox app.
Once at the home screen lobby, click on the Twitter bird icon found at the bottom of the screen.
Enter one of the codes found below, and click 'Redeem'.
You will receive a message saying the code was successfully redeemed, it is an invalid code, or its limited-use and has expired.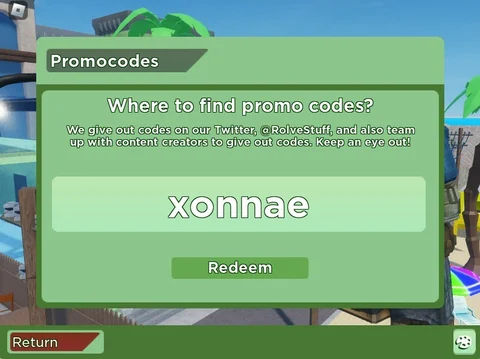 Arsenal Codes - Active Codes (March 2023)
Here are all theworking Arsenal codes as of March 21, 2023.
Take note, codes are sometimes limited-time and limited-use, so if you see a new Arsenal code that you haven't used before, redeem it as soon as possible.
goodnight - redeem to teleport to Snow Bridge
Expired Arsenal Codes
These Arsenal codes have expired and will no longer give you any rewards.
E - redeem for a calling card
ROLVE - redeem for a fanboy skin
xonnae - redeem for a Xonae announcer voice
JOHN - redeem for a John announcer voice
KITTEN - redeem for a Koneko announcer voice
CBROX - redeem for a Phoenix skin
EPRIKA - redeem for an Eprika announcer voice
Bandites - redeem for Bandites announcer voice
PET - redeem for PetrifyTV announcer voice
ANNA - redeem for Anna skin
F00LISH - redeem for Jackeryz skin
TROLLFACE
POKE - redeem for Poke skin
POG - redeem for 1.2k bucks
Bloxy - redeem for free money
GARCELLO - redeem for Garcello skin, kill effect, and emote
THE BANANA MAN
10keni
BRUTE
xonaeday21
hammertime
trolling…
NEVERBROKEN
CRACKED
dhmubruh
the 2021 spooky code
3BILLY
NEWMILO
NEWMILO (WOMAN)
SCALLYWAG
BALLISTICBSIDE
GULLIBLE
MILO
BALLISTIC
unusualbias
CharityACT5k
CastlersUnusual100k
TheBloxies
How To Get More Arsenal Codes
The easiest way to find the latest Arsenal codes is from this page, as we update this page with the latest codes and regularly make sure they are still active.
If you want to get codes at source, you will want to follow the Arsenal developer's Twitter and join the Arsenal Discord channel. Both of these places regularly get codes posted to them.
For more Roblox codes, check out: