Use these Survive The Killer codes to get free in-game items. (Updated: February 2023)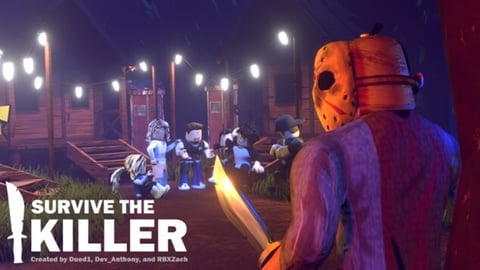 Survive The Killer is one of the most popular horror games on the Roblox platform.
Similar to Dead by Daylight, players either take on the role of killer or survivor. Killers must hunt down the survivors, while survivors must escape by any means necessary.
Killers are equipped with a knife or slycer, and as you progress through the game, you can get more elaborate versions of these weapons, often based on famous horror movie characters.
However, there is another way of getting a shiny new knife, and that is by using Survive The Killer codes.
Below we list all the available codes and how to use them.
How To Redeem Survive The Killer Codes
Redeeming codes in Survive The Killer is easy and is done from within the game. Simply follow these instructions to redeem your Survive The Killer codes:
Launch Survive The Killer from the Roblox app.
Once in the game, click on the 'Codes' button found at the bottom of the screen.
Enter a working Survive The Killer code from below and then click 'Redeem'.
If the redemption is successful, you will receive a message stating so.
You can now find your reward in your inventory.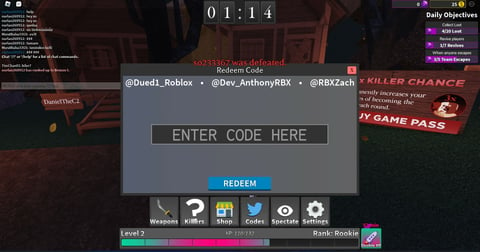 Survive The Killer (February 2023) - Active Codes
Here are all the currently working Survive The Killer redeem codes as of February 1, 2023.
NEWYEARGRIND - one hour XP boost
SNOWMAN - Minty Holiday Hook weapon
Survive The Killer - Inactive Codes
The following codes no longer work in Survive The Killer.
omgfinally - 100 gems
BOO - redeem for knife skin
DESYNC - redeem for the Broken Clock knife
LUCKY2022 - redeem for Cookie Cutter knife
CUPID2022 - redeem for Flowery Facade knife
STK2YEARS - redeem for a 2-year birthday knife
900M - redeem for 900m knife
SANTA - redeem for Santa Hat knife
HAPPYNEWYEAR - redeem for 2022 New Year knife
800M - redeem for 800m knife
Where To Get More Survive The Killer Codes
The best place to get the latest Survive The Killer codes is here. We check for new codes daily and update the list above whenever they are released. So, bookmark this page and check back each time you jump into a game of Survive The Killer.

If you want to jump to the head of the queue, you can keep an eye on the developer's Twitter pages, where the codes are usually released.
The accounts to keep an eye on are:
For more mobile redeem codes, check out: