Gameloft decided to introduce a new Multiplayer Bonus Pass to Asphalt 9. Unfortunately, that was met with huge backlash. Let's see what the fuss is all about!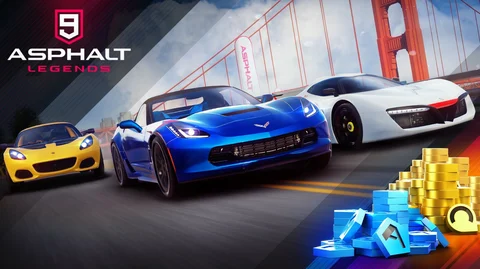 Game passes are nothing new in mobile games. These are purchasable passes that provide hardcore players with extra rewards and benefits in their favorite games. Mobile games typically have one game pass. However, Asphalt 9 is slightly different than others as it currently has two different passes.
But it seems that Gameloft is seeking to expand on its current list as players have reportedly been seeing a new Multiplayer Bonus Pass in the store. Unfortunately, as you expect with any new pay-to-win mechanic, there was a barrage of criticism against it. Let's break it down.
New Multiplayer Bonus Pass In Asphalt 9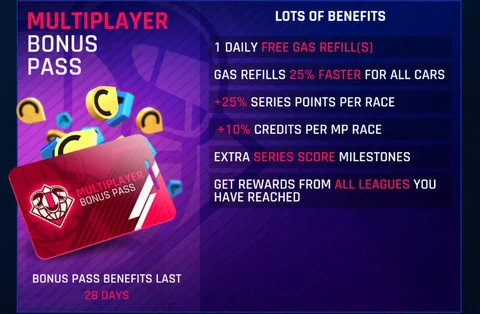 Gameloft hasn't fully implemented the new Multiplayer Bonus Pass for all Asphalt 9 players. It appears to be only available in certain regions, though that list of regions is yet to be ascertained. Regardless, the cat's out of the bag with this one and we know what perks are offered in this new pass.
These benefits are:
One daily free gas refill.
Gas refills are 25% faster for all cars.
Additional 25% series points per race.
Additional 10% Credits per multiplayer race.
Extra series score milestones.
Rewards from all Leagues you have reached.
As far as we know, the Multiplayer Bonus Pass will cost you $7.99 USD and will only last for a total of 28 days. Unfortunately, this pass has been a cause of concern for some in the Asphalt 9 community.
The High Cost Of The Multiplayer Bonus Pass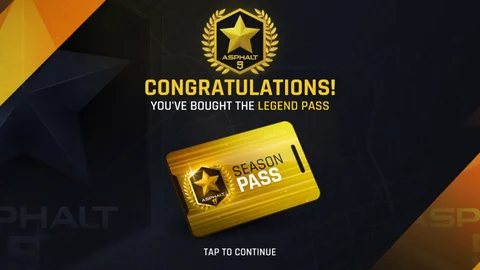 As we mentioned before, Asphalt 9 is pretty unique and already has two other game passes. Namely, the Legend Pass and the Bundle Pass which cost about €9 and €28 respectively. This Multiplayer Bonus Pass would be the game's third. The previous bundles offer players extra in-game currency, car parts, cosmetics, gas capacity, packs, an exclusive three-star car, and even a discount on next month's pass. Now that's a lot of rewards.
If we look at the Multiplayer Bonus Pass, the perks and rewards are almost exclusively for the multiplayer races, yet it fetches a rather high price when the other passes have their perks active for all races in Asphalt 9 regardless of whether they are in multiplayer mode or not. Some players have realized that the high price of this pass is the same as an Amazon Prime and Netflix subscription and argued that the pass is simply not worth cashing out on.
Some might say the Bundle Pass is expensive but we believe it's justifiably expensive as it immediately unlocks the first fifteen tiers of rewards.
Is the Multiplayer Bonus Pass A Money-Grabbing Attempt?

The short answer is yes - or at least, it's an attempt to create one. See, a standalone pass like this wouldn't bat an eye from players. But the decisions leading up to the introduction of the Multiplayer Bonus Pass indicate that this pass seeks to encourage players to spend more money on Asphalt 9.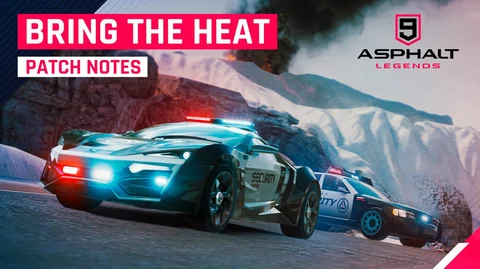 Gameloft had previously nerfed the multiplayer game mode hard in the recent Bring The Heat season and even before that in the Raging Bull season. Multiplayer seasons are now shorter and the reward system had been significantly nerfed for seemingly no reason. Many players now see the introduction of this new pass to be the main factor behind these odd changes. Gameloft needed to accommodate the new pass with those changes so that the pass benefits would be balanced.
Rewards have been severely hampered and Gameloft's suggestion is for you to buy the Multiplayer Bonus Pass to recuperate whatever League rewards you may have missed out on after the reward nerfs. But the kicker is that we don't know what League rewards are in store for us as they are randomized every season. These rewards may not end up being worth the hefty price tag you pay for.
Changing your core game to facilitate a paid-for pass is precisely the thing that turns gamers off. Sure, we are happy to grind for cosmetics but add a pay-to-win mechanic to a mode that didn't have one? That's something we don't need or want.

Stay up to date with the latest Asphalt 9 news and guides: