A SSC Tuatara special event will be held in Asphalt 9 to celebrate the arrival of a new season. Here are all the event details, challenges, and rewards.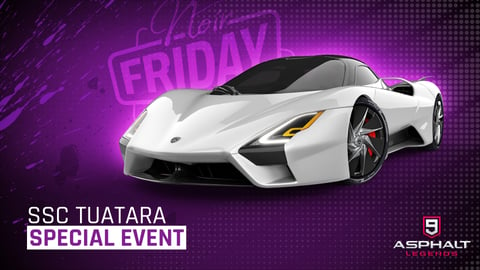 Noir Friday is the name of the new season in Asphalt 9. As customary with every season, a brand-new special event will also be introduced to the game. This time around, it will be for the sleek SSC Tuatara.
Embrace both style and comfort in this high-speed, high-performance Class-S car. It's a hypercar to end all hypercars. Lucky for you, you'll have a chance to unlock the SSC Tuatara in this limited-time special event.
Let's dive into the details.
SSC Tuatara Special Event - Challenges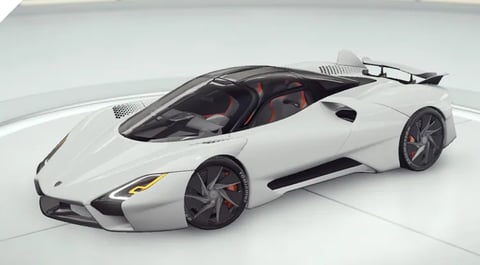 The SSC Tuatara special event will be in Asphalt 9 between November 18 and December 5. You will need a total of 130 Career Flags to participate.
Altogether, there will be 19 stages in this event. A new one will be unlocked for every day of the event. These stages will contain a variety of challenges and mini-rewards.
Here's a look at all the challenges in the SSC Tuatara special event:
Stage Level
Car
Challenges and Rewards
Stage 1
Aston Martin Vulcan / Lamborghini SC20

Finish race: Event Pack
Drift 500 meters: 30,000 Credits
Beat race time of 1 minute 27 seconds: 1 x Lamborghini SC20 Blueprint
Beat race time of 1 minute 26 seconds with Lamborghini SC20: 25 Tokens
Beat race time of 1 minute 25.5 seconds with Lamborghini SC20: 1 x SSC Tuatara Blueprint

Stage 2
Nissan GT-R Nismo / Aston Martin Valhalla Concept Car

Finish race: Event pack
Nitro time of 8 seconds: 30,000 Credits
Beat race time of 44 seconds: 1 x Aston Martin Valhalla Concept Car Blueprint
Beat race time of 43.5 seconds with Aston Martin Valhalla Concept Car: 25 Tokens
Beat race time 43 seconds with Aston Martin Valhalla Concept Car: 1 x SSC Tuatara Blueprint

Stage 3
SSC Tuatara

Finish race: Class-S+ pack
Perform 3 Shockwaves: Class-S rare parts pack
Perform 6 stunts: 50,000 Credits
Beat race time of 1 minute 29 seconds: 50 Tokens

Stage 4
Ferrari J50 / Pagani Imola

Finish race: Event pack
Perform 2 perfect runs: 30,000 Credits
Beat race time of 1 minute 14.5 seconds: 1 x Pagani Imola Blueprint
Beat race time of 1 minute 13 seconds with Pagani Imola: 25 Tokens
Beat race time of 1 minute 12.5 seconds with Pagani Imola: 1 x SSC Tuatara Blueprint

Stage 5
Lamborghini Centenario / Bugatti Divo

Finish race: Event pack
Perform four 360s in one go: 30,000 Credits
Beat race time of 44 seconds: 1 x Bugatti Divo Blueprint
Beat race time of 42.5 seconds with Bugatti Divo: 25 Tokens
Beat race time of 42 seconds with Bugatti Divo: 1 x SSC Tuatara Blueprint

Stage 6
SSC Tuatara

Finish race: Class-S+ event pack
Drift 400 meters: Class-S Rare Parts pack
Get 5 Nitro bottles: 50,000 Credits
Beat race time of 1 minute 17 seconds: 50 Tokens

Stage 7

Ferrari FXX K / Mazzanti Evantara Millecavalli

Finish race: Event pack
Obtain 15 seconds of Nitro time: 30,000 Credits
Beat race time of 1 minute 28 seconds: 1 x Mazzanti Evantra Millecavalli Blueprint
Beat race time of 1 minute 24 seconds with Mazzanti Evantra Millecavalli: 25 Tokens
Beat race time of 1 minute 23 seconds with Mazzanti Evantra Millecavalli: 1 x SSC Tuatara Blueprint

Stage 8
Icona Vulcano Titanium / Bugatti La Voiture Noire

Finish race: Event pack
Perform 4 Perfect Nitros: 30,000 Credits
Beat race time of 1 minute 31 seconds: 1 x Bugatti La Voiture Noire Blueprint
Beat race time of 1 minute 27 seconds with Bugatti La Voiture Noire: 25 Tokens
Beat race time of 1 minute 26.5 seconds with Bugatti La Voiture Noire: 1 x SSC Tuatara Blueprint

Stage 9
W Motors Lykan Hypersport / Koenigsegg Gemera

Finish race: Event pack
Perform 2 perfect runs: 30,000 Credits
Beat race time of 1 minute 35 seconds: 1 x Koenigsegg Gemera Blueprint
Beat race time of 1 minute 30 seconds with Koenigsegg Gemera: 25 Tokens
Beat race time of 1 minute 29 seconds with Koenigsegg Gemera: 1 x SSC Tuatara Blueprint

Stage 10
SSC Tuatara

Finish race: Class-S+ pack
Perform 3 Shockwaves: Class-S Rare Parts pack
Perform 6 stunts: 50,000 Credits
Beat race time of 1 minute 24 seconds: 50 Tokens

Stage 11
Aston Martin Vulcan / Lamborghini SC20

Finish race: Event pack
Complete 2 Knockdowns: 100,000 Credits
Beat race time of 1 minute 18 seconds: 50 Tokens
Beat race time of 1 minute 16 seconds with Lamborghini SC20: 1 x SSC Tuatara Blueprint
Beat race time of 1 minute 15 seconds with Lamborghini SC20: 1 x Lamborghini SC20 Import part
Beat race time of 1 minute 14.5 seconds with Lamborghini SC20: 1 x Lamborghini SC20 Import part

Stage 12
Nissan GT-R / Aston Martin Valhalla Concept Car

Finish race: Event pack
Obtain 5 seconds of air time: 100,000 Credits
Beat race time of 54 seconds: 50 Tokens
Beat race time of 53 seconds with Aston Martin Valhalla Concept Car: 1 x SSC Tuatara Blueprint
Beat race time of 52 seconds with Aston Martin Valhalla Concept Car: 1 x Aston Martin Valhalla Concept Car Import part
Beat race time of 51 seconds with Aston Martin Valhalla Concept Car: 1 x SSC Tuatara Import part

Stage 13
Ferrari J50 / Pagani Imola

Finish race: Event pack
Obtain 4 Nitro bottles: 100,000 Credits
Beat race time of 1 minute 24 seconds: 50 Tokens
Beat race time of 1 minute 23 seconds with Pagani Imola: 1 x SSC Tuatara Blueprint
Beat race time of 1 minute 22 seconds with Pagani Imola: 1 x Pagani Imola Import part
Beat race time of 1 minute 21.5 seconds: 1 x SSC Tuatara Import part

Stage 14
Lamborghini Centenario / Bugatti Divo

Finish race: Event pack
Perform 5 stunts: 100,000 Credits
Beat race time of 1 minute 14 seconds: 50 Tokens
Beat race time of 1 minute 10 seconds with Bugatti Divo: 1 x SSC Tuatara Blueprint
Beat race time of 1 minute 9 seconds with Bugatti Divo: 1 x Bugatti Divo Import part
Beat race time of 1 minute 8 seconds with Bugatti Divo: 1 x SSC Tuatara Import part

Stage 15
Ferrari FXX K / Mazzanti Evantara Millecavalli

Finish race: Event pack
Drift 500 meters: 100,000 Credits
Beat race time of 1 minute 16.5 seconds: 50 Tokens
Beat race time of 1 minute 16 seconds with Mazzanti Evantara Millecavalli: 1 x SSC Tuatara Blueprint
Beat race time of 1 minute 15 seconds with Mazzanti Evantara Millecavalli: 1 x Mazzanti Evantara Millecavalli Import part
Beat race time of 1 minute 14.5 seconds with Mazzanti Evantara Millecavalli: 1 x SSC Tuatara Import part

Stage 16
Bugatti La Voiture Noire / Icona Vulcano Titanium

Finish race: Event pack
Perform 4 barrel rolls: 100,000 Credits
Beat race time of 40 seconds: 50 Tokens
Beat race time of 39 seconds with Bugatti La Voiture Noire: 1 x SSC Tuatara Blueprint
Beat race time of 38 seconds with Bugatti La Voiture Noire: 1 x Bugatti La Voiture Noire Import part
Beat race time of 37 seconds with Bugatti La Voiture Noire: 1 x SSC Tuatara Import part

Stage 17
W Motors Lykan Hypersport / Koenigsegg Gemera

Finish race: Event pack
Perform 3 Perfect Nitros: 100,000 Tokens
Beat race time of 1 minute 1 second: 50 Tokens
Beat race time of 57 seconds with Koenigsegg Gemera: 1 x SSC Tuatara Blueprint
Beat race time of 56 seconds with Koenigsegg Gemera: 1 x Koenigsegg Gemera Import part
Beat race time of 55.5 seconds with Koenigsegg Gemera: 1 x SSC Tuatara Import part

Stage 18
SSC Tuatara

Finish race: Event pack
Perform 4 jumps: 30,000 Credits
Beat race time of 1 minute 13 seconds: 50,000 Credits
Beat race time of 1 minute 12 seconds: 75 Tokens
Beat race time of 1 minute 11 seconds: 75,000 Credits
Beat race time of 1 minute 10 seconds: 150,000 Credits
Beat race time of 1 minute 9 seconds: 1 x SSC Tuatara Import part
Beat race time of 1 minute 8 seconds: 100 Tokens
Beat race time of 1 minute 7 seconds: 1 x SSC Tuatara Import part

Stage 19
SSC Tuatara

A final race where you will race to qualify in either the top 1%, 25%, 50%, or 75%. Your placement will determine the bonus rewards you receive
SSC Tuatara Special Event - Rewards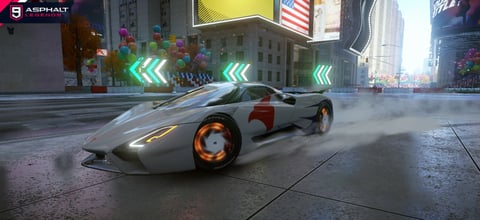 Completing the previously mentioned challenges will earn you Conditions. Amassing enough conditions will unlock special rewards in a separate rewards track.

Here are all the progression rewards for the SSC Tuatara special event:
| | |
| --- | --- |
| Number of Conditions | Rewards |
| 25 | 3 x Lamborghini SC20 Blueprints |
| 50 | 3 x Aston Martin Valhalla Concept Car Blueprints |
| 100 | 3 x Pagani Imola Blueprints |
| 150 | 3 x Bugatti Divo Blueprints |
| 200 | 3 x Mazzanti Evantra Millecavalli Blueprints |
| 250 | 3 x Bugatti La Voiture Noire Blueprints |
| 300 | 3 x Koenigsegg Gemera Blueprints |
| 350 | 1 x SSC Tuatara Import Part |
| 375 | SSC Tuatara Car Decal |
| 400 | SSC Tuatara Car Key |
Stay up to date with the latest Asphalt 9 news and guides: