NAVI has signed a roster that sees them officially enter the Clash of Clans esports scene.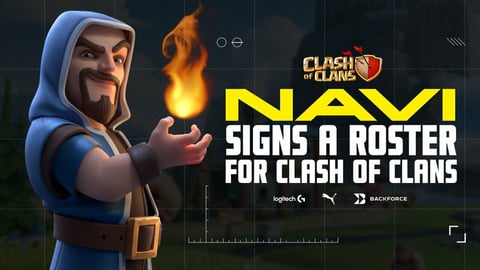 NAVI has launched a roster for Supercell's popular mobile strategy game, Clash of Clans. The Ukrainian outfit has assembled a star-studded team of players to hit the ground running in their inaugural year of this highly competitive esports scene.
For many, the roster is essentially the same roster that Japan's QueeN Walkers fielded last year when they won the Clash of Clans World Championship 2022. NAVI poached four of the five players from last year's champions: GAKU, Klaus, STARs, and Kazuma.
Welcome to the family! #navination #ClashofClans @GAKU_coc@Kazuma_coc_@Klaus_coc@Bernaulcoc@end7_coc@STARs_coc_ pic.twitter.com/rrEmK4FWM4

— NAVI (@natusvincere) January 19, 2023
GAKU, Klaus, and STARs are arguably the strongest players to have joined NAVI. They have enjoyed several successful years at QueeN Walkers where they won the Clash of Clans World Championship in 2022 and were the runners-up for the tournament in both 2020 and 2021.
GAKU, who will captain the NAVI Clash of Clans roster, stated:
We are very thankful to NAVI for the opportunity to represent them in the [Clash of Clans] discipline. We will do our best to continue this historic organization's legacy and meet the expectations of the NAVI fans!

The four Japanese players are joined by Bernaul. The Brazilian player previously competed as a member of Spacestation Gaming and INTZ eSports and was considered a stand-out at last year's major tournament.
Coaching this talented team is End. He has a reputation for assembling and training championship-winning rosters such as Nova Esports when he led them to their 2019 victory in the Clash of Clans World Championship. End, too, was poached from QueeN Walkers where he was a coach since 2021.
Needless to say, NAVI is planning on building a championship-winning side that will add to their illustrious trophy cabinet after successful periods in games like CS:GO and DOTA 2.