Supercell has unveiled the Monolith and Spell Tower as the two base defenses for Town Hall 15. Here's everything you need to know about it.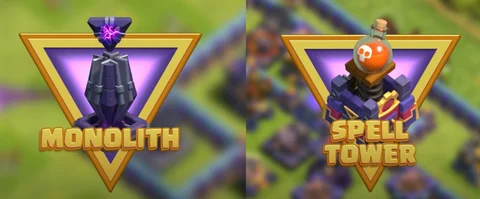 Town Hall 15 is arguably the biggest update in Clash of Clans' history to date. With a new magic theme set to grace your village, it's only fitting that the base defenses harness the sorcery of the latest update. That being said, Supercell introduced the two most magical base defenses we could have asked for: the Monolith and Spell Tower.
From the looks of things, these base defenses are set to be fearsome, deadly, and extremely expensive to build. Let's dive deeper into what they do, their stats, and their upgrades.
Clash Of Clans Town Hall 15 Base Defense - Monolith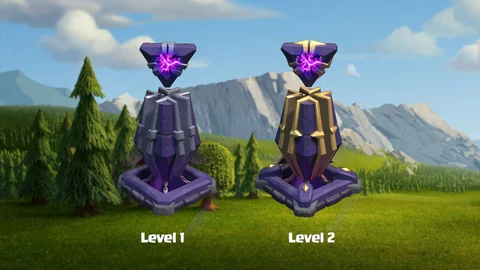 The Monolith is a single-target base defense that will deal powerful damage to high HP troops. Though the Monolith will deal a certain level of base damage, it will deal bonus damage to troops based on a percentage of the target's max HP if it is targeted again. With this in mind, the Monolith will be especially dangerous for tanks such as the P.E.K.K.A. or Heroes.

The Monolith is constructed and upgraded with Dark Elixir. It currently has a maximum upgrade level of level 2.
Here are the Monolith's stats in detail:
| | | | | | |
| --- | --- | --- | --- | --- | --- |
| Level | Upgrade Cost | Upgrade Time | Base Damage per Second | Additional Damage (on the same target) | Hit Points |
| 1 | 300,000 Dark Elixir | 18 days | 150 | 14% | 4747 |
| 2 | 360,000 Dark Elixir | 19 days | 200 | 15% | 5050 |
Clash Of Clans Town Hall 15 Base Defense - Spell Tower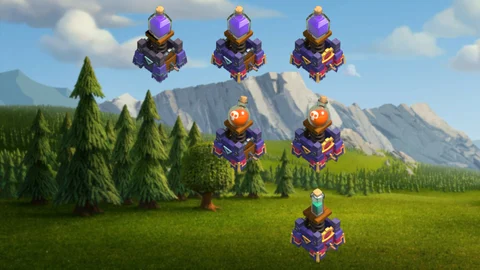 The Spell Tower is a dynamic Town Hall 15 base defense that will allow you to equip one of three different spells: the Rage, Poison, or Invisibility spell. These spells will not be launched but will be cast on the Spell Tower itself. The Rage and Poison spells will benefit nearby troops and buildings while the Poison spell will negatively affect nearby enemies. The Spell Tower looks like an incredible counter to swarms.

Once you upgrade to Town Hall 15, you can place two Spell Towers in your Home Village. You can build and upgrade them with Gold. It currently has a max upgrade level of level 3 and you will be able to unlock a different spell with each level.
Here are the Spell Tower's stats in detail and what spell you can expect to unlock at each level:
| | | | | |
| --- | --- | --- | --- | --- |
| Level | Upgrade Cost | Upgrade Time | Hit Points | Spell unlocked |
| 1 | 14,000,000 Gold | 14 days | 2,500 | Rage spell |
| 2 | 16,000,000 Gold | 16 days | 2,800 | Poison spell |
| 3 | 18,000,000 Gold | 18 days | 3,100 | Invisibility spell |
Stay up to date with the latest Clash of Clans news and guides: