There are many different types of Chests in Clash Royale. Each offers varying rewards, so it can be tricky to keep track. Here's a guide going through all the Chests in the game.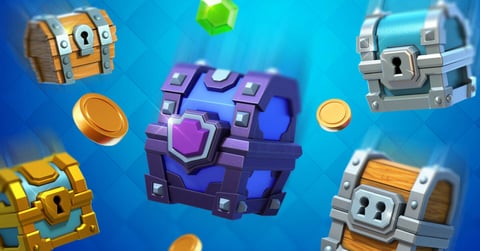 Chests are boxes in Clash Royale that offers items such as Gold, cards, Gems, and more. They're perfect for giving you the tools you need to unlock new cards, upgrade existing ones, obtain new cosmetics, and generally further your in-game progress.
Lucky for you, there are various Chests available. Each one offers different types of rewards and various ways you can obtain them. The best part is that they're relatively easy to get in the game as they're the primary source for most in-game items. Suffice it to say that you're spoilt for choice when it comes to them.
Here's an overview of all the currently available Chests in Clash Royale.
All Chests In Clash Royale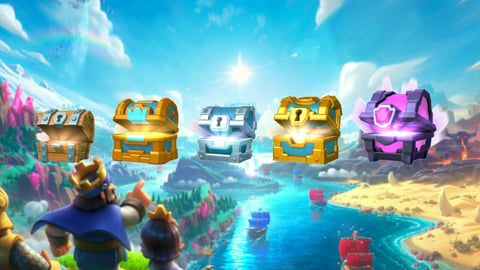 The rewards offered vary with each Chest and also with your Arena level (for some). Needless to say, the better the Chest's rewards, the harder they are to get. That being said, there are various ways you can get Chests. These include winning games, completing tasks, purchasing them from the Shop, and more.
Unfortunately, you won't be able to instantly reap the rewards of your Chests - at least, not for all of them. There will be a waiting period, also known as an 'unlock time', that you will have to endure before the Chest is opened. If patience isn't your strongest virtue or you desperately need the rewards, you can skip the wait by opening them with Gems.
But now that the fundamentals are out of the way, we can finally go over all the Chests in Clash Royale. We'll be taking a look at the Chest types, the rewards available in them, their respective unlock times, and how you can get them.
Chest
Reward(s)

Unlock Time

How To Get
Wooden Chest
5 seconds
Awarded after winning a battle during the Tutorial
Crown Chest

Gems
Common cards
Rare cards
Chance for Legendary card

Instant

Awarded from the Pass Royale after earning 5 or 10 Crowns

Silver Chest

Gold
Common cards
Rare cards

3 hours (or instant if opened with 18 Gems)

Awarded after winning a Ladder/Party battle or completing Daily Tasks

Golden Chest

Gold
Common cards
Rare cards

8 hours (or instant if opened with 48 Gems)

Awarded after winning a Ladder/Party battle or completing Weekly Tasks

Giant Chest

Gold
Common cards
Rare cards
Epic cards

12 hours (or instant if opened with 72 Gems)
Awarded after winning a Ladder/Party battle
Magical Chest

Gold
Common cards
Rare cards
Epic cards
Chance for Legendary card

12 hours (or instant if opened with 72 Gems)

Awarded after winning a Ladder/Party battle

Epic Chest
12 hours (or instant if opened with 72 Gems)
Awarded after winning a Ladder/Party battle

Legendary Chest

1 day (or instant if opened with 144 Gems)
Awarded after winning a Ladder/Party battle
Lightning Chest

Gold
Common cards
Rare cards
Epic cards

Instant

Obtainable through the Shop

Mega Lightning Chest

Gold
Common cards
Rare cards
Epic cards
Chance for Legendary card

24 hours (or instant if opened with 144 Gems)
Awarded after winning a Ladder/Party battle
Clan War Chest

Gold
Various rarity cards (dependent on your Clan League and Clan ranking)

Instant
Awarded when a Clan crosses the 'Finish Line' in Clan Wars
Fortune Chest

Gold
Wild cards
Four random cards of varying rarities are featured. You have a chance of obtaining two or more out of the four featured

Instant
Obtainable through the Shop
King's Chest

Gold
Common cards
Epic cards
Rare cards

Instant
Obtainable through the Shop
Legendary King's Chest

Gold
Common cards
Epic cards
Rare cards
Legendary card
Champion card

Instant
Obtainable through the Shop
Royal Wild Chest

Gold
Common cards
Rare cards
Epic cards
Legendary card
Champion card

1 day (or instant if opened with 144 Gems)
Awarded after winning a Ladder/Party battle
Champion Chest
Instant
Obtainable through the Shop
Level Up Chest

Gold
Cards (rarity dependent on current Arena level)

Instant
Awarded after winning a Ladder/Party battle
Grand Challenge Chest

Gold
Common cards
Rare cards
Epic cards
Chance for a Legendary card

Instant

Awarded after earning a certain number of wins in the Grand Challenge

Classic Challenge Chest

Gold
Common cards
Rare cards
Epic cards
Chance for a Legendary card

Instant
Awarded after earning a certain number of wins in the Classic Challenge
Gold Crate
3 hours (or instant if opened with 18 Gems)
Awarded after winning a Ladder/Party battle
Plentiful Gold Crate

8 hours (or instant if opened with 48 Gems)

Awarded after winning a Ladder/Party battle
Overflowing Gold Crate
12 hours (or instant if opened with 72 Gems)
Awarded after winning a Ladder/Party battle
Stay up to date with the latest Clash Royale guides: