HoYoverse is throwing a massive album event to celebrate the successful conclusion of the version 2.0 update in Genshin Impact. Check out all the details!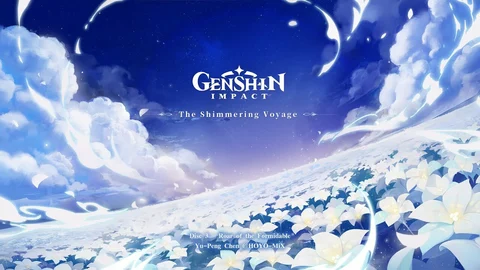 With the huge version 3.0 update coming to Genshin Impact on August 24, 2022, it's time to say goodbye to version 2.0 and all of its mini-updates. HoYoverse recently released a three-disc official soundtrack, the Shimmering Voyage, to commemorate the conclusion of the v2.0 update that has been in Genshin Impact for the past year.
Building on this album's release, HoYoverse has decided to throw a massive album event, Ballads of the World, that will gift players with incredible event-exclusive rewards for simply listening to the album. Here's how you can participate and what you can expect to win!
Ballads Of The World - Event Duration
The Ballads of the World is a limited-time album event that will start on August 16 and will end on August 21, 2022, at 11:59 pm local time.
Ballads Of The World - How To Participate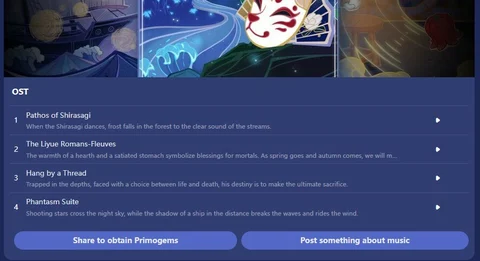 Participating in this album event is simple. Just follow these steps, and you will be on your way to winning in-game rewards:
Load the v2.0 Commemorative OST album page on the HoYoLAB site.
Listen to at least three tracks from the new OST album.
Click "Share to Win Primogems" at the bottom of the page (see picture above) and choose one of your social media accounts to share the album event on. Keep in mind that your personal social media homepage must be set to public and not private.
You can participate multiple times in the event. However, the rewards are not stackable, so if you win, you will only be rewarded once.
Your participation in the Ballads of the World event will not count if you listen to the tracks on other platforms such as YouTube or Spotify.
Ballads Of The World - Rewards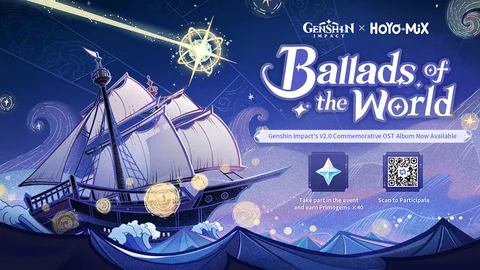 Completing the aforementioned steps will earn you some amazing rewards! What rewards? Here are the rewards you can expect to receive if you win:
40x Primogems
Event-exclusive HoYoLAB avatar frame
Keep in mind that these rewards are limited to the first three million people to participate in the event. That means it's a first-come, first-serve distribution, so get cracking and share the Genshin Impact Ballads of the World event now!
For those who have won the rewards, HoYoverse will inform you of the redemption codes for your rewards via a HoYoLAB forum message before August 24, 2022, at 11:59 pm (UTC+8). The winners can claim their rewards on the Genshin Impact site or in-game. The redeem codes will only be valid until August 31, 2022, at 11:59 pm (UTC+8), so be sure to claim them in time!
Stay up to date with the latest Genshin Impact news and guides: