Justin Bieber and the Reunite the World event headline Free Fire's 5th anniversary.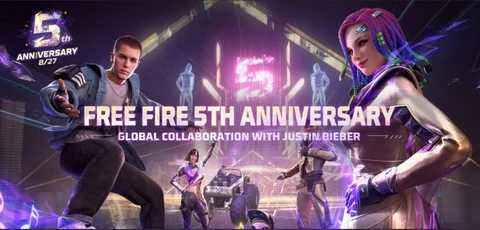 Free Fire is coming up for its fifth birthday, and the developers, Garena, are going big with the party.
Maybe it's just to remind everyone that Free Fire remains the biggest shooter on mobile, but Garena has been polishing up its title heading up to this fifth-year anniversary. Last month the game revealed a rebrand.
"New Look, New Chapter" states the promotional image. "Battle in style."
This follows the release of a graphically enhanced version of the game, Free Fire MAX, at the end of last year.
And why this desire to look for Free Fire to look its best? Well, because Justin Bieber is coming to town!
Garena has signed up the Canadian pop star for a virtual concert - the first seen in the game - to headline their fifth birthday celebrations.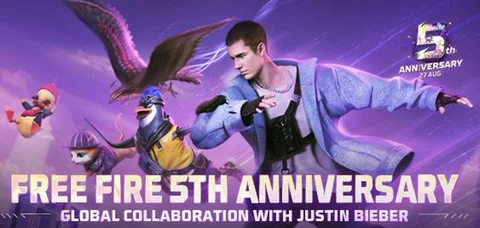 Other events and festivities are expected, with a new Reunite the World 5 Chapters event confirmed to be on its way, which will offer up exclusive rewards to players.

There is plenty more promised, including a brand new map and game mode, so if you want the lowdown, check out our primer below.
Free Fire Fifth Anniversary Event
There is plenty for players to do during Free Fire's fifth-anniversary celebrations. with new game modes, maps, and, of course, the virtual concert with Justin Bieber.
In its entirety, the associated events are sent to run for almost six weeks, with the main thread of that being the Reunite the World 5 Chapters event.
Broken up into five chapters, this event will offer up new weekly challenges and awards, all designed to celebrate iconic events and characters from the game. The chapters are Battle, Style, Map, Heroes, and Memory.

The Free Fire fifth anniversary celebrations and set to kick off on Thursday, August 4, culminating in Justin Bieber's Beautiful Love virtual concert on August 27. But it doesn't end there, as many of the events and game modes, including Bieber's concert and the closing weeks of the Reunite the World event, will be available until September 13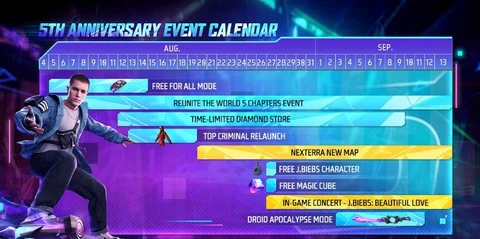 Schedule
Free For All Mode - August 5-14
Reunite The World 5 Chapters Event - August 4 to September 13
Time-Limited Diamond Store - August 12 to September 9
Top Criminal Relaunch - August 13-19
Nexterra New Map - August 20 to September 13
Free J. Biebs Character - August 27
Free Magic Cube - August 27
Justin Bieber: Beautiful Love - August 27 to September 13
Droid Apocalypse Mode - September 3-10
What Do Garena Have Planned For Free Fire's Fifth Birthday?
A lot, as you can see from the event schedule above.
The headline grabber is undoubtedly the Justin Bieber concert. Free Fire's first-ever in-game performance will kick off on August 27, with a new track from Bieber, "Beautiful Love (Free Fire)", set to get its debut performance.
Justin Bieber: Beautiful Love
Players will be able to dance and play minigames, with those who make the effort to be in attendance on the opening night set to get a permanent J. Biebs in-game character and a Magic Cube. The latter can be redeemed for exclusive costume bundles, and you can bet opening night will be packed!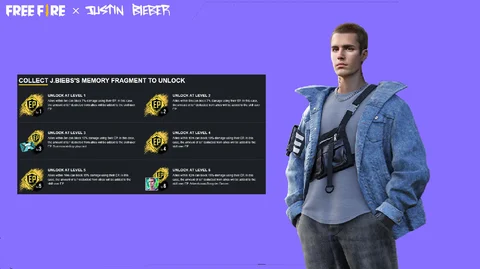 New Map And Mode

Arriving on August 20 is a new map - Nexterra. Promising to "diversify the battle experience," players can expect a map with dynamic elements, keeping the action fresh each and every time you jump in.
There will also be two new game modes. First up is the Free For All mode which will be launched on August 5. Featuring up to 16 players and designed for close-quarters combat, this will prove a useful mode for a quick warm-up.
Our 5th Anniversary is less than a month away, and we're planning a massive celebration!

Tons of in-game events
New Map and Mode
Exclusive collaboration content

This is only a taste, so get ready for August 27th! #FreeFire pic.twitter.com/rBQhFfi3dW

— Garena Free Fire North America (@FreeFire_NA) August 2, 2022
The next mode is Droid Apocalypse, and it is offering up something new for Free Fire players. Up to twelve players will select their own type of droid and try and convert as many humans as possible before the timer runs out. When only a predetermined number of humans remain, they will transform into hunters and have enhanced stats, as well as the ability to permanently eliminate droids. The player with the most points after three rounds will win the match.
More is yet to be revealed about Free Fire's big birthday bash; check back with us throughout the month as we keep you abreast with the latest news and guides!