Rise of Necrokeep is the name of the latest Project NEXT heading to Mobile Legends. If it's like the previous Project, we'll be seeing some Heroes receive big reworks! Here are all the details about the release date, reworked Heroes, and the changes we can expect.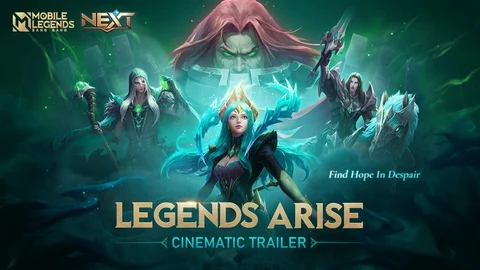 Project NEXT is the next big project coming to Mobile Legends: Bang Bang! For those unfamiliar with what this means, this is a project created by the Montoon dev team to often improve upon Heroes that are underutilized in the current meta or are in desperate need of a rework.

Seasoned players will know that this is similar to a Project NEXT from the past. Previously, the devs introduced a year-long three-part project under the same name that took place from 2020 to 2021. Heroes like Minotaur and Annette saw massive overhauls to their models and animations amongst other things.
So, what lies ahead? Let's take a look...
Release Date
There has been no official release date for the new Project. We know that the devs are currently testing the changes in Advanced Servers (meaning test servers).
That being said, all changes are yet to be finalized. We still aren't sure of the exact number of parts this project will have (if any). We'll only truly have an idea of all this when Montoon releases more details.
Reworked Heroes
There are currently 116 Heroes in Mobile Legends. However, the devs usually drop a few hints about which few Heroes are receiving massive reworks. The video teaser for the latest Project NEXT, titled "Legends Arise", did not disappoint:
In the video, you can see Heroes like Faramis, Vexana, and Leomord all engaging in battle. However, Hanabi and Akai will also be included for changes. So we can expect five Heroes to receive some type of change in the new project.
Changes
No official images or details from the Montoon team have been released. However, we do know what type of changes are slated to come to each of these Heroes. Here they are:
| | | | | | | | |
| --- | --- | --- | --- | --- | --- | --- | --- |
| Hero | Model | Animation | New Abilities | In-Game Skill VFX | Skill SFX | Skill Icon | Voiceover |
| Akai | New | New | TBA | New | New | New | New |
| Faramis | New | New | TBA | New | New | New | New |
| Hanabi | New | New | TBA | New | New | New | New |
| Leomord | New | New | TBA | New | New | New | New |
| Vexana | New | New | TBA | New | New | New | New |
This is still a developing story, so keep an eye out on this space as we'll regularly update this update when more information is made available from the Montoon team!