MiHoYo have revealed a preview of the three new characters that will be joining Genshin Impact in version 3.0! Here's a quick look at the release date, characters, and more.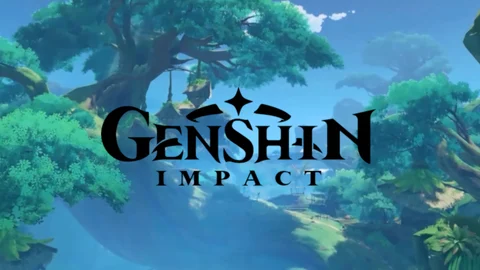 A preview of what's to come in the much-anticipated version 3.0 update in Genshin Impact has been released! Three new characters will be joining the fifty-strong roster already in the game. Part of this massive update means an all-new look at both old and new aspects of the game. In v3.0, these characters will be bringing us to a closer understanding of the Dendro Element and the Sumeru region in Tevyat.
Without further ado, let's dive in!
Genshin Impact V3.0 Release Date
Version 3.0 is expected to be released in Genshin Impact on August 24. Keep in mind that with the recent release of Summer Fantasia on July 13, 2022, we are only on v2.8.
However, it is likely MiHoYo will completely forgo a v2.9 update as new updates are scheduled every six weeks. That is the perfect amount of time between v2.8 and v3.0. But fret not, this isn't the first time that the MiHoYo team has skipped an update. The "Immovable God and the Eternal Euthymia" update skipped over from v1.6 to v2.0 in 2021.
Characters
MiHoYo has revealed three brand new characters that will be joining Genshin Impact with the release of v3.0. They are Dori, Tighnari, and Collei. Let's take a closer look at them.
Dori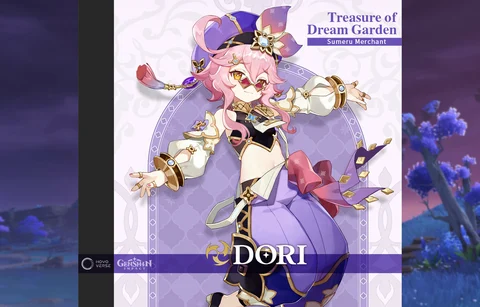 Dori is a merchant from Sumeru who styles herself with flashy pink hair and a regal purple outfit. Though not much is known about the weapon she will be equipped with, we know that she will be an Electro character. Electro is arguably the strongest Element currently available in Genshin Impact so we can expect Dori to pack quite a punch with her attacks.
"No matter how rare the experimental materials are, you can buy them from Dori. I don't know where she gets her goods from..." - Tighnari

* Dori
* Treasure of Dream Garden
* Sumeru Merchant
* Electro
* Magicae Lucerna#GenshinImpact #Sumeru pic.twitter.com/qLjPqzAevB

— Genshin Impact (@GenshinImpact) July 11, 2022
The official Genshin Impact Facebook page has revealed lore about Dori. Here it is:
The unpredictable and elusive Dori seems to have an uncountable number of treasures.
As the most "resourceful" merchant in Sumeru, she has a way to get you anything you need, be it precious gems, rare herbs, and exotic items that no one has ever heard of.
Of course, this doesn't come at a small price. Dori always has a warm smile on her face when quoting you jaw-dropping prices.

Some people see her as rain after a long drought, one that brings timely relief, while others regard her as an unscrupulous merchant who takes advantage of the situation.
But all this chatter doesn't faze Dori in the slightest. The only thing that echoes in the Palace of Alcazarzaray has always been the crisp sound of Mora tinkling.
Rumors have indicated that Dori will be a four-star character.
Tighnari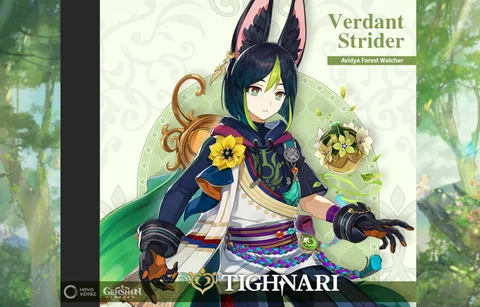 Tighnari is one of the two new characters who are a part of the Avidya Forest Watchers. Naturally, he is covered in the forest colors but something stands out and those are his unusually tall ears. Similar to Dori, his weapon of choice has not been revealed but he will be a Dendro character.
More importantly, Tighnari will be the second officially confirmed male Catalyst user in Genshin Impact. He follows Shikanoin Heizou who was recently revealed in the Summer Fantasia update.
"I brought back a specialty from the desert, two packs of honeyed dates, which helps to replenish your energy, whether in the morning or at night." -An anonymously source

* Tighnari
* Verdant Strider
* Avidya Forest Watcher
* Dendro
* Vulpes Zerda#GenshinImpact pic.twitter.com/we5Mx9w53c

— Genshin Impact (@GenshinImpact) July 11, 2022
The official Genshin Impact Facebook page has revealed lore about Tighnari. Here it is:
People who encounter misfortunes in the Avidya Forest are lucky to meet a Forest Watcher named Tighnari.
But if you land yourself in trouble due to foolish antics, you might have mixed feelings meeting Tighnari.
Tighnari resolves problems quickly and professionally, but at the same time, he will give the other party a stern lecture.

As the saying goes, those who underestimate the rainforest will get taught a lesson by it, and those who underestimate a Forest Watcher will eventually face the teachings of the "Wilderness Survival Skills Lecture."

These are all rumors, but in reality, there is no need to be too stressed when encountering Tighnari. Anyone with a clear head will be able to comprehend his easy-to-understand explanations.

As for those who are set in their ways—
"What a pity, I majored in botany, and helping people grow a brain is not my area of expertise."
No information has been released about what type of star character Tighnari will be in Genshin Impact.
Collei
Collei will join Tighnari as part of the Avidya Forest Watchers. Like him, she will also be a Dendro character. From the mysterious bow in the character art, we can tell that Collei will be a ranged-attack character.
She will be a familiar face to those who have read the Genshin Impact prequel webtoon. As the webtoon took place several years before the events of Genshin Impact, it'll be a welcome addition to those who have followed the game's lore closely and are curious about the aftermath of Collei's revenge plot against Fatui.
"Oh, you're going to Sumeru? Can you give my regards to Collei? Well... it's been so long, I wonder if her hair has grown out and if she's taller?" - Amber

* Collei
* Sprout of Rebirth
* Avidya Forest Ranger Trainee
* Dendro
* Leptailurus Cervarius#GenshinImpact #Sumeru pic.twitter.com/sYz8bk8o57

— Genshin Impact (@GenshinImpact) July 11, 2022
The official Genshin Impact Facebook page has revealed lore about Collei. Here it is:
A trainee ranger active in Avidya Forest. Positive and optimistic, enthusiastic and kind.
Collei is from Sumeru, but few people know about her experiences before she came to Gandharva Ville, and she herself never mentions anything about her past.

Perhaps because of Collei's pure gaze and earnest attitude, people saw her reserved demeanor as just part of her personality and did not shy away from her because of it.
The children of Gandharva Ville love to watch her sew dolls, and those who find themselves lost in Avidya Forest are willing to follow her back to safety.

Since her return to Sumeru, Collei has earned the trust and respect of the people with her actions.

But at night, when everything is dark, she sometimes thinks about those memories that she has buried away.
Even though everything is going well, she still hopes that she can work even harder and improve faster in the future.

—Only in this way can she overcome her past weak self as quickly as possible.
No information has been released about what type of star character Collei will be in Genshin Impact.
Once again, v3.0 will be released in Genshin Impact on August 24, 2022. Till then, stay up to date with the latest Genshin Impact news and guides: