Raid Shadow Legends has announced a partnership with Amazon Prime Gaming to release limited-time in-game rewards.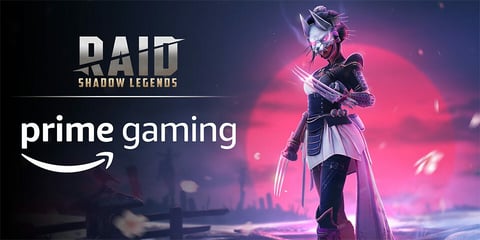 Plarium, the developer behind the hit mobile RPG strategy game Raid Shadow Legends, will release premium rewards through Amazon's Prime Gaming service. A new reward will be dropped every month between November and April next year.
Raid Shadow Legends joins an extensive list of mobile games such as Pokémon GO and Wild Rift whose players receive monthly rewards simply by signing up for the service. To get these rewards, you will first need to subscribe to Amazon Prime. This subscription will cost $5.99 per month and will allow you to claim rewards on both PC and mobile devices.
There will be a total of six rewards available for Raid Shadow Legends. Here are all the rewards in detail:
November 2022: Epic Champion Kunoichi.
December 2022: A 6-star, 6-piece Shield Artifact set.
January 2023: Resource and boost items such as 500 energy, one million silver, 200 auto battle tickets, and a 100% XP boost for 3 days.
February 2023: Epic Champion Genbo the Dishonored.
March 2023: A 6-star, 6-piece Savage Artifact set.
April 2023: Resources and boost items such as 4 four-star Rank up chicken, 10 Void Potion High, 25 XP Brew Voids, and one million silver.
This marks the second time that Plarium has collaborated with Amazon Prime Gaming to drop exclusive rewards for Raid Shadow Legends. They previously announced a brief partnership in 2019 during the game's launch.
Stay up to date with the Prime Gaming rewards you can get for other games: