The Season 4 rewards have been revealed for Rocket League Sideswipe. Here is everything you need to know.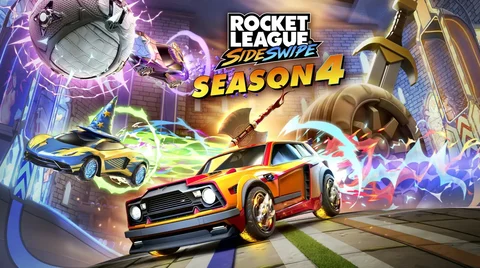 Rocket League Sideswipe is currently in its fourth season, a fantasy-themed season that introduced a new Arena, the player-voted Mutator Madness, and a Rocket Pass.

It also marked the start of a brand new ranked season, which not only allows players to get their competitive fix but also earn ranked rewards.

This season's ranked rewards have now been revealed, so if you want to learn more, including the Season 4 end date, here is everything you need to know.

Rocket League Sideswipe Season 4 - End Date
Knowing the end date for whatever season is currently underway is important, as this is when your rank is taken and the appropriate rewards are dished out.
Following this, a rank reset is put in place, and the following season will begin, which will be Rocket League Swideswipe Season 5.
Thankfully, the developers don't make this end date a secret, and we know from the in-game counter that Rocket League Sideswipe Season 4 will end on Wednesday, September 7.
Rocket League Sideswipe Season 4 - Rewards
One thing that isn't revealed at the start of the season is what the rank rewards will actually be, with this information usually kept until the halfway point of the season.
We've had to wait a little longer for the reveal of the Rocket League Sideswipe Season 4 rewards, but that wait is now over, as, on August 25, the developers revealed that players would get stickers.

Check out your Season 4 Rewards!

What sticker did you earn this season? #RLSideswipe pic.twitter.com/HgOMi2DT8y

— Rocket League Sideswipe (@RLSideswipe) August 25, 2022
There will be a sticker for each rank, with players getting ones based on their finishing rank. They will also get stickers for the ranks they passed through on the way.
For more mobile gaming news and guides, check out: