Overwatch meets Star Wars in Star Wars: Hunters a 4v4 arena shooter with heroes straight from sci-fi's most iconic franchise. Here is everything you need to know including the release date, open beta details, and how you can nab some pre-registration rewards.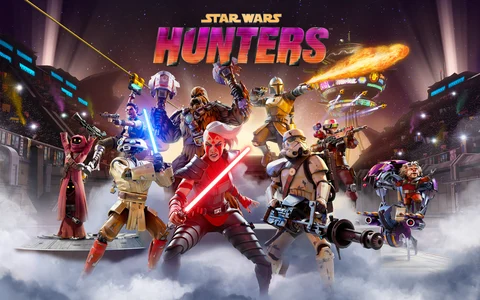 Star Wars: Hunters is one of the most anticipated mobile games of the year bringing Overwatch-esque arena gameplay with the multi-faceted lore of Star Wars to Nintendo Switch, Android, and iOS. Developed by mobile gaming giants Zynga, the game is a hero-based arena shooter pitting teams of four against each other in a battle of supremacy. If you want to learn more, including the game's release date, potential open beta, and how to grab some pre-registration rewards, keep on reading.
Star Wars: Hunters - Release Date
While we don't have a fixed release date for Star Wars: Hunters we do know that it is getting its full release at some point in 2022. Pre-registration for the title is now open via the game's website offering up free in-game rewards (more on that later).
We have also seen gameplay footage and it appears the game is in an advanced stage of development with a full roster of characters, maps, and game modes all having been revealed - all signs point to it meeting its - admittedly rather vague - release date.
How To Pre-Register For Star Wars: Hunters And Get Free Rewards
As mentioned before, pre-registration for Star Wars: Hunters is now live though you currently can't do it from your respective app stores such as Apple's or Google Play.
Instead, follow these instructions to make sure you don't miss out.
Head to the official Star Wars: Hunters website.
Scroll down the home page until you find the pre-register form.
Enter your desired device and email address and answer any further questions (optional).
Head to your inbox and verify your email address.
You're done!
The game is offering free pre-registration rewards which are unlocked based on the number of people who register their interest in the game. There are milestones at 250K, 500K, 750K, and 1 million with six rewards in total.

The rewards have not yet been revealed but expect to unlock additional Hunters (heroes/characters), skins, and other cosmetic items.
Star Wars: Hunters - Gameplay And Leaks
So far, we only have an officially released gameplay video and some supplementary information about Star Wars: Hunters provided by the game's official website.
A team- and hero-based arena shooter, players will compete in 4v4 battles on the planet of Veespara and specifically in its specially built Arenas with eight in total currently confirmed, they are:
The Highline
Ewok Village
The Ridge
The Gauntlet
Survivor Salvage
Mos Espa Podrace
Gorax Hunt
Dune Sea Outpost
These maps are inspired by iconic scenes from the movies with the Tatooine-esque The Ridge and the Endor/Hoth-themed Survivor Salvage. Each map has unique mechanics that players will have to adapt to, to emerge victorious.
The game will feature three character types that will be familiar to many who have played hero shooters in the past, they are Damage, Support, and Tank. And yes, there are both Jedis and light-sabers on offer with players having various Jedi mind tricks available to them to turn the tide of battle.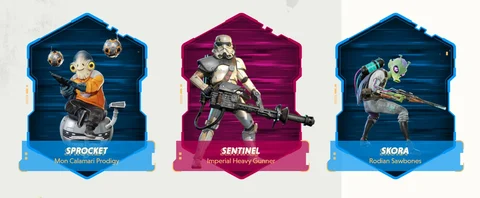 Each character has a weapon unique to them, passive, three standard, and an ultimate ability, which we will cover extensively closer to launch. The characters at launch are expected to be:
Sprocket
Sentinel
Skora
Grozz
Imara Vex
Zaina
Reive
J-3DI
Utooni
Slingshoot
Aran Tal
There are currently no leaks from the title, as there has seemingly been no beta testing period but expect this to change in the coming months.
Star Wars: Hunters - Open Beta
Star Wars: Hunters isn't currently in the hands of gamers but considering its advanced stage of development an open beta is likely on the horizon. The best bet to being a part of it is by pre-registering your interest in the game by following the steps provided above.
We will continually update this article with more information about Star Wars: Hunters, so, if you are as excited as we are about the title give this page a bookmark and check back regularly.
May the force be with you.