Go on a journey to an unexplored artificial island in the version 1.5 update in Tower of Fantasy and discover new areas, a new boss, features, and a new character.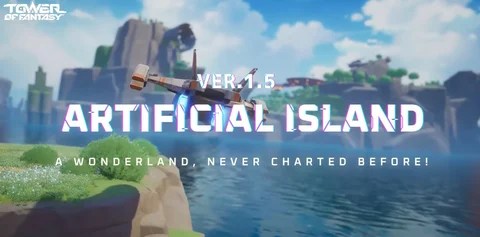 Version 1.5 is a massive new update that will be coming to Tower of Fantasy on September 15, 2022. Hotta Studio has designed the new update with new missions and features that will allow players to craft special items and more.
This update's release will mark the first version update since the game's release in mid-August. The Artificial Island appears to be the central point of the update, so what exactly can we hope to discover inhabiting this unexplored new place? From the looks of things, it's new areas, features, a new boss, and a new character. Let's go over them all.
Tower Of Fantasy V1.5 Update - New Areas
Three new areas will be coming to Tower of Fantasy in the version 1.5 update: Ring Arena, Puddled Lake, and Rusty Iron Camp. Here's a look at all of them.
Ring Arena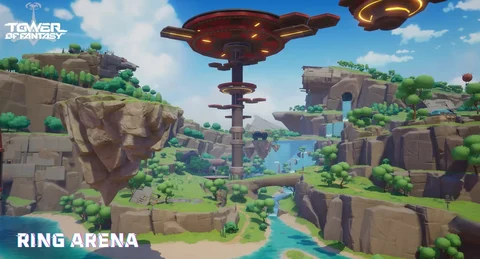 Ring Arena is situated in a large open forest area with towering and floating circular structures. In the trailer, we're shown the reason why it's called an "arena." This will be the location of at least one of many battles we'll have with the new Interdimensional Frostfire Dragon boss.
Puddled Lake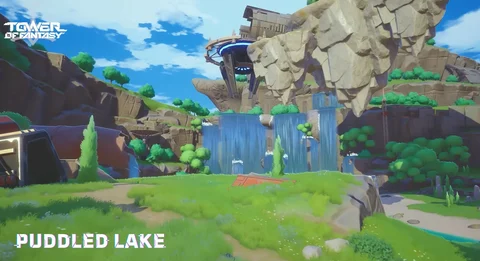 Puddled Lake is a new area that looks like a lush place where you can relax and blow off some steam. The calm running water and wide open space might be the main attraction here, but an unknown building in the hills above may be hiding mysterious secrets...
Rusty Iron Camp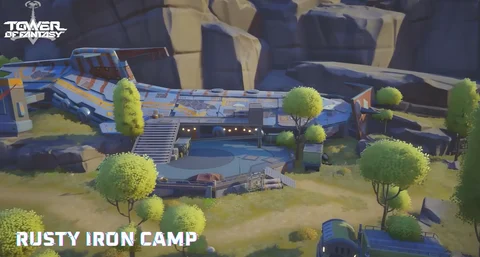 Socialize with other people and hunker down in the new area: Rusty Iron Camp. It's a place where you can potentially craft new objects or visit to complete one of your new update missions.
Tower Of Fantasy V1.5 Update - New Character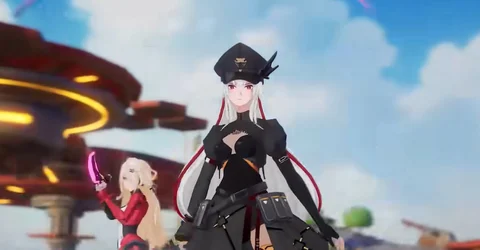 Claudia is a character who frequently appears throughout the version 1.5 trailer. She is currently available in the Chinese servers of Tower of Fantasy as a character who can re-imagine the Simulacra only
Claudia is expected to appear in the third limited event banner after the recent Frigg event.
Tower Of Fantasy V1.5 Update - New Boss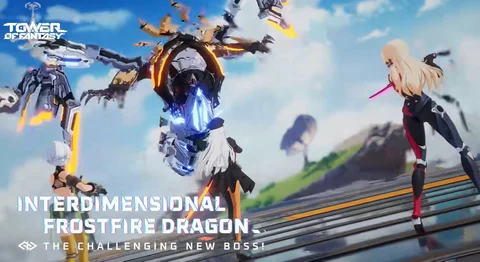 Interdimensional Frostfire Dragon is a new boss that will be introduced in the version 1.5 update of Tower of Fantasy. It's a gigantic flying mechanical dragon that can shoot lasers and launch missiles. The new boss also boasts a ferocious roar, heavy-plate armor, and a blue luminescent body underneath it all. We can only anticipate that the latter will be a point of weakness during the boss battle.
With the boss's ability to fly and quick movements, you'll have to sharpen your dexterity and take advantage of some of the ranged weapons if you want to take it down.
Tower Of Fantasy V1.5 Update - Home System Feature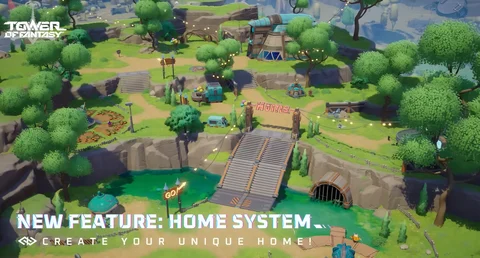 Housing System is a new feature coming to Tower of Fantasy in the version 1.5 update. "Create your unique home" by constructing different buildings, farms, decorations, and transportation devices.
Overall, this will offer a whole new level of customization and choice.
Stay up to date with the latest Tower of Fantasy news and guides: