Undawn is a realistic, open-world shooter game that is set to take the survival genre to a whole new level.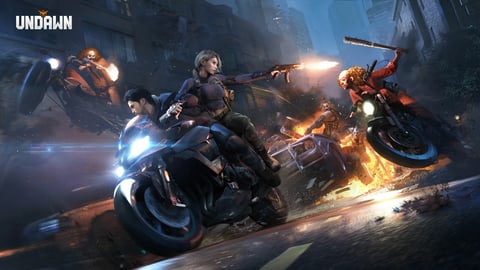 Undawn is an upcoming free-to-play open-world survival game developed by Tencent Games and Lightspeed & Quantum.
Set in a post-apocalyptic world, you will play as a member of one of the few remaining survivor groups in the world: Ravens Shelter. You will need to survive against human, natural, and alien adversaries while also upgrading your settlement, gear, weapons, and more.
Despite the expansive world, you will still need to make the most of its limited resources. You will also have to tailor your priorities to meet the specific weather and terrain of each of its regions. The devs want to elevate the survival experience so they have employed real-time indicators to determine how well your character is surviving,
Undawn is set to be released to PC, Android, and iOS devices soon. We know you're excited to know more about this game, so let's dive into all the details about it.
Undawn - Release Date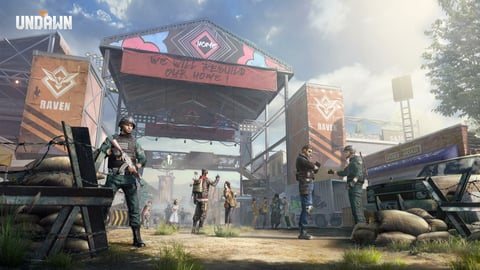 Undawn is expected to be released in early 2023.
There is no confirmed release date, however, the devs have revealed in a post that "your long wait is getting closer to being rewarded!" This seemingly confirms that the game will be launched soon.
Undawn - How To Pre-Register
You can easily pre-register for Undawn by following these steps:
Scroll to the bottom of the page. You will see a box asking you to 'Sign up for the latest news and offers from Undawn'
Enter your email address in the box. Select 'Subscribe'
You will receive notifications about the game's release, exclusive offers, and other updates about the game.
Undawn - Gameplay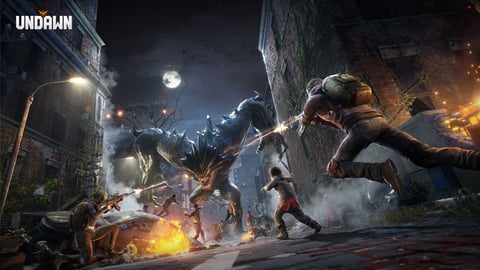 Undawn is an open-world survival adventure game that will allow you to either play solo or team up with other players to survive in a post-apocalyptic world.
There are a handful of factors that are pivotal to your survival against human, natural, and other foreign enemies. These include building a settlement in any of the world's unique regions, collecting weapons, upgrading your gear, developing survival skills, and monitoring your health.
Be wary of the region you decide to inhabit as each of them has a unique landscape and weather effects that can drastically influence your priorities and overall strategy.
Undawn will display all of the game's action using Unreal Engine 4. It may not be the latest version, but it still presents quite a step up, especially for mobile gamers.
Undawn - Map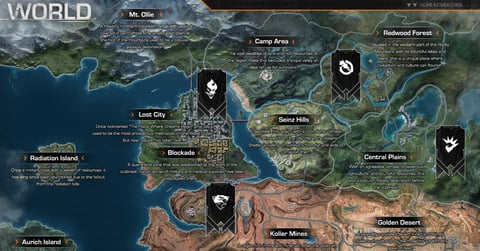 Undawn boasts an expansive open world that enables players to fully immerse themselves in the gameplay experience. It consists of 11 different regions. As mentioned earlier, each comes with its own unique terrain, weather, buildings, obstacles, and more.
Each region is housed by its own dominant survival group. You'll need to assert yourself if you want to maintain your settlement.

Here is a full list of all the regions in Undawn:
Aurich Island
Blockade
Camp Area
Central Plains
Golden Desert
Koller Mines
Lost City
Mt. Ollie
Radiation Island
Redwood Forest
Seinz Hills
Undawn - Characters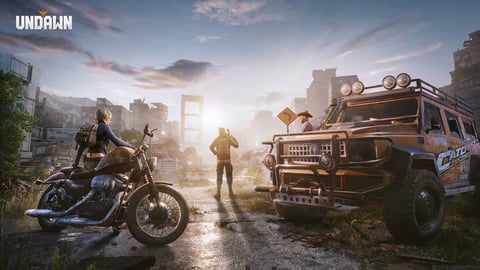 There are six main characters in Undawn. They're all a part of the Ravens Shelter and each one possesses a unique set of skills that can significantly aid you on your quest for survival.
Here are all the characters:
Caine: He is the leader of the Ravens Shelter. Caine specializes in the development of the shelter, search, and rescue of lost survivors.
Catherine: She's a trained combat instructor and master of firearms. Before the apocalypse, she was a Sniper in the Marines.
Roman: A former professional race driver, Roman now is a vehicle repair specialist and helicopter pilot.
Sherry: An ex-musician turned nurse in the aftermath of the disaster, Sherry remains one of the last qualified medical personnel in the world.
Tang: He's a survival expert who is skilled in scavenging, hunting, and stealth.
Yevgeny: An ex-member of an elite society of assassins, Yevgeny is a hardened man who taught and equipped Caine with the knowledge of how to be an effective leader for the Ravens.
Stay up to date with the latest mobile gaming news: