Nova Esports are your champions at the first-ever Wild Rift Icons Global Championship! They beat J Team to the coveted title despite them putting on a stellar performance at the finals. Here are all the details!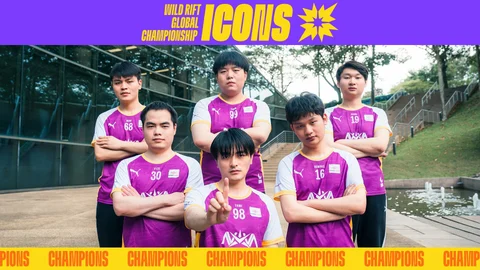 After 24 games of grueling Wild Rift action, the 16 hopeful teams competing in the inaugural Wild Rift Icons Global Championship have been widdled down to just two after a series of insane action and heart-racing 5v5s. Be sure to check out our previous article detailing all the matches from the group stage, quarter-finals, and semi-finals here:
Nova Esports and J Team took to the finals at the Suntec Convention and Exhibition Center in the heart of Singapore to settle it once and for all this year in a best-of-seven game.
J Team topped Group B by dispatching Team Queso and Rex Regum Qeon without a hitch. They continued their impressive form and cruised through the knockout stages - eliminating fan favorites Flash Wolves and Team Flash - with only one loss! Nova Esports was the number three seed in the Wild Rift League and went unbeaten in the group stages. They defeated KT Rolster and FunPlus Phoenix in the knockout stages to secure their place in the finals.
In what was a tense matchup, the day belonged to Nova Esports as they triumphed over their rival in a nail-biting affair with a final score of 4-0. The Global Championship is theirs and they win a grand prize of $300,000!
Here's a full breakdown of the games!
Game One

J Team hit the ground running and picked up an impressive Gold advantage over Nova Esports in the first 15 minutes. However, in their emboldened state after a few early successful slain attempts, their attempt to slay Nova's Remake near the Infernal Dragon saw them lose a critical 5v5. Nova's Long, already having built a healthy item composition from jungling, took on J Team in a big 1v3 and won! By the time that was over, only JT Dawn was left standing. Nova took advantage of this and barreled down the mid-lane to take home Game One.
Nova Esports leads 1-0

Game Two

Long was simply unstoppable in Game 2. The Jungle King was at it again with a flawless Ekko performance. Despite J Team's Pan maximizing Orianna's Shockwave in two successful team fights in and the team even slaying Baron, they were helpless against a hard-hitting Nova. JT's Cherry's failed attempt at ganking for ONLY a Blue Buff was the nail in the coffin. Game set and match.
Nova Esports leads 2-0.
Game Three

J Team had their eyes set on Long's Xin Zhao and eliminated him only two minutes in the game. However, their initiative in team fights was flawed as Nova easily defended against them on more than two occasions with their rather squishy team. Nova dealt massive damage and took down the Elder Cloud Dragon. It seemed like they were reading J Team's every play. The momentum was on their side and they dived towards the Fountain that Nova's Y1tz and nian could sacrifice themselves and they would still go on to win the game. It's been a frustrating past few matches for JT's Dawn as he's dominated in previous games.
Nova Esports is on matchpoint - leading 3-0.
Game Four
The mind games began in the final match at Wild Rift Icons 2022. Nova started by deciding not to ban a Champion in the pick phase. J Team continued the mind games by switching up their playing style to be more aggressive. But as we saw in the previous matches, Nova were quick to read their opponents' strategy. They dominated the game and had, at one point in the game, an 8K Gold lead over J Team. Nova just kept on defeating J Team in every team fight and continued this performance to finally win the game!
So, Nova Esports go on to win the first-ever Wild Rift Icons Global Championship by a staggering 4-0!

MVP Of Wild Rift Icons 2022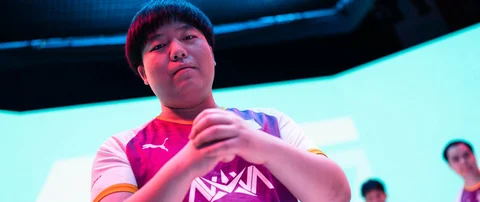 Was it ever a surprise? Nova Esports' Long is the MVP as he was the best Jungler at this year's Wild Rift Icons Global Championship. He made history by becoming the first player ever to score 100 kills in any Wild Rift esports tournament. There were moments of brilliance from other players throughout the month-long tournament, but I think we can all agree that Long was heads and shoulders above the rest!

We can only hope that next year's Wild Rift Icons will be as exciting as this one. Will Nova Esports be able to defend their title? Or will an underdog rise to claim it? Only time will tell, but we hope to see you there!
While you're here, stay up to date with the latest Wild Rift news and guides: