Three new Lamborghini cars will be added to Asphalt 9 in recognition of the brand's 60-year anniversary.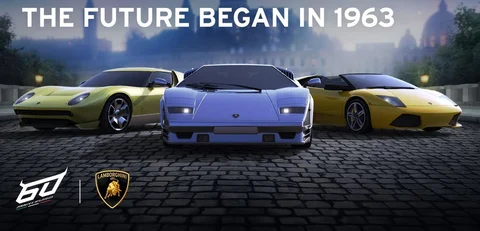 The world hasn't been the same since Lamborghini entered the scene. The Italian luxury sports car manufacturer had a humble beginning 60 years ago and has since transformed itself into one of the most recognizable names in the game.
To celebrate this momentous milestone and their "innovation, passion, and bravery", Asphalt 9 and Lamborghini have teamed up to introduce three new cars to the game: The Lamborghini Miura, Countach, and Murciélago.
If you're a big car fan, then you'll know that these cars are some of the most iconic names in the Italian's catalog.

They represent the evolution of the vehicle designs over the years. The Miura was from the 70s, while the Countach was popular during the 80s and 90s. On the other hand, the Lamborghini Murciélago is an unmistakable speed demon from the early 2000s.
At the time of writing, we've only been shown what these cars will look like in Asphalt 9. It's still unclear when these cars will officially be added to the game or how we can get them. We've been promised that more details will be revealed soon.
Stay up to date with the latest Asphalt 9 news and guides: