An epic new graphic novel series inspired by Supercell's popular Clash of Clans mobile game is in the works.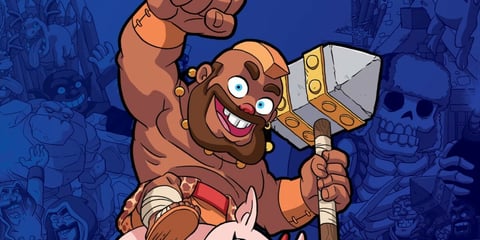 'The Books of Clash: Volume 1: Legendary Legends of Legendarious Achievery' is an upcoming graphic novel inspired by Supercell's popular mobile games, Clash of Clans and Clash Royale.
As exclusively revealed by Collider, the first volume of the collection series is set to be published by award-winning former Marvel cartoonist Gene Luen Yang, illustrated by Les McClaine and Alison Acton, and colorist Karina Edwards.
Introducing The Books of CLASH, an epic new series by @geneluenyang! Pre-order Volume 1 at https://t.co/S9x8pbWsOP! pic.twitter.com/QWg93800Yw

— Clash of Clans (@ClashofClans) November 14, 2022
The cover of the first installment, 'The Books of Clash: Volume 1' will feature a "misunderstood but lovable" Hog Rider known as Terrodicus (or Terry) and his Hog, Pim Pim. The story takes them on an epic journey throughout the Clash world from their humble home village of Triumphica to the regal Royal Arena.
Speaking again with Collider, Luen Yang called it a dream come true, stating:
My kids and I have been Supercell fans ever since we first played Clash of Clans many, many years ago. We've always loved not just the game mechanics, but also the characters and the world. I am so thrilled to be a part of the team that gets to flesh out those characters and that world! I can't wait to show graphic novel fans what we've built.
The graphic novel will combine the best of both games into an action-packed adventure that will be loved by all. The new collection will also tell the backstory of some fan-favorite characters from the Clash Universe.
'The Books of Clash: Volume 1' will be released on May 30, 2023. But you can see the graphic novel cover, learn more about the collection series, pre-order, and read a free sample at the official site.
Stay up to date with the latest mobile gaming news and guides: