With the release of COD: Mobile Season 1, we finally have a new LMG in the game. Find out how to unlock the Dingo and a recommended loadout for it.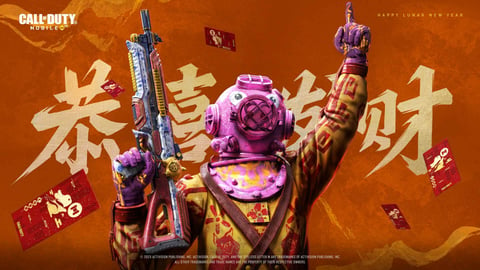 It won't be long until we can get our hands on the first big Call of Duty: Mobile update of 2023, with Season 1: Reawakening set to launch on January 19.
With its Lunar New Year theme, the new season promises a lot. We have events tied to the celebrations and even a limited-time item shop where we can spend all the red envelopes we will be collecting.
And it's clearly a time of new beginnings, with several major map updates on the way.
The ever-popular Nuketown is getting a Year of the Rabbit makeover, while two brand new POIs are coming to Isolated. It'll also be a good time to go back to basic training, as Firing Range has also been spruced up with new assets and lighting effects, bringing it up to the standards expected of a game in 2023.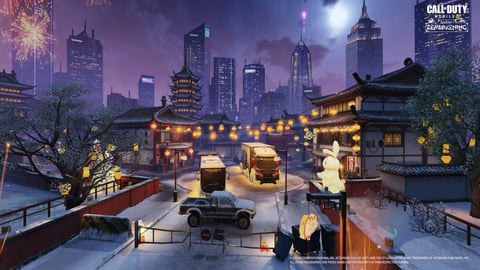 But this is Call of Duty, meaning it's the guns that get top priority, and in Season 1, we won't be disappointed. That's because, for the first time in a long time, we are getting a brand new light-machine gun, with the Dingo LMG set to join the game's arsenal.
First seen in Black Ops III, this LMG could be a game-changer, as it's lighter than most LMGs. making it more like an assault rifle. This increased mobility should make it viable in conventional MP maps, which favor a run-and-gun playstyle.
But before we can measure it up against the game's other weapons, we'll need to not only unlock the Dingo but also get the best attachments equipped to its frame.
Below we explain how you can unlock the Dingo and showcase a developer-certified loadout that'll help you get the most out of the gun.

How To Unlock The Dingo LMG In Call of Duty: Mobile Season 1 (2023)
Unlocking the Dingo LMG isn't difficult, as it is available through the Season 1 battle pass.
Thankfully, it is also part of the free track, meaning that whether you decide to purchase the battle pass or not, you can still get your hands on the new weapon.
To unlock the Dingo, you must reach tier 21 of the battle pass.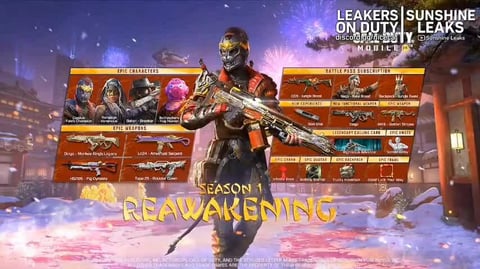 Leveling up the battle pass is achieved by completing games, though undoubtedly, those that get it quickest will purchase the Battle Pass Bundle, which costs 1280 CP (approx. USD 12). This bundle unlocks the first 12 tiers instantly and increases battle pass XP gain by 25%.

The Best Dingo Loadout
Admittedly, we haven't had any hands-on time with the Dingo ourselves; however, the developers have offered up an optimal loadout for the new light machine gun.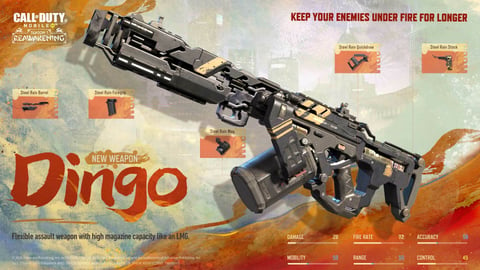 Barrel: Steel Rain Barrel

Foregrip: Steel Rain Foregrip
Stock: Steel Rain Stock
Underbarrel: Steel Rain Quickdraw
Ammunition: Steel Rain Mag
As you can see from the infographic above, this Dingo loadout improves the gun's mobility, range, and accuracy at a small cost to control.
This should make it even closer to an assault rifle in performance, though with a fire rate and magazine size more commonly associated with the LMG class that it sits in.
The one clear drawback is its control; the Dingo should not be used for sustained fire. Instead, you should be carefully picking your shots and firing in one- or three-shot bursts.
Of course, before you have access to these attachments, you will need to level up the Dingo. To speed up that process, check out our guide on leveling up guns fast in COD Mobile.

For more COD: Mobile news and guides, check out: