The EM2 is the newest assault rifle in Call of Duty: Mobile, arriving with Season 11: Ultimate Frontier. Here is how to unlock the gun and an early best loadout.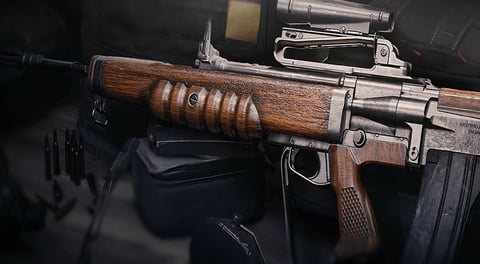 Fans of Call of Duty: Mobile have one major update to look forward to before the new year, with Season 11: Ultimate Frontier set to drop next week.
Introducing Ground War 2.0, a new holiday- and space-themed battle, and the return of the Doggfather himself, there is plenty for players to get their teeth into over the holiday season.
Of course, every new season also includes some new weapons, and this time around, players will be introduced to the EM2 assault rifle.
First seen in Black Ops Cold War, this highly accurate full-auto bullpup excels at medium to long-range combat and offers something quite different from the other assault rifles in the game.
Below, we show you how to unlock the EM2 in COD: Mobile Season 11, as well as offering up a loadout that comes recommended by the developers.
How To Unlock The EM2 In Call of Duty: Mobile Season 11
The EM2 assault rifle is will be unlockable through the Season 11 battle pass, with Season 11 now confirmed to be launching at 4 pm PT on December 14.
Thankfully, the EM2 is part of the free track. To unlock the gun, you'll need to level the battle pass up to tier 21.
Leveling up the battle pass is done by playing games, though undoubtedly, those that get it quickest will be those that purchase the Battle Pass Bundle, which costs 1280 CP (approx. USD 12).
This bundle unlocks the first 12 tiers instantly and increases battle pass XP gain by 20%.

The Best EM2 Loadout In COD: Mobile Season 11
Admittedly, we haven't had any hands-on time with the EM2 ourselves; however, the developers have offered up an optimal loadout for the new assault rifle.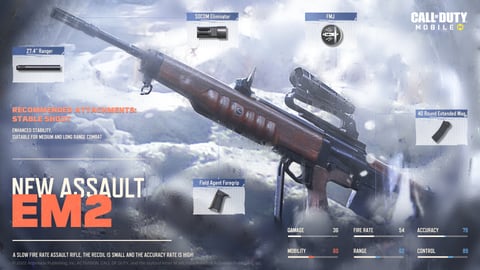 Barrel: 27.4" Ranger
Muzzle: SOCOM Eliminator
Ammunition: 40 Round Extended Mag
Foregrip: Field Agent Foregrip
Perk: FMJ
The EM2 loadout is about improving the gun's already impressive accuracy and range at a small cost to mobility. The most important attachments to achieve this outcome are the 27.4" Ranger barrel and SOCOM Eliminator muzzle.
We are not sure the 40 Round Extended Mag is hugely important for this type of long-range weapon, and we'd suggest swapping this out for some sort of magnified optic.
Of course, we have yet to get our hands on the EM2, but once we do, we will compile our own best loadout.

Until then, why not check out our other COD: Mobile loadouts?