The Wheelson may soon be on its way to Call of Duty: Mobile.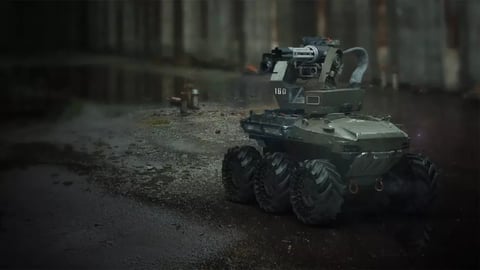 One of the most popular aspects of the Call of Duty franchise is the games' score/killstreaks, capable of taking an already excellent in-game performance to another level.
The game's mobile port doesn't shy away from the mechanic either, with Call of Duty: Mobile featuring over 20 scorestreaks, with everything from information-gathering UAVs to mini-gun-equipped mech suits available to players.
And now, as we head into the new year and the soon-to-be-launched Season 1, it appears a new scorestreak is set to be added to the game, and it looks like a doozy.
According to the credible LeakersOnDuty, COD: Mobile will soon be getting the Wheelson scorestreak. Previously appearing in Modern Warfare and its sequel, the Wheelson is a remote-controlled drone with a grenade launcher attached to it.
New Scorestreak - Wheelson

Wheelson is a remote-controlled drone armed with a powerful automatic grenade launcher with unlimited ammunition, and is small enough to go through most doors and move through tight spaces with ease.#callofdutymobile #codm #codmobile pic.twitter.com/ATc1TUnXTj

— Leakers On Duty (@LeakersOnDuty) December 20, 2022
Due to its small size and player-controlled movement, it is great for moving into enemy-occupied buildings, with its grenade launcher the perfect tool when an opponent is found.
Unfortunately, it is not yet clear if this will arrive in Season 1 or a later season. A recently released test build doesn't allow players to use the Wheelson in-game, though it does appear in the scorestreak menu.
It currently states a score of 750 will be needed to earn the use of it in-game, which is on the cheaper end for a scorestreak.
The Wheelson isn't the only new addition found in the test build, as we've also learned that a new light-machine gun is coming to the game, alongside a new perk called Militant and a health and speed-boosting Stim Shot tactical.
Season 1 is set to launch in January.
For more COD: Mobile news and guides, check out: