Boom Beach: Frontline has announced that 19 countries are joining Canada in the soft launch.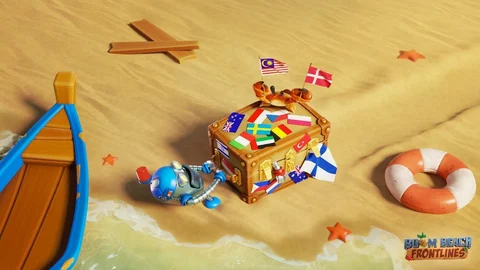 Boom Beach: Frontline is set to expand its soft launch with nineteen new countries set to be included.
Currently, the game is only available in Canada, where it soft-launched back in October of last year.
Developed by Super Ape Games, it's a spin-off of Supercell's real-time strategy game Boom Beach but reimagines the world as a 9v9 team-based shooter with a focus on teamwork and tactics.
However, this is still a Supercell title, with cards, clans (or Alliances in the world of Boom Beach), and the inevitable grind.

Boom Beach: Frontlines Expands Soft Launch
Now, along with revealing the details of the July update, the developers have announced that the game will be available in nineteen other countries as of August 3.

These countries include:
Australia
Belgium
Czech
Denmark
Finland
Indonesia
Israel
Italy
Malaysia
The Netherlands
New Zealand
Norway
The Philippines
Poland
Singapore
Sweden
Thailand
Türkiye
The United Arab Emirates
Would-be players are also being urged to pre-register for the game and, in doing so, they will get a free premium Beach Pass which also includes a free exclusive Epic troop: the Laser Ranger.
You can pre-register for Android here or iOS here.

As part of the July update, and with these new countries coming online, the following languages are also now supported in the game:
Filipino
Indonesian Bahasa
Italian
Malay
Polish
Simplified Chinese
Thai
Turkish

The July update includes a number of major gameplay changes with three new cards, a card donation system, and the ability to upgrade your home island with these new buildings offering players perks.
There is no official word on when Boom Beach: Frontlines will be available worldwide, but this expanded soft launch, which includes countries from Europe to Asia, can mean it's surely not far off.
For more mobile gaming news and guides, check out: