A fake Bloodborne mobile has been making the rounds lately after reportedly trying to scam players into paying for a premium membership to play the game.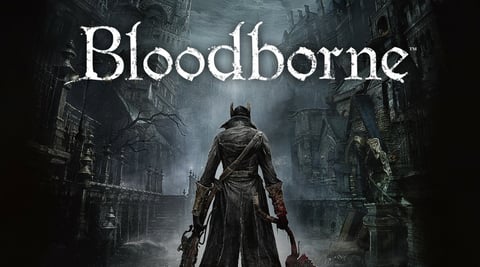 An unknown developer going by the name of Rock Great Games recently launched a Bloodborne mobile game. It was clear from the beginning that this game was fake as neither Sony nor FromSoftware released any plans for a mobile game of this sort.
Video game expert, Wario 64, later confirmed this:
Bloodborne Mobile is definitely not legit pic.twitter.com/seZFyqpqdA

— Wario64 (@Wario64) October 25, 2022
What separates this game from any run-of-the-mill fake mobile game is that it was surprisingly certified by the Australian Classification Board. It's yet another mobile game that passed this rigorous classification test after a sham Left 4 Dead 2 game was also certified by the board earlier this year.
While the fake Left 4 Dead 2 mobile game was mostly out to generate downloads with gameplay that lasted only sixty seconds, this Bloodborne game takes it a step further by scamming people out of money with an awful premium subscription plan.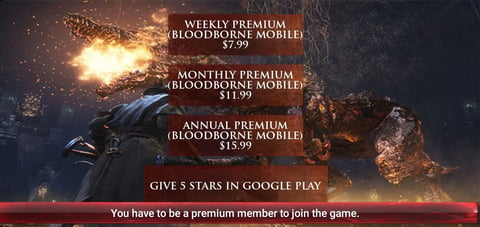 The moment you launch the game, you are greeted with a stunning menu showing that you can't play the game unless you buy a premium subscription. These plans are unbelievably costly with a simple weekly subscription amounting to USD $7.99 and the annual one being USD $ 15.99.
If you didn't know this game was fake and decided to buy the premium subscription, the scam gets immediately worse from there as one Twitter user showed.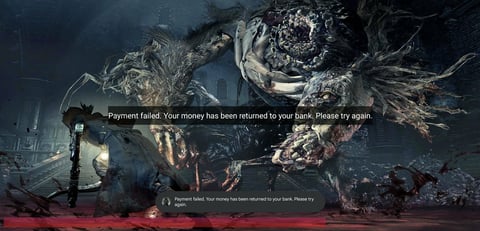 When you buy the premium subscription, you are met with a "Payment Failed" message indicating that your payment was unsuccessful, your money has been returned to your bank account, and you need to try purchasing it again. But like any good scam, the money did not in fact return to your bank account. The developers are basically pocketing your money while you try to purchase something that essentially doesn't exist.
This isn't the only scam Rock Great Games is trying to run. They have also released a fake mobile version of Deck13's action RPG, The Surge 2, which - as you can probably guess by now - also passed the Australian Certification Board.
With such low barriers to entry for developing and publishing a mobile game, it can be easy for scams to sprout out of nowhere, multiply, and take advantage of popular game titles. This fake Bloodborne mobile game definitely won't be the last time a case like this happens.
Stay up to date with the latest mobile gaming news: