Star Quartz, Initial Particles, Shining Badges, there are a number of in-game currencies in Hyper Front, but what do they do, and how can you get more of them?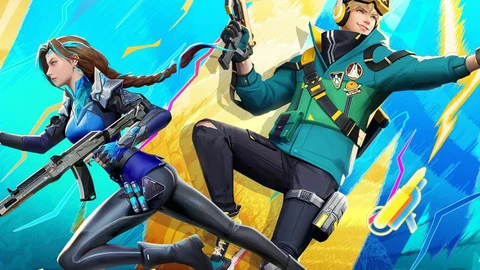 Hyper Front got its global release, and despite it taking more than a few cues from Valorant, it still scratches that tactical shooter itch on mobile.
Like so many mobile titles, Hyper Front has a number of in-game currencies, and because of the amount, it can prove quite confusing for new players.
If you find yourself in this position, don't worry, as this Hyper Front currency guide will break down each of the currencies, including how you can obtain them and what they can be spent on.
Hyper Front - Currency Guide
There are five in-game currencies (there are actually more) in Hyper Front; one which you purchase (Star Quartz) and three that are earned through completing challenges, leveling up the battle pass, and playing matches.
The game's main currencies go by the names: Star Coins, Star Quartz, Initial Particles, Final Particles, and Shining Badges.
And the more? Those are event currencies or ones tied to specific skin bundles. These change regularly, and, at the time of writing, there are at least four in the game. Some can be earned by completing challenges, and all can be purchased using Star Quartz.
Now, let's look at how those main currencies work and how you can obtain them.
Star Coins
Star Coins are Hyper Front's main "free" currency and is one of two that are displayed on the main menu.
Star Coins can be used to purchase new heroes and some limited-time crates.
Star Coins can be earned in a variety of ways, including through the battle pass, through events and challenges, and with daily login rewards.
Heroes can be purchased with 20,000 Star Coins or 500 Star Quartz. Those 20,000 Star Coins won't come easy, so we'd recommend not spending any Star Coins on limited-time crates until you have unlocked the game's twelve heroes.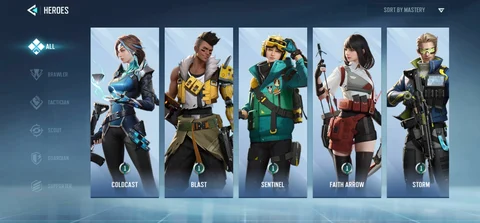 Even then, more heroes are to be added, so just because you have unlocked all those available now doesn't mean that will be the case forever.
Star Quartz
Star Quartz is the game's premium currency and the one which you will need to purchase most of the game's cosmetics.
There are only two ways of obtaining Star Quartz: by purchasing them through the in-game store or earning some back through the paid track of the battle pass.
Star Quartz can be used to purchase the battle pass (400), heroes (500), weapon skins, and other cosmetics.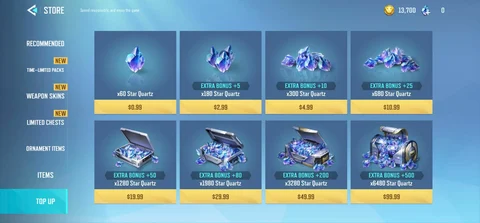 Sadly, when purchasing Star Quartz, it provides prices in US dollars only, so it can be a little confusing as to how much they cost. To help, we have provided the approximate figures for Star Quartz in euros and British pounds.
| | | | |
| --- | --- | --- | --- |
| Star Quartz | Dollars | GBP | Euros |
| 60 | 0.99 | 0.82 | 0.97 |
| 180 | 2.99 | 2.48 | 2.94 |
| 300 | 4.99 | 4.13 | 4.90 |
| 680 | 10.99 | 9.10 | 10.79 |
| 1280 | 19.99 | 16.55 | 19.63 |
| 1980 | 29.99 | 24.83 | 29.46 |
| 3280 | 49.99 | 41.38 | 49.10 |
| 6480 | 99.99 | 82.78 | 98.21 |
The Star Quartz amounts listed above are the price points you can purchase them at. Currently, there are bonuses available when purchasing Star Quartz, so you may find you end up with more than you expected.
Initial And Final Particles
Initial and Final Particles are used to upgrade weapon skins in a way similar to that seen in Valorant with its Radianite Points.
Initial Particles can be earned through the battle pass and challenges. Only certain skins can be upgraded, with it being restricted to some of the game's more expensive skin bundles.
Shining Badges
Shining Badges are rewarded through the paid track of the battle pass and can be exchanged for other items such as weapon skin crates, Star Coins, and XP bonus cards.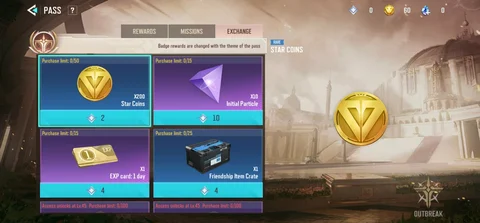 There is no other use for them, so make sure you spend them before the end of the season!
For more Hyper Front news and guides, check out: