Hyper Front was recently released and it has become the talk of the town in the mobile gaming community! Here are the system requirements and how you can download it.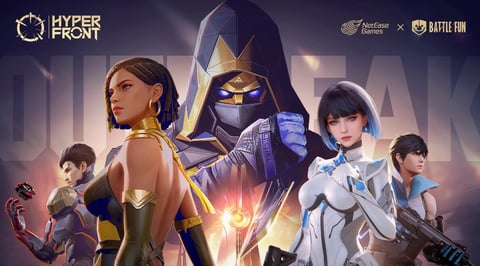 Hyper Front is the latest 5v5 hero-based FPS game to be released from NetEase. Released globally on July 20, 2022, Hyper Front is a tactical shooter that runs exactly how gamers can only hope the highly anticipated mobile version of Valorant runs. Chinese developers, NetEase, have produced hit games such as Marvel Duel and Naraka: Bladepoint that definitely didn't disappoint, so they'll be hoping to continue their momentum with Hyper Front. But so far, we say that the game looks amazing!
Here's how you can download Hyper Front!
Hyper Front System Requirements
Hyper Front is currently available to download on both Android and iOS devices. In total, it has a download size of 2.7 GB. This occupies more storage than other shooter mobile games like COD Mobile (1.8 GB) and PUBG Mobile (700 MB), so ensure that you have sufficient storage on your device.

Besides this, there are other system requirements your mobile device needs to fulfill:
Android devices require Android OS 5.0 and higher.
iPhone requires iOS 11.0 or higher.
iPad requires iPasOS 11.0 or higher.
iPod Touch requires iOS 11.0 or higher (currently unavailable but will be released soon)
How To Download Hyper Front

Hyper Front is currently free to download for both Android and iOS devices. As of writing, it has already amassed over 500,000 downloads across all devices. Here is how you can download Hyper Front:
Ensure that your device meets the minimum system requirements.
Download it from the Apple App Store or from the Google Play Store.
Once Hyper Front is downloaded, boot the app and allow it to initialize then you can start playing!
Hyper Front can be played in several languages, including English, Japanese, Simplified Chinese, and Traditional Chinese.
Stay up to date with the latest mobile gaming news: