Everyone's favorite Valorant clone, Hyper Front, is to receive a major update soon as the game is set to return to the Apple App Store (iOS).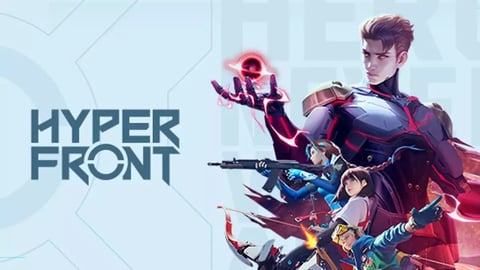 You may know it as the "Valorant clone," but as we learned earlier this year, Hyper Front is actually quite a good game.
Yes, the characters bare more than a passing resemblance to Riot Games' creations, but until that tactical shooter comes to mobile, Hyper Front is about as good as it gets for fans of the genre.
However, it's been a rough couple of months for the NetEase-developed game. Since its release in July, there have been no major updates, with just one new season launched with little more than a battle pass to show for it.
And in that time, the game also disappeared from the Apple App Store in many regions, meaning iOS gamers were unable to download the title.

Now, after months of near-radio silence on the game's progress, the developers have detailed what is to come next.
Hyper Front Devs Promise New Maps, Gamemodes, And Heroes In Major Update
In a letter "to all Astrals" posted to the game's official social channels, the developers admitted they had struggled to keep up with the demands for "more high-quality content" but promised that in the future, "we aim to release new versions, new content, and new optimizations in a continuous and fixed cycle."
A Letter to All Astrals

We are pleased to announce that a brand-new version of the game is coming soon. And we are actively negotiating with Apple to make it possible for iOS users to download the game through the App Store again.#HyperFront pic.twitter.com/OJUoO1aV5F

— Hyper Front (@HyperFrontEn) December 2, 2022
While not mentioning any fixed dates for any of this, the developers stated that the game would soon return to the Apple App Store, a day which would also see the game given a major update.

First up, the developers want to make the Hyper Front more palatable for casuals. To that end, the Classic game mode (Ranked remains unchanged) will see its winning condition changed from eight matches to six. A more casual limited-time mode and a mini-map for the Team mode will also be added.
The first of six new heroes will also arrive in this update, one who excels at scouting and controlling. Balance changes are also expected to existing heroes, with ability prices and controls all being looked at.

A new battle pass and two new themed events will also arrive, giving players more opportunities to unlock new cosmetic rewards.
The developers also promise weapon balance changes and improved anti-cheat measures.
On new maps, the developers stated this next update wouldn't contain any but that "creating new maps has always been a primary goal of our development team." They claim a new map is currently being tested and will make it into the update following this one.
Again, no timeframe has been given for this update, though the developers state they will be sharing more details on the expected changes in the near future.
For more Hyper Front news and guides, check out: