The Indian-developed battle royale is gearing up for release, and the pre-registration rewards have been revealed.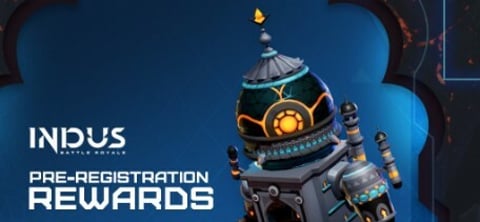 Mobile gamers and fans of battle royales have had a tough week, learning that Apex Legends Mobile will be no more by May 1.
That news came as a shock, though, in hindsight, with the regularly delayed updates and lack of any real communication with the playerbase, it was clear that all was not right with Respawn Entertainment's mobile battle royale.
Thankfully, when it comes to battle royales, there are plenty of options on mobile, both released and soon-to-be. In the latter camp, we have Call of Duty: Warzone Mobile and no bookies will be taking bets on that one being a hit. But another game has caught our eye in recent months: Indus.
Developed by SuperGames, the "made-in-India for-the-world" battle royale was announced back in early 2022, and since then, there have been some playtests and trailers released, revealing an Apex-like battle royale set in a futuristic world inspired by Indian history and mythology.
And now it looks like the game is gearing up for release. Earlier this week, we got the first official gameplay trailer, which also marked the start of the pre-registration period on the Google Play Store.
And you know what that means: pre-registration rewards. When they first opened, nothing was offered up other than a promise, but now the developers have given us a look at rewards and the milestones needed to get them - or at least some of them. Because, like Warzone Mobile's pre-registration rewards, the developers are keeping a few back as a surprise, hidden behind the two biggest milestones: two million and five million.
On offer for players are a player frame, gun skin, and a mystery and exclusive paragon skin, needing two and five million pre-registrations, respectively.
A big galactic thank you to every mythwalker for showing their love and support for the Indus gameplay trailer. We hope you extend this to pre-registering too. See you on Virlok.

Pre-Register Here: https://t.co/ikYoi1uBCc pic.twitter.com/2prdlHad7X

— Indus Game (@IndusGame) February 2, 2023
There is no word yet on when the game will get its global release or even an open beta, but it looks like the pieces are finally coming together.
Those interested in pre-registering can do so through the Indus page on the Google Play Store, with Apple gamers expected to get the opportunity in the near future.
So, while we won't have Apex Legends Mobile for much longer, at least the sun hasn't set on the genre as a whole.
For more mobile gaming news and guides, check out: