A special Lunar New Year event in Marvel Snap will reward you daily with items such as Gold, Credits, and Boosters.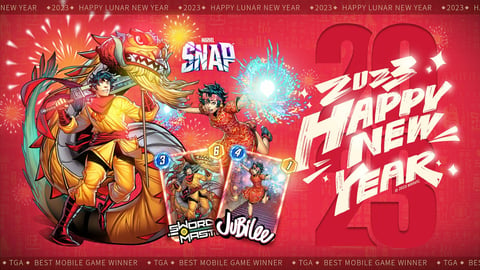 Marvel Snap is hosting a week-long event to celebrate the Lunar New Year. Held between January 22 - 28, you will be able to get rewards such as Variants, Title, Credits, Boosters, and Gold simply by logging into the game for every day of the event.
Let's go over all the rewards you can get in this event.
Marvel Snap Lunar New Year Event Rewards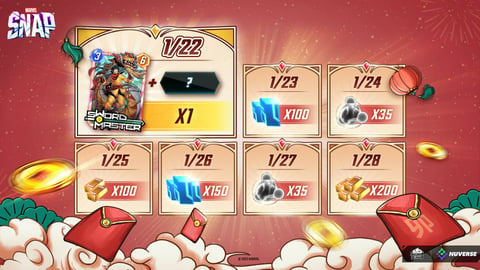 You can claim the Lunar New Year event rewards by going to the 'Inbox' section of Marvel Snap. Here are all the items that are up for grabs:
January 22: Sword Master Variant + "Happy Lunar New Year" Title
January 23: 100 Credits
January 24: 35 Jubilee Boosters
January 25: 100 Gold
January 26: 150 Credits
January 27: 35 Sword Master Boosters
January 28: 200 Gold
Besides this, a new bundle will be available in the Shop for the duration of the event. It includes a Jubilee avatar, a Lunar New Year Jubilee variant, 66 Jubilee Boosters, 500 Credits, and 500 Gold.
Stay up to date with the latest Marvel Snap news and guides: