Football icon Neymar decided to shock many in the world by revealing that he plays Mobile Legends.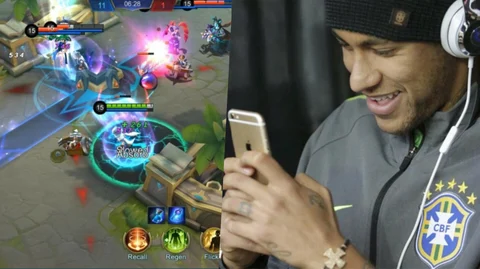 Football, fame, and money - what else could you want? Well, for Brazilian international football star Neymar, it turns out that's a new skin on Mobile Legends. The PSG footballer shocked many by revealing that he plays Montoon's massively popular MOBA in a Twitter post about him being excited about finally getting a new Hero skin.
Nova skin para meu Yu Zhong
Ele ta on e eu tambem#MobileLegendsBangBang pic.twitter.com/1l7h9jDlau

— Neymar Jr (@neymarjr) October 13, 2022
Neymar can be seen sporting Yu Zhong's skin from the new 'The Exorcist skin series'. It's a surprising scene to see, especially if you consider that this man's days are packed with training, brand deals, interviews, and everything in between that you expect from a name known around the world. You'd think he didn't have time to play mobile games as we do.
However, that isn't the only significant piece of news to come from this simple Twitter post. Rumors of a potential collaboration between Neymar and Mobile Legends are circulating as the footballer captioned his post, "New skin for my Yu Zhong. He's on and so am I."
The developers, Montoon, are known for having exciting and often surprising collaborations with names popular across pop culture. These include the likes of Star Wars and Kung Fu Panda. If Neymar were to join this illustrious list, he would be the only celebrity to collaborate with the game after former professional boxer: Manny Pacquiao.
In the past, Neymar had collaborated with games like Fortnite for a unique skin and PUBG for a special livestreaming event. So this collaboration with Mobile Legends wouldn't be too out of the ordinary for him.
Stay up to date with the latest mobile gaming news: