Season Tokens and a Season Shop will be added to Clash Royale as part of a major events rework.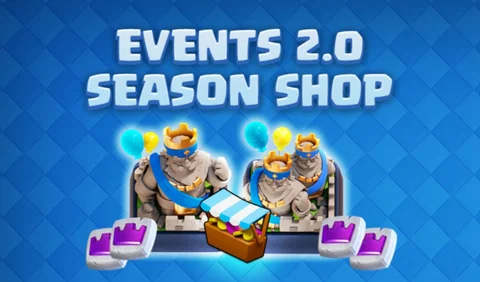 Hold on to your Crowns, fellow Clashers - a massive new update is coming to Clash Royale at the end of March. Supercell has been teasing this since they released their development roadmap for the game earlier this year. It started with a preview of the Pass Royale rework, and now we've been given a look at the details of the events rework.
Events have been at the center of much-heated discussion over the past few months. The main gripe that the community has towards it is the unexciting rewards. They're often underwhelming and have led many to shake their heads no when deciding whether it's worth competing in. This will hopefully be rectified in the coming update.

Season Tokens And Season Shop Will Be Added To Clash Royale
The events tab will be revamped to include new features that address the issue we mentioned earlier. After the update, pre-determined rewards will no longer exist.
It will be replaced with Season Tokens. This is a new currency that allows you to get the rewards you want from participating in events. You can spend Season Tokens at the Season Shop.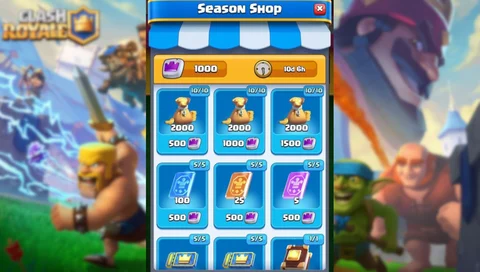 The shop will have various rewards on display such as Gold, Magic Items, Wild Cards, Battle Banners, Emotes, and more.
You can get Season Tokens by playing in events or progressing through the Pass Royale.
The coming update will also ensure that everyone, be they winners or losers, will be better rewarded. You will be able to earn extra Season Tokens at the end of an event battle based on the number of Crown Towers destroyed, Crown Towers defended, and Elixir spent.
You can earn up to a maximum of 1,000 Season Tokens a day by playing events. This cap can be increased to 7,000 Tokens with a Season Boost.

There will also be new game modes in the events tab. This includes 1v1, 2v2, and Special Challenges. The latter was arguably one of the most requested changes from the community for events. Now you can play Special Challenges without the fear of having to pay Gems to continue playing if you lose three matches or get locked out after completing the challenge.
Besides all this, a couple of minor changes will be made. Party Mode will be moved to the events tab where 1v1 and 2v2 game mode versions will be regularly rotated. Card Levels and Tower Powers will also be capped at Level 11 when you play events.
Stay up to date with the latest Clash Royale news: