The Into The Quantum Realm season launched this week. Here are some good decks we've found with the new card, M.O.D.O.K!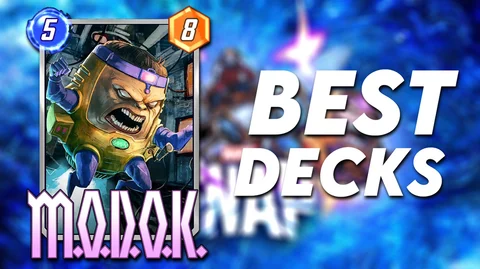 It's a new month and that means there's a new season for Marvel Snap. For the entire month of February, the Into The Quantum Realm season will add new Quantum Realm-themed cards to the Series 5 pool. The sci-fi theme is more than welcome after last month's Savage Land season, which gave players access to Zabu and his pre-historic friends.
The titular card for this new season is M.O.D.O.K.! When M.O.D.O.K. is revealed he discards your hand. This seems like an expertly timed drop by the Second Dinner devs due to the discard archetype slowly becoming one of the most played in the game.
Discard decks can be hard to play due to the randomness and amount of thought that goes into each round. Having a card like M.O.D.O.K. though will allow the discard archetype to open up more and add in fewer discard one-cost or two-cost cards. The future is bright!
We've procured four popular M.O.D.O.K. decks below, and all of them have above a 50% win rate in ranked battles. Each deck has a different twist on the discard archetype as well.

Morbin Time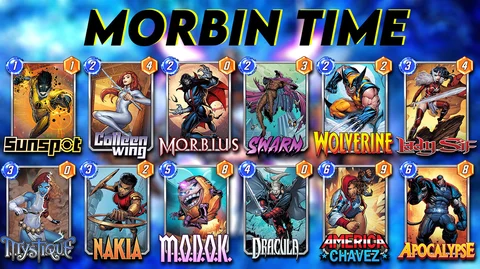 Morbin Time is currently at a 59% (894/600) win rate this season. It's looking like this one will be a staple in the coming months.
What you want to do essentially is discard as much as possible with Morbious and, hopefully, Sunspot in play. Your discard targets will be Wolverine and Apocalypse. Mostly Apocalypse, though, because gaining +4 power every discard is so strong, and if Morbius is out, he will gain +2 for each card you discard. There are a handful of win conditions with Morbin Time that makes it so you can win in many situations.

Hela Ramp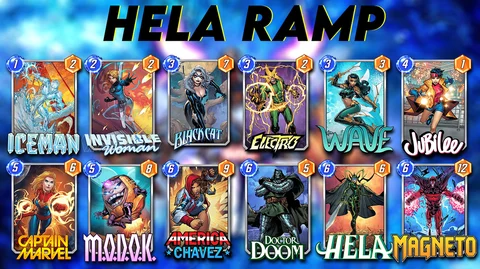 Hela Ramp is sitting at a whopping 57% (1352/1017) win rate currently this season. This is another discard deck (shocker) with three distinct win conditions. One is the M.O.D.O.K into Hela play. Hela will take all the cards you discarded and randomly put them at the locations, so if you have a very stacked hand turn 5, and you play Hela the potential is almost endless.
The second combo will be using Wave and Magneto. Wave sets cards to 4 power for both players, and Magneto moves 4 power cards to his location. There's a lot of poking and moving with this deck!
The final combo is Dr. Strange and America Chavez. Very straightforward, with Doom dropping his 5 power drones at every location and America cleaning up the leftovers.

M.O.D.O.K. Disco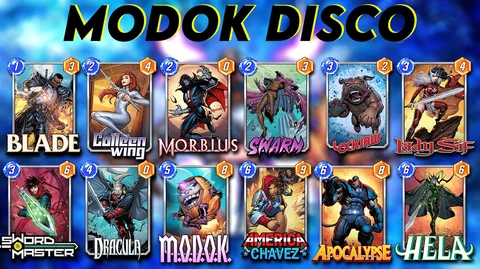 M.O.D.O.K. Disco is sitting at a 57% (715/513) win rate right now. This deck is the best of the previous ones on our list. Apocalypse, M.O.D.O.K., and Hela are going to be your biggest focuses here once again.
Discarding Apocalypse as often as you can with Blade and Sword Master, then one final punch with M.O.D.O.K into Hela, and you'll overwhelm and humiliate any opponent. Or if you can make it happen, having Dracula out with a Hela in hand at the end of the game will be a lot of fun. All of the cards in here can pull out a win for you.

MoLuck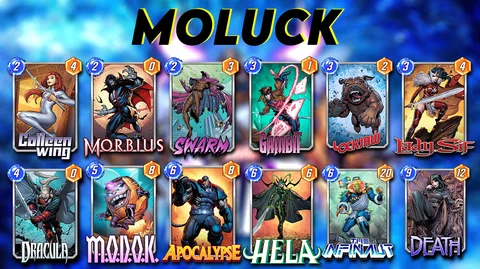 Sitting at a hefty 57% (1350/1000) At first glance, this MoLuck deck may look like a combination of all three decks prior, and while you're right, it doesn't take away from its brilliance.
Every card played besides Morbius will move the game toward the goal of playing Death, discarding as much as you can and hopefully not touching Modok or Death along the way. Then on turn 5, you drop M.O.D.O.K, clean your hand, and hopefully, you draw Death or Hela next. If you don't draw either there's a great chance you have had Apocalypse in your hand, and he has been getting bigger. A lot of luck involved... and a lot of M.O.D.O.K. MoLuck!
Hopefully, somewhere in these decks, you found inspiration or had another idea come to mind! Look forward to next week when we will have deck guides for the new card Ghost!

If you want more Marvel Snap check these out: