Vibe'n Drive is the latest event to come to PUBG Mobile; here is everything you need to know.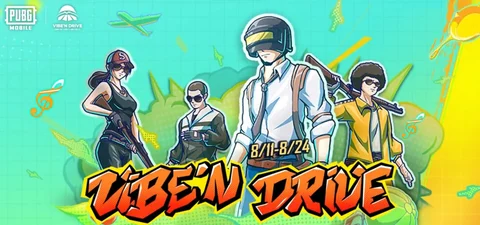 It's summertime, and in PUBG Mobile, it's time to kick back, drop in, and catch some free rewards in the Vibe'n Drive event. This two-week event kicked off on August 11 and offers all players the opportunity of earning some legendary rewards.
This event is all about collecting Vibe tokens, which can then be redeemed for an assortment of rewards, including the Kendo Master Cover and the Kendo Master Set.
To learn more, including how to quickly acquire Vibe tokens, our event guide will explain all.
PUBG Mobile Vibe'N Drive - Start And End Time
The Vibe'N Drive started on Thursday, August 11, and runs for two weeks until midnight on Wednesday, August 24.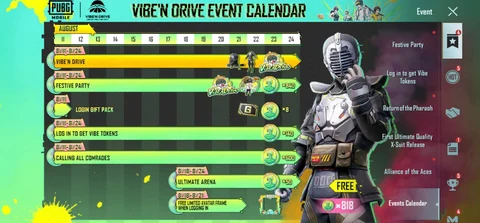 The event itself has four sub-events, there of which runs for the entire allotted time, while another, the Ultimate Arena event, which kicks off on Thursday, August 18, and runs until the overarching event's end.

PUBG Mobile Vibe'N Drive - Rewards
There are plenty of rewards for players to unlock in the Vibe'n Drive event, from AG credits to weapon skins and a legendary outfit.
Most rewards must be redeemed using Vibe tokens which you collect by completing challenges, while a select few others can be earned simply by logging into the game during the event time and claiming them.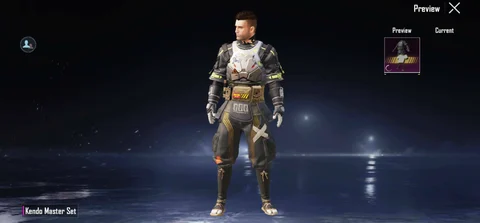 There are eight items in the event shop (and multiple of the same for gifting); they are:
Supply Crate Coupon Scrap (10) - 2 Vibe tokens
Classic Crate Coupon Scrap (10) - 4 Vibe tokens
Vibe Graffiti (20) - 8 Vibe tokens
Parachute Trial (Green) (3) - 40 Vibe tokens
Lovely Baker Cover (2) - 68 Vibe tokens
Lovely Baker Set (2) - 118 Vibe tokens
Kendo Master Cover (1) - 218 Vibe tokens
Kendo Master Set (1) - 818 Vibe tokens
The chances of redeeming all these rewards are slight, so if you have your mind set on the Kendo Master outfit, you are best saving your Vibe tokens up rather than spending them on some of the lower rarity items.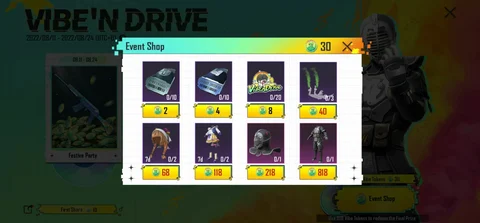 Other rewards are available through the Festive Party sub-event, including the Frog Tourist - S12K.
How To Get Vibe Tokens
There are a number of ways to earn Vibe tokens in the Vibe'n Drive event, but the most immediately impactful way is by inviting your friends to fire up PUBG Mobile through the Calling All Comrades! event.
There are 600 Vibe coins on offer here, with a set amount reward depending on how many friends you invite back to the game. To do so, you will need to send your friend your Invitation Code, which you can find in the Calling All Comrades! event screen.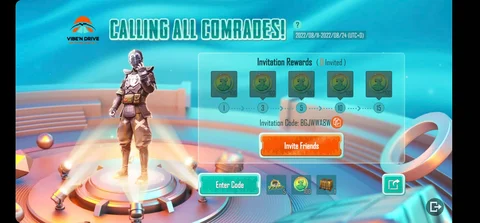 Fifteen friends will need to use your Invitation Code to get 500 of the Vibe coins, while you can earn another 100 by using someone else's code.
Another valuable way of earning Vibe coins is through the daily missions which are part of the Festive Party event. You can earn up to 160 Vibe coins a day by simply logging in, adding friends to your friend list, and completing matches with friends.
Remember, you have until August 24, so if you are keen to get some of those higher rarity awards, get logging in and complete those daily login challenges—and get some friends to do it with.
For more PUBG news and guides, check out: