Thief Simulator codes can give you a cash injection when making your way in the criminal underworld. (Updated: September 2023)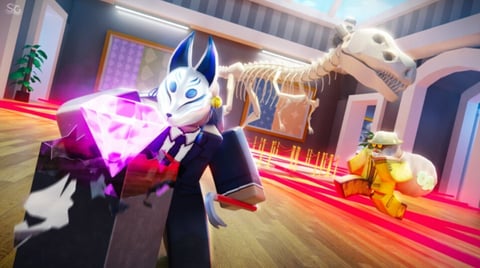 Roblox can put you in the shoes of many different people and professions; from pizza chef to car dealership tycoon, there is something for everyone.
Not all means of making money have to be strictly legal, though, and in no Roblox game is that exemplified better than in Thief Simulator.
The life of a thief is fast and dangerous; one moment, you're ransacking a house in search of cash, and the next, you are planning a high-stakes jewel heist.
And while we definitely wouldn't condone this behavior in real life, the aim of Thief Simulator is to become the best thief you possibly can be. And that means you need cash.
Cash allows you to buy bigger bags for your loot, better tools to open doors and safes, and give you access to blueprints, which can be used to plan even greater heists.
Cash can, of course, be 'earned' by robbing, but there is another, more law-abiding way, and that is by using Thief Simulator codes.
Thief Simulator codes can be redeemed for instant cash rewards, which is great for when you are starting your criminal journey.
Below, we list all the currently working Thief Simulator codes and show you how to redeem them in-game.

How To Redeem Thief Simulator Codes
Follow the instructions below to redeem Thief Simulator codes.
Launch Thief Simulator from the Roblox app.
Press the Twitter icon, found on the left-hand side of the screen
Enter a working Thief Simulator code from below.
Press the 'Redeem' button.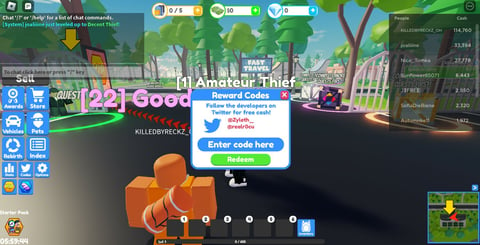 Thief Simulator Codes - Active Codes (September 2023)
These are all the currently active codes for Thief Simulator as of September 18, 2023; you can find those inactive below.

CARS - redeem for 15k cash
pets - redeem for 15k cash
PENTHOUSEFUN - redeem for 12.5k cash
20MILLION - redeem for 10k cash
Expired Thief Simulator Codes
Here are all the expired Thief Simulator codes.
HEADSTART - redeem for 10k cash
FUNWISEFUN - redeem for 7.5k cash
GEMWORKS - 125 gems
SHINY - 100 gems
10MILLION - 10k cash
almightysosta - redeem for 10k cash
newworld - redeem for 10k cash
sostaheist - redeem for 3.5k cash
movingup - redeem for 3k cash
epicitem - redeem for 3k cash
finesse - redeem for 2k cash
release - redeem for 2k cash
Where To Get More Thief Simulator Codes
The best place to get the latest Thief Simulator codes is right here. We check for new codes daily and update the list above when they are released.
If you want to jump to the head of the queue, you can keep an eye on the game's socials, where they are usually released.
The place to look is:

Why not check out these other Roblox redeem codes to get even more rewards: