We'll be showing you all the rewards you can get in the Free, Gold, and Diamond Pass Royale for Season 46 in Clash Royale.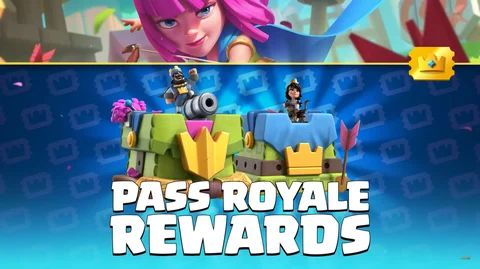 We're entering the first month since the launch of the new and improved Pass Royale in Clash Royale. In case you missed it, the devs unveiled a massive overhaul of this rewards track in the recent March update. The change came after an outcry from the community about the often underwhelming rewards.
Now, the Pass Royale has been split into three versions: Free, Gold, and Diamond. Each version offers significantly better rewards the higher you climb. Speaking of which, the rewards tiers in the Pass Royale have also been extended from the previous 35 to a whopping 121.
You'll be spoilt for choice as this season's rewards are truly out of this world. You can earn Chests, Season Tokens, Wild Cards, Magic Items, and more. That being said, let's dive into all the rewards that are up for grabs.
Clash Royale April (Season 46) Pass Royale Rewards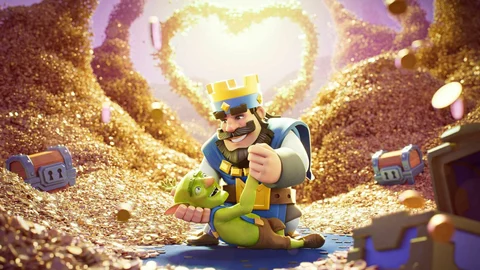 As we mentioned earlier, the Pass Royale is split into three versions: Free, Gold, and Diamond. Naturally, the free version will be available to you by default. On the other hand, the Gold and Diamond versions will cost USD $5.99 and USD $11.99 respectively.
The Season 46 Pass Royale will be available in Clash Royale between April 3 and May 1.
Here are all the rewards you can get in each of the three different Pass Royale versions:

| | | | |
| --- | --- | --- | --- |
| Tier | Free Rewards | Gold Rewards | Diamond Rewards |
| 1 | 1 Gold Crate | 1 Gold Crate | 1 Gold Crate |
| 2 | | 70 Common Wild Cards | 70 Common Wild Cards |
| 3 | 1 Golden Chest | 1 Golden Chest | 1 Golden Chest |
| 4 | | 15 Rare Wild Cards | 15 Rare Wild Cards |
| 5 | 1 Golden Chest | 1 Golden Chest | 1 Golden Chest |
| 6 | | 8 Epic Wild Cards | 8 Epic Wild Cards |
| 7 | | | 1 Overflowing Gold Crate and 25 Gems |
| 8 | | 70 Common Wild Cards | 70 Common Wild Cards |
| 9 | 1 Golden Chest | 1 Golden Chest | 1 Golden Chest |
| 10 | | 1 Plentiful Gold Crate | 1 Plentiful Gold Crate |
| 11 | 1 Golden Chest | 1 Golden Chest | 1 Golden Chest |
| 12 | | 100 Season Tokens | 100 Season Tokens |
| 13 | | | 1 Giant Chest and 25 Gems |
| 14 | | 70 Common Wild Cards | 70 Common Wild Cards |
| 15 | 1 Golden Chest | 1 Golden Chest | 1 Golden Chest |
| 16 | | 15 Rare Wild Cards | 15 Rare Wild Cards |
| 17 | 1 Golden Chest | 1 Golden Chest | 1 Golden Chest |
| 18 | | 8 Epic Wild Cards | 8 Epic Wild Cards |
| 19 | | | 1 Overflowing Gold Crate and 25 Gems |
| 20 | | 1 Legendary Wild Card | 1 Legendary Wild Card |
| 21 | 1 Golden Chest | 1 Golden Chest | 1 Golden Chest |
| 22 | | 1 Plentiful Gold Crate | 1 Plentiful Gold Crate |
| 23 | 500 Season Tokens | 500 Season Tokens | 500 Season Tokens |
| 24 | | 3 Chest Keys | 3 Chest Keys |
| 25 | | | 2,500 Season Tokens |
| 26 | | 70 Common Wild Cards | 70 Common Wild Cards |
| 27 | 1 Golden Chest | 1 Golden Chest | 1 Golden Chest |
| 28 | | 15 Rare Wild Cards | 15 Rare Wild Cards |
| 29 | 1 Golden Chest | 1 Golden Chest | 1 Golden Chest |
| 30 | | 8 Epic Wild Cards | 8 Epic Wild Cards |
| 31 | | | 1 Overflowing Gold Crate and 25 Gems |
| 32 | | 15 Rare Wild Cards | 15 Rare Wild Cards |
| 33 | 1 Golden Chest | 1 Golden Chest | 1 Golden Chest |
| 34 | | 1 Plentiful Gold Crate | 1 Plentiful Gold Crate |
| 35 | 1 Golden Chest | 1 Golden Chest | 1 Golden Chest |
| 36 | | 1,000 Season Tokens | 1,000 Season Tokens |
| 37 | | | 1 Magical Chest and 25 Gems |
| 38 | | 70 Common Wild Cards | 70 Common Wild Cards |
| 39 | 1 Golden Chest | 1 Golden Chest | 1 Golden Chest |
| 40 | | 15 Rare Wild Cards | 15 Rare Wild Cards |
| 41 | 1 Golden Chest | 1 Golden Chest | 1 Golden Chest |
| 42 | | 8 Epic Wild Cards | 8 Epic Wild Cards |
| 43 | | | 1 Overflowing Gold Crate and 25 Gems |
| 44 | | 1 Legendary Wild Card | 1 Legendary Wild Card |
| 45 | 1 Golden Chest | 1 Golden Chest | 1 Golden Chest |
| 46 | | 1 Plentiful Gold Crate | 1 Plentiful Gold Crate |
| 47 | 500 Season Tokens | 500 Season Tokens | 500 Season Tokens |
| 48 | | Archer Tower Skin | Archer Tower Skin |
| 49 | | | Archer Animated Battle Banner and 25 Gems |
| 50 | | 70 Common Wild Cards | 70 Common Wild Cards |
| 51 | 1 Golden Chest | 1 Golden Chest | 1 Golden Chest |
| 52 | | 15 Rare Wild Cards | 15 Rare Wild Cards |
| 53 | 1 Golden Chest | 1 Golden Chest | 1 Golden Chest |
| 54 | | 8 Epic Wild Cards | 8 Epic Wild Cards |
| 55 | | | 1 Overflowing Gold Crate and 25 Gems |
| 56 | | 8 Epic Wild Cards | 8 Epic Wild Cards |
| 57 | 1 Golden Chest | 1 Golden Chest | 1 Golden Chest |
| 58 | | 1 Plentiful Gold Crate | 1 Plentiful Gold Crate |
| 59 | 1 Golden Chest | 1 Golden Chest | 1 Golden Chest |
| 60 | | 1,000 Season Tokens | 1,000 Season Tokens |
| 61 | | | 1 Giant Chest and 25 Gems |
| 62 | | 70 Common Wild Cards | 70 Common Wild Cards |
| 63 | 1 Golden Chest | 1 Golden Chest | 1 Golden Chest |
| 64 | | 15 Rare Wild Cards | 15 Rare Wild Cards |
| 65 | 1 Golden Chest | 1 Golden Chest | 1 Golden Chest |
| 66 | | 8 Epic Wild Cards | 8 Epic Wild Cards |
| 67 | | | 1 Overflowing Gold Crate and 25 Gems |
| 68 | | 1 Legendary Wild Card | 1 Legendary Wild Card |
| 69 | 1 Golden Chest | 1 Golden Chest | 1 Golden Chest |
| 70 | | 1 Plentiful Gold Crate | 1 Plentiful Gold Crate |
| 71 | 500 Season Tokens | 500 Season Tokens | 500 Season Tokens |
| 72 | | 3 Chest Keys | 3 Chest Keys |
| 73 | | | 2,500 Season Tokens |
| 74 | | 70 Common Wild Cards | 70 Common Wild Cards |
| 75 | 1 Golden Chest | 1 Golden Chest | 1 Golden Chest |
| 76 | | 15 Rare Wild Cards | 15 Rare Wild Cards |
| 77 | 1 Golden Chest | 1 Golden Chest | 1 Golden Chest |
| 78 | | 8 Epic Wild Cards | 8 Epic Wild Cards |
| 79 | | | 1 Overflowing Gold Crate and 25 Gems |
| 80 | | 70 Common Wild Cards | 70 Common Wild Cards |
| 81 | 1 Golden Chest | 1 Golden Chest | 1 Golden Chest |
| 82 | | 1 Plentiful Gold Crate | 1 Plentiful Gold Crate |
| 83 | 1 Golden Chest | 1 Golden Chest | 1 Golden Chest |
| 84 | | 1,000 Season Tokens | 1,000 Season Tokens |
| 85 | | | 1 Magical Chest and 25 Gems |
| 86 | | 70 Common Wild Cards | 70 Common Wild Cards |
| 87 | 1 Golden Chest | 1 Golden Chest | 1 Golden Chest |
| 88 | | 15 Rare Wild Cards | 15 Rare Wild Cards |
| 89 | 1 Golden Chest | 1 Golden Chest | 1 Golden Chest |
| 90 | | 8 Epic Wild Cards | 8 Epic Wild Cards |
| 91 | | | 1 Overflowing Gold Crate and 25 Gems |
| 92 | | 1 Legendary Wild Card | 1 Legendary Wild Card |
| 93 | 1 Golden Chest | 1 Golden Chest | 1 Golden Chest |
| 94 | | 1 Plentiful Gold Crate | 1 Plentiful Gold Crate |
| 95 | 500 Season Tokens | 500 Season Tokens | 500 Season Tokens |
| 96 | | Arrow Fail Emote | Arrow Fail Emote |
| 97 | | | 1 Royal Wild Chest |
| 98 | | 70 Common Wild Cards | 70 Common Wild Cards |
| 99 | 1 Golden Chest | 1 Golden Chest | 1 Golden Chest |
| 100 | | 15 Rare Wild Cards | 15 Rare Wild Cards |
| 101 | 1 Golden Chest | 1 Golden Chest | 1 Golden Chest |
| 102 | | 8 Epic Wild Cards | 8 Epic Wild Cards |
| 103 | | | 1 Overflowing Gold Crate and 25 Gems |
| 104 | | 15 Rare Wild Cards | 15 Rare Wild Cards |
| 105 | 1 Golden Chest | 1 Golden Chest | 1 Golden Chest |
| 106 | | 1 Plentiful Gold Crate | 1 Plentiful Gold Crate |
| 107 | 1 Golden Chest | 1 Golden Chest | 1 Golden Chest |
| 108 | | 1,000 Season Tokens | 1,000 Season Tokens |
| 109 | | | 2,500 Season Tokens |
| 110 | | 70 Common Wild Cards | 70 Common Wild Cards |
| 111 | 1 Golden Chest | 1 Golden Chest | 1 Golden Chest |
| 112 | | 15 Rare Wild Cards | 15 Rare Wild Cards |
| 113 | 1 Golden Chest | 1 Golden Chest | 1 Golden Chest |
| 114 | | 8 Epic Wild Cards | 8 Epic Wild Cards |
| 115 | | | 1 Overflowing Gold Crate and 25 Gems |
| 116 | | 1 Legendary Wild Card | 1 Legendary Wild Card |
| 117 | 1 Golden Chest | 1 Golden Chest | 1 Golden Chest |
| 118 | | 1 Plentiful Gold Crate | 1 Plentiful Gold Crate |
| 119 | 500 Season Tokens | 500 Season Tokens | 500 Season Tokens |
| 120 | | 3 Chest Keys | 3 Chest Keys |
| 121 | | | 1 Archer Queen Card and 25 Gems |
For more Clash Royale news and guides, check out: