Promising a realistic racing simulator on mobile, Racing Master is one to watch out for. Here is everything you need to know, including the release date, how to get access to the beta, and more.

Racing Master is a brand-new racing simulator for mobile platforms. Developed by NetEase and Codemasters, Racing Master promises to bring a previously unseen level of realism to mobile gaming with a full-blown story mode, hundreds of customizable licensed cars, and plenty of real-world tracks for players to take to.
While far from the first mobile racing game, it is certainly one of the most ambitious. First announced in March of last year, would-be players have been desperate to get their hands on the wheel of this new title, and if you are one of them, you have come to the right place as we breakdown everything you need to know about Racing Master including the release date, how to gain access to the open beta, and a broad overview of the gameplay.
Ready, Set, Go!
Racing Master - Release Date
At the time of writing, Racing Master has no fixed global release date, with the game currently in a period of alpha/beta testing.
The third beta test has just begun but is currently only available from the Canadian Google Play store, and as such, only a limited number of players can get access to it.
The most current build has added a huge amount of new features, including an offline story mode, clubs, character customization, and many other features that give the impression Racing Master is nearing a global release.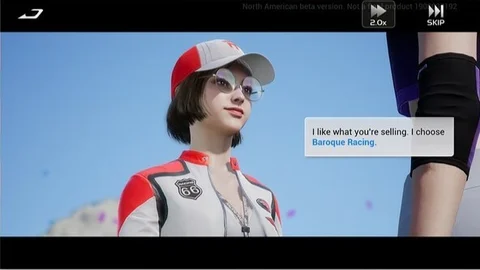 Based on this information, it is likely that Racing Master will get a more global beta release in Q4 2022 with a full global release in Q1 2023.
How Can I Get In The Racing Master Beta Test?
As mentioned before, the current Racing Master beta is currently only available in Canada. This is the third such limited-time beta that has been conducted since the game was announced in March 2021. Each new beta has introduced new features and mechanics, with the most recent adding a whole host of new features. The most recent beta is set to end on August 18.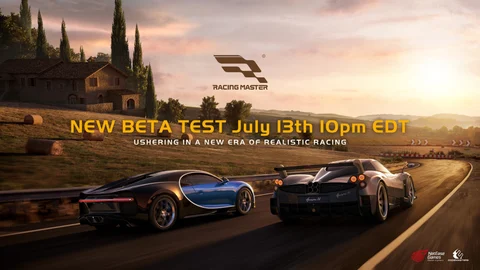 Now, if you aren't in Canada and want to play Racing Master - sorry to say, but you're out of luck. However, you can pre-register your interest in the game on the official Racing Master website, which will mean you get a heads-up when a more global beta is being launched.
Racing Master - Gameplay / Trailer
Racing Master is all about creating a realistic racing simulator for mobile devices. With over 100 licensed vehicles, real-world tracks, and an array of offline and online game modes. it wouldn't be remiss to suggest that Racing Master hopes to become the Forza Motorsport or Gran Turismo of mobile platforms.
Confirmed licensed car manufacturers include Ferrari, Lamborghini, Aston Martin, Porsche, and Koenigsegg, with more promised at launch. Players can personalize their car's look with custom paint jobs and decals and their performance with the ability to change parts such as the engine, spoilers, and other key components.
Game modes include an 'AFK' team management mode, story mode, and weekly opens, which will see you competing online to climb the leaderboards. A club system will also allow players to band together to complete challenges and win access to new and exotic cars.
It seems a bit silly to mention the graphics at this late stage, but we need to say something about one of the most graphically impressive mobile games we have ever seen.
Created in the Unreal Engine, everything about the game screams 'next-gen' - the cars are accurately modeled, and their polished bodies beautifully reflect the game's various tracks. Those tracks include courses in Japan, Europe, and the United States and range from snaking roads through forests to the complete takeover of modern cities. It may well be that some players will find their devices struggling, so we will leave the last word to the current system specifications.
Racing Master - System Specifications
Alongside the release of the third closed beta test, the developers also revealed the system requirements for the game.
The developers state you should have at least:
System on Chip (SoC): Qualcomm 820 or above
Minimum RAM: 4GB
Minimum ROM: 20GB
These minimum system requirements definitely put it on the higher end for mobile gaming though most devices sold in the last couple of years shouldn't have particular issues.
It should be said, though, that these are only the system requirements for this closed beta, and at launch, they could be even higher.
For more mobile gaming news and guides, check out: