Use these War Tycoon codes to get a cash injection! (Updated: June 2023)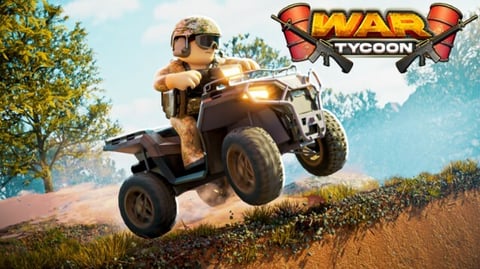 War Tycoon is about building your war machine and waging war on your enemies.
The game is about building up your resources, namely cash, and to do that, you'll have to drill and sell oil.
However, the world of oil has plenty of bad actors, and to defend your oil operation, you will need to build defenses and attack others if you want to come out on top.
There are plenty of tools at your disposal to wage war in War Tycoon, including a large arsenal of weapons, vehicles like attack helicopters and ATVs, and even drones.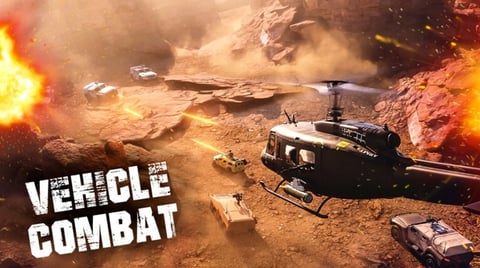 All this military hardware costs cash, and until you get your oil pumping, you will probably need a helping hand, and that is where War Tycoon codes come in handy.

Released periodically by the developers, War Tycoon codes can be redeemed for free cash and weapons.
Below, we show you how to use War Tycoon codes and list all the currently working codes.
How To Redeem War Tycoon Codes
Redeeming codes in War Tycoon is easy and is done from within the game. To do so, follow the instructions below to redeem your War Tycoon codes:
Launch War Tycoon from the Roblox app.
Once in the game, click on the Twitter icon on the right-hand side of the screen (it looks like a bird)
Enter a working War Tycoon code from below and then click 'Redeem'.
If the redemption is successful, you will receive a message saying, 'CODE SUCCESSFULLY REDEEMED!'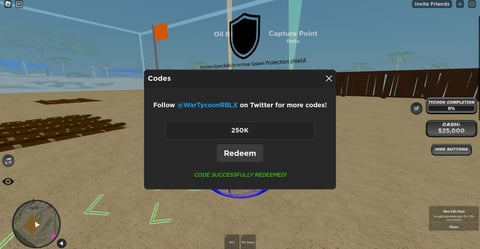 War Tycoon Codes - Active Codes (June 2023)
Here are all the currently working War Tycoon redeem codes as of May 31, 2023.
350K - redeem for life barrett M82 gamepads gun, 35k cash, 35 minutes 2x cash boost (new)
BlueTweet - redeem for sapphire gun skin (new)
Social - redeem for 100k cash and 10 minutes of double cash boost
250K - redeem for 25k in-game cash, one life gamepass gun, and a 25-minute double cash boost
BlueBird - redeem for the MP5 Twitter edition rifle
Expired War Tycoon Codes
The following codes no longer work in War Tycoon.
Hooray50K - redeem for 50k cash
200K - redeem for a 20-minute double cash boost, 200k cash, and a one-life Barrett M82 gamepass gun
50M - redeem for a 50-minute double cash boost
Weekend- redeem for 250k in-game cash, a 30-minute double cash boost, and a FAL Heavy
TweetUp - redeem for free cash
GoinUp - redeem for free cash
BigBucks - redeem for 100k cash
Stonks - redeem for double cash boost for 10 min
Where To Get More War Tycoon Codes
The best place to get the latest War Tycoon codes is right here. We check for new codes daily and update the list above whenever they are released. So, bookmark this page and check back each time you jump into War Tycoon.
If you want to jump to the head of the queue, you can keep an eye on the game's socials, where they are usually released.
The place to look is the War Tycoon Twitter page.
For more mobile redeem codes, check out: