Season 14 will be dropping in Brawl Stars soon! Leaks suggest we could be getting new skins, cosmetics, and more, so let's go through them all.
A new season is on the horizon in Brawl Stars! Season 13, Deep Sea Brawl, was released at the end of July 2022 and brought a bunch of changes. This ranged from Otis, the new brawler, to a Penny rework, new BTS skins, the new Hunters game mode, a new mystery mode, and other gameplay improvements. With season 14, there is still very little information regarding what we could see come to Brawl Stars.
So, we turn to leaks and rumors to answer some of our burning questions. A reputable leaker has compiled everything that we could expect to arrive in season 14. Let's go over all of them!

Brawl Stars Season 14 - Release Date
Supercell has not revealed a release date for Brawl Stars season 14. Season 13 is expected to end on September 5, 2022, so season 14 could be starting on September 6. Regardless, Supercell will be hosting a Brawl Talk on August 27, 2022, where they will reveal season 14's release date.
In terms of the Season 14 theme, we could see the return of Season 8's theme, Once Upon a Brawl, return as season 14's theme.
Brawl Stars Season 14 - New Cosmetic: Trails
"Trails" is rumored to be a new cosmetic that will be coming to Brawl Stars in season 14. These will be different than the emotes, skins, and sprays we're familiar with. Trails are essentially smudges that are left behind your brawler as you walk.
The effect is expected to be kept around two blocks behind the Brawler so it won't completely give away your brawler's path. If the trail was any longer, it could be detrimental to players, especially in Gem Grab or Knockout, where being able to track your enemies' movement can be disadvantageous.
If you scan the game files, you will find that there are five trails already present:
Common
Glori
Rainbow
Unique
??? crack
Brawl Stars Season 14 - New Skins
Two brawler skins are rumored to be coming to Brawl Stars in Season 14. These are:
Pam is expected to receive a special new skin for the Brawl Stars Championship 2022. Jessie received a Cat Burglar skin in last year's Championship.
Max will potentially get either two new skins, two skin effects improvements, or one new skin and one rework.
Brawl Stars Season 14 - Gadgets
Buzz and Griff are expected to receive new Gadgets in Brawl Stars season 14. Both currently only have one Gadget, while other brawlers have two. The new season will most likely introduce new ones to complete their Gadget set.
These are the Gadgets they are rumored to receive:
Buzz (X-ray Shades): Buzz can see into all bushes for a ??? seconds.
Griff (Coin Shower): Griff's next Coin Toss shoots ??? more coins
Brawl Stars Season 14 - Changes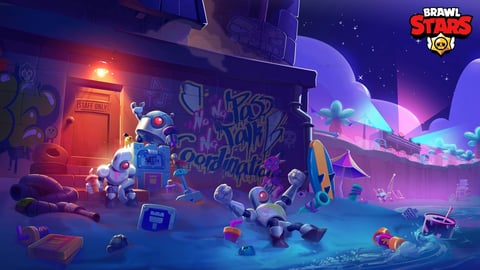 As with every new season, season 14 will introduce new changes to Brawl Stars. These are the changes rumored to be coming in season 14:
New and improved player reporting
Chat mute system
New privacy options
Robot remodels
Besides this, the Showdown, Takedown, and Super City Rampage modes could return to Brawl Stars for a limited time or special event.
Stay up to date with the latest Brawl Stars news and guides: