The Krig 6 is the newest assault rifle in Call of Duty: Mobile, arriving with Season 9: Zombies Are Back. Here is how to unlock the gun and an early best loadout.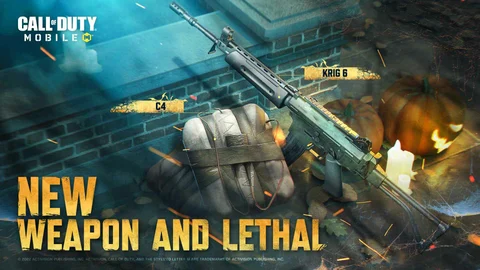 Call of Duty: Mobile players are gearing up for the launch of Season 9: Zombies Are Back, which, as you can probably guess, marks the return of Zombies Classic.
That isn't the only new addition to the game. There's a new battle pass, a haunted version of the Hacienda map, and two brand new weapons: the C4 lethal and Krig 6 assault rifle.
The Krig 6 is the most interesting of the two weapons. It has been a while since we have had a new assault rifle, and by all accounts, this gun looks like it will disrupt the COD: Mobile meta. Offering up high accuracy and damage, the Krig 6 is reportedly capable of dropping opponents in just a few shots.
In this guide, we will show you how to unlock the Krig 6 and offer up an optimal loadout from the developers themselves.
How To Unlock The Krig 6 In Call of Duty: Mobile Season 9
As mentioned before, the Krig 6 assault rifle is available through the Season 9 battle pass, with Season 9 now confirmed to be launching at 5 pm PT on October 12.
Thankfully, the Krig 6 is part of the free track. To unlock the gun, you'll need to level the battle pass up to tier 21.
Leveling up the battle pass is done by playing games, though undoubtedly, those that get it quickest will be those that purchase the Battle Pass Bundle, which costs 1280 CP (approx. USD 12). This bundle unlocks the first 12 tiers instantly and also increases battle pass XP gain by 25%.
The Best Krig 6 Loadout In COD: Mobile Season 9
Admittedly, we haven't had any hands-on time with the Krig 6 ourselves, however, the developers have offered up an optimal loadout for the new assault rifle.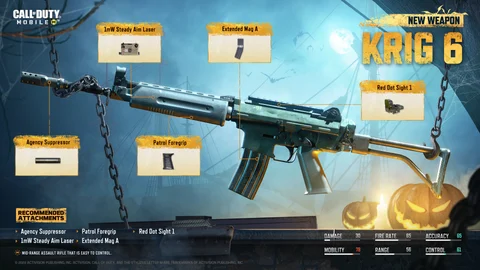 Muzzle: Agency Suppressor
Laser: 1mW Steady Aim Laser
Ammunition: Extended Mag A
Optic: Red Dot Sight 1
Foregrip: Patrol Foregrip
As you can see from the image above, this loadout improves the Krig 6's recoil and accuracy at a small cost to mobility.
It must be noted that the base mobility for the Krig 6 is already impressive for an assault rifle, and taking a few points off to further improve its accuracy and recoil doesn't seem a bad shout.
Elsewhere the gun offers high damage output and an impressive fire rate, and with that in mind, this already looks like it will be in many players' hands in Season 9.
Check back with us in the days following Season 9's launch as we take a closer look at the Krig 6 and offer up our own best loadout.
For more COD: Mobile news and guides, check out: