The Wild Fire Perk turns the M16's fire mode from burst to full-auto. Here is how you unlock it in Call of Duty: Mobile Season 10.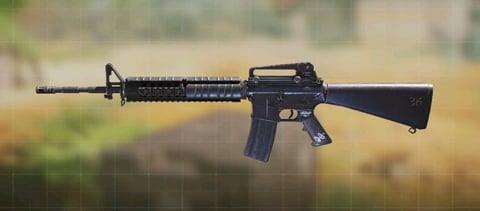 The M16 has been in Call of Duty: Mobile since launch, and since then, it has been the runt of the litter, widely considered the worst assault rifle in the game.
There are a few reasons for that, but the most glaring has to be its firing mode, with the gun employing a three-round burst, which, once you factor in its considerable burst delay, makes it a very difficult gun to use.
Even if you master the burst fire, you still have to compete against some top-tier full-auto assault rifles, such as the Kilo 141 or M13, which both offer high damage, better accuracy, and more rounds per minute.
However, with the release of Season 10: World Class, the M16's major drawback is no more, as a new Signature Attachment has been made available, which changes the gun's firing mode from burst to full-auto.
We haven't got our hands on it yet, as the event that will allow players to unlock it is not yet live, and with that being the case, we can't make any claims that the M16 is suddenly meta, but it's probably now or never for the American-made assault rifle.
Below, you can learn how to unlock the M16's new Signature Attachment, and once we get our hands on it, we will put together a loadout that makes the best use of the attachment.
How To Unlock The M16 Wild Fire Perk
The M16's new Signature Attachment is called Wild Fire, and it is a perk.
Thanks to the in-game description, we know a little about how the perk will work. While making the gun full-auto, it will also reduce the gun's fire interval - which is to be expected - as well as reduce the body part damage multiplier, effectively reducing its damage output.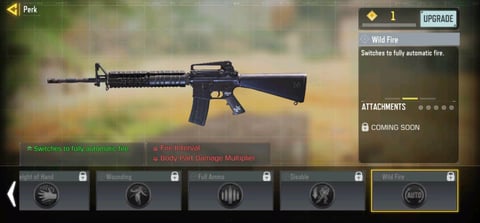 This Signature Attachment will become available through the Lean Mean M16 seasonal challenge, which is set to go live on November 15.
Players will have until December 14 to unlock it this way, when it will then become available through a challenge directly tied to using the M16 in matches.
For example, the RPD light machine gun got a Signature Attachment, the Cooling Compressor Barrel, in Season 5: Tropical Vision which was initially available through completing a seasonal challenge. You can now unlock that same attachment by killing 50 enemies at long-range with any LMG.
We will update this section with all the challenges and rewards for the Lean Mean M16 seasonal challenge when they are made available.
The Best M16 Loadout With Wild Fire Perk
As mentioned before, the M16's Wild Fire Perk is not yet available, but once it is we will update this page with a loadout that gets the most of out of this new Signature Attachment.
Until then, why not check out our other COD: Mobile news and guides: