The team behind Marvel Snap has released a developmental roadmap detailing all the potential game mechanics and features we could see in the game in the future.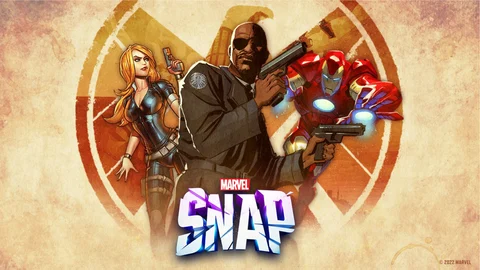 With Marvel Snap set for its global launch on October 18, the developers are shifting their attention from the beta stages to focus on crucial future aspects of the game. They've released a development roadmap that gives us an insight into items such as potential new game mechanics and systems that could be implemented in Marvel Snap in the future.

This card battler game made waves when it was first announced and the beta stages exhibited fast-paced gameplay that left many excited and hungry to know about what lies in store for the game once it's finally released. Now that we have that information, we can safely say that the future looks bright for Marvel Snap and we can't wait for it.
Marvel Snap's Future Developmental Roadmap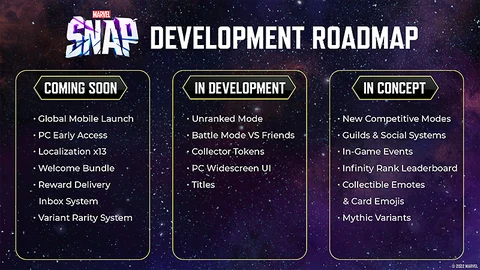 Marvel Snap's development roadmap is divided into three stages: 'Coming Soon', 'In Development', and 'In Concept'.
Let's go over each of these stages and the items within them.
Coming Soon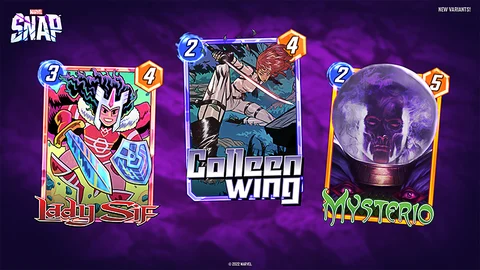 All the items listed in the 'Coming Soon' section are in the final development phase so you can expect to see them in Marvel Snap in the near future. Besides these items, there will also be a list of art remodels and bug fixes that the development team will release in due time.
Here are all the items that will be coming to Marvel Snap soon:
Global Launch on Android and iOS
PC Early Access
Localizing the game in 13 languages
Welcome Bundle
Reward Delivery Inbox System
Variant Rarity System
The Variant Rarity System is a new mechanic that will be available in Marvel Snap when the game is launched globally.
With this new system, 75% of the over 1,000 currently available card variants will now be labeled as 'Rare Variants' and will have their cost reduced in the Daily Offers shop from 750 Gold to 700 Gold. You will also be able to earn these variants in Collector's Reserves on the Collection Level track, Mystery Card Art Variants, and in the Season Cache at the end of each Season Pass.
The remaining 25% of card variants will become Super Rare and will only be available in the Daily Offers shop for 1,200 Gold each. Each Season Pass will also include a number of limited-time exclusive Super Rare Variants.
In Development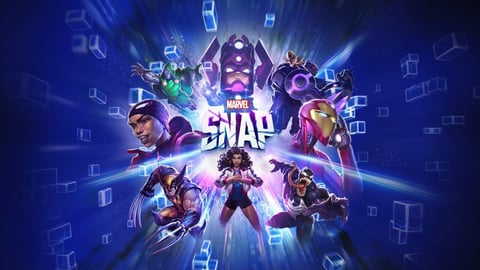 Items in the 'In Development' section are currently being developed as the name suggests. Take these items with a hint of salt as they are constantly being improved upon, so some might be completely remodeled once they are finally released.
Regardless, here are all the Marvel Snap items currently in development:
Battle Mode vs Friends
Unranked Mode
Collector Tokens
PC Widescreen UI
Titles System
'Battle Mode vs Friends' is a new game mode that will allow you to play against friends. Each player will start with ten health and the winning player deals damage to their opponent equal to the game's stakes. If you doubled down and 'SNAPPED', you will deal four damage to your opponent instead of the usual two (or you can retreat early and only lose one health). You will play a series of games against each other with the same deck until one player has no health left.
'Unranked Mode' will allow you to play against others without the risk of losing Ranks or Cosmic Cubes and all the while still being able to make progress on your missions. It's a great way to test new decks, strategies, and game mechanics.
'Collector Tokens' are a new free currency that can be earned on the Collection Level Road. These Tokens can be used to unlock the cards you want most in the Shop. The Token Shop will feature a card you don't own every eight hours. If you don't have enough Tokens to purchase a card, you will have the ability to freeze the shop to lock in your targeted card.

In Concept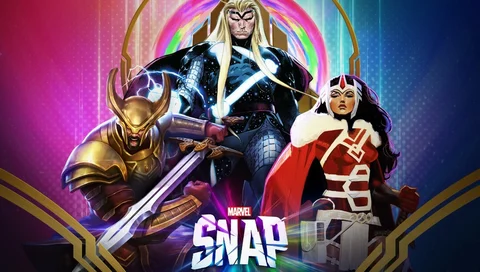 Items in the 'In Concept' section are concepts that the developers are planning on developing. There is no guarantee that these will be released in future updates as no work has been done just yet.
Anyway, here are the future concepts the Marvel Snap team is planning on developing.
New Competitive Modes
Guilds (Social Systems)
In-Game Events
Infinity Rank Leaderboard
Collectible Emotes & Card Emojis
Mythic Variants
Stay up to date with the latest Marvel news: